Become a Cooking Magician with 35 Small Kitchen Gadgets To Thrill You
When working in the kitchen, we are all looking for ways to do our tasks faster and easier. Everyone's schedules are busy with other things to do, and cooking may be the last chore that some of us like to think about. But, we have to eat.
So we try to find tools and devices that help us to get the job done. In fact, small kitchen gadgets are the heroes of culinary creativity, blending practicality with innovation to streamline cooking processes.
The best small kitchen gadgets include the technological advancements of the modern world in miniature form, often transforming simple, time-consuming tasks into effortless routines. This is great for both seasoned chefs with elaborate recipes, and individuals who just want to get the meal prepared and ready to eat.
Indeed, there is a fantastic selection nowadays of tools, gadgets, gizmos, and tiny appliances that can make your life in the kitchen more pleasant.
From cleverly designed multifunctional avocado slicers that can halve, pit, and slice in one sweep, to sleek, versatile immersion blenders, these compact tools not only optimise space in small kitchens, but also enhance precision, speed, and enjoyment in everyday cooking.
Despite their small size, they fit the requirement for getting things done easier and faster!
What are small kitchen gadgets?
Small kitchen gadgets are compact, hand-held, tools that facilitate a wide array of culinary tasks. They include items such as utensils, vegetable peelers, manual can openers, and zesters, among many others. Plus, they are mostly manual, not electric.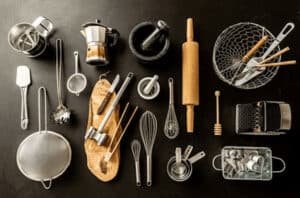 Although they are small, sizewise, they are absolute time-savers, and reduce the effort required for meal preparation and serving.
While their functions are varied, they are typically designed to make cooking more efficient, easy, and enjoyable.
From whipping and frothing milk to spreading butter easily, small kitchen gadgets cover an extensive range of kitchen tasks, making them an essential part of any well-equipped kitchen.
Forgotten kitchen gadgets
As we whirl through the fast-paced digital era, there is an irresistible charm in pressing pause, taking a step back, and embracing the tools of bygone days.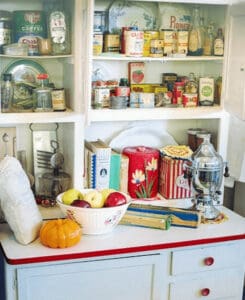 From the old-school rotary egg beaters that give your arm a mini workout, to the manual coffee grinders that turn your morning cup into a labour of love, forgotten kitchen gadgets are making a fabulous comeback!
More than just nostalgic novelties, these tools are a reminder of the art and craft that goes into cooking. They bring a sense of connection, authenticity, and fun to the kitchen, turning meal preparation into a delightful, tactile experience.
So dust off that fondue set, resurrect the avocado slicer, and get the pasta maker cranking!
These vintage treasures are ready to spruce up your kitchen adventures, and they might just make you wonder why they were ever forgotten in the first place.
Indeed, let's hear it for the return of forgotten kitchen gadgets – long may they reign in our culinary hearts and homes!
1. Manual salad cutters
While many individuals rely on food processors with fancy blades, these appliances may be a bit too cumbersome for making a nice salad. Even if you need a large salad for multiple people, the task is best completed with manual salad cutters, whether that be a mandoline slicer, vegetable chopper, or scissors. To help you choose the right tools, take a look at our article on the best salad choppers.
2. Selection of meat tenderizers
Believe it or not, there was a time not long ago when meat tenderizers fell out of fashion in the kitchen. For many people growing up on a budget, the tenderizing hammer was used daily to pound cheap cuts of meat and make them into lovely tender pieces for the family's dinner.
And while they all looked alike back then, now there is a great selection to choose from.
To learn about the various designs, the safety aspects, and cleaning tips, you will want to read this article on meat tenderizers.
3. Cheese graters
At one time, every household had a manual cheese grater. Not only was it used to grate cheese for homemade pizza or macaroni and cheese casserole, it was also used to shred cabbage for coleslaw, a once popular side dish or salad.
The box grater had four sides with a handle at the top. The shredded cheese or vegetables would fall down into the centre, and you would collect the pieces in a bowl or on a cutting board.
It was hard work, though! Therefore, as various electric appliances become available, food processors and other slicer/shredders had the blades to do cheese, as well.
But, oddly, there is some satisfaction in grating manually, and now there are many different models to choose from.
4. Bread boxes for kitchen counter
A lovely bread box was something that was both functional and pretty to look at. Typically, it sat on the kitchen counter and kept the delivery of bread fresh. It could be used for other baked goods, as well, as long as everything fit inside.
There were many different types such as the simple square tin box with lid on top, or the big wooden box with rolling door. The bread box was an item that was hugely popular as a bridal shower gift or wedding gift because it was a necessity back then.
But like other kitchen items, the counter top became a centre for more important appliances and the bread box got chucked out.
Alas, this simple storage container has made such a comeback that we reviewed the best bread boxes for you.
Today, you'll find all styles of modern bread boxes including the rustic bread box for your own baked loaves, black bread boxes to match the colour of your appliances, and retro bread boxes for those that love the vintage décor.
5. Old kitchen gadgets
Three more utensils or tools that are mostly forgotten are the strawberry huller, the apple corer, and the cherry pitter. Again, these were items that were part of the kitchenware basket every bride received at one of her showers.
It's kind of sad that a lot of people don't use them anymore, as the huller is very handy when strawberries are in season and everyone is serving strawberry shortcake with whipped cream.
The apple corer is great to have with young children, as you can quickly remove the seeds and hard centre, giving them just the slices to eat.
Of course, choosing the right cherry pitter will be a real time saver when making pies for the best pie contest at the community fair!
Small kitchen gadgets gifts
You don't need to be buying for a cooking guru or baking fanatic to get something useful for the kitchen. Here are some quick ideas that will be welcome presents for any occasion.
1. Salt and pepper grinders
There has been a nice return over the years of manual grinders, especially for pepper. Many people believe that the pepper tastes better when ground from a proper hand mill as opposed to an electric grinder, either operated by batteries, or a USB charging system.
Electric grinders are often chosen by a gift giver when they don't know what to buy for the person who has everything. On the other hand, the large selection of manual grinders means that they are perfect as wedding gifts, new home welcoming gifts, and simply because they look nice on the dinner table.
To read about some of the the best salt and pepper grinders, and to help in your buying decision, here is an excellent review page.
2. Sets of steak knives
There was a time when every newlywed couple received a set of steak knives either for a bridal shower present or as the wedding gift. They added the knives to their registry, and even if they didn't have one, family and friends would make a list to ensure that they didn't receive duplicate gifts.
For a long while, families became less formal when eating dinner and dispensed with special tools for every type of meal. The truth is, however, that steak knives are really handy when eating different kinds of meat, especially beef.
If you prefer to slice your favourite steak or roast with a solid, sharp, knife, our best steak knives article is a must-read!
3. Barbecue tools set
Men love their grilling. It is a pastime. And every father receives at least one set of barbecue tools from his children as Christmas, birthday, or Father's Day gifts. If you need more ideas about things he might like for the barbecue, have a look over here at our top required list.
4. Baking kitchen tools
Not sure what to get the baker in your family? We've got you covered with our list of twelve clever tools for that special baker!
Coolest tools
Cool tool gadgets for the kitchen are abundant in today's marketplace. There's a certain thrill about innovative tools that perform functions often done by hand.
Take, for example, smart frying pans that regulate temperature so you don't burn your food, and garlic peelers that help you avoid the smell on your hands. And, if you are really fussy about your baking recipes, digital measuring spoons will give you the precision you need.
To be sure, the world of cool kitchen tool gadgets is an ever-evolving wonderland, adding splashes of innovation, efficiency, and outright fun to our daily food preparation!
Let's take a look at some of these fantastic advancements.
#1 Coolest tool or gadget
This is probably one of the neatest gadgets we've seen. Enjoy your vegetables by using a veggie spiralizer. Make fancy noodles from a variety of vegetables and form pretty spirals from your favourite fruits.
Create gorgeous presentations to show off at parties, cut out the gluten by using zucchini or squash spirals instead of pasta, and get your picky family to eat their veg because spirals are way more fun!
Probably, the other #1 coolest gadget, that is tied in first place with the veggie spiraler, is the perfect salad fruit cutter.
Custom designs for fruit pieces, the cutters are another hit with kids. Add a piece of pineapple in a star shape to their lunch box, or cut cute animals out of melon. You've got a winner there!
Plus, lovely shaped fruit creates that wow factor for guests. Imagine seeing platters of prettily designed slices at a special function!
2. Tofu presses
For individuals that prefer tofu to meat, this is a game changer for making meals because you'll find the flavour is much more intense and it is easier to grill tofu that is firm and not watery.
Tofu presses are handy gadgets that are required kit if you use tofu in your recipes!
3. Smart kitchen scales
While lots of people do use scales to keep track of their food portions for weight loss and medical illnesses, many others prefer to use a kitchen scale for better measuring of ingredients in recipes.
And, although lots of individuals still prefer the manual type of scale we used to see in butcher shops and candy stores, now the smart scale has become widely used in home kitchens.
Accuracy is key when you want a recipe to turn out exactly as planned. In that case, have a peek at our reviews of the best kitchen scales.
4. Kitchen torches
Torches are another cool tool that help with caramelising sugar, melting cheeses, or browning meats. The different styles do have varying purposes so researching the best kitchen torches first before buying will be helpful.
5. Oil sprayers and misters
Trying to pour the right amount of oil in a frying pan has always been a bit tricky, especially if you don't want your eggs slipping and sliding.
You may also not want to use store bought cans of ready made oil that you spray on the pan. You might prefer the taste of your preferred oil. That is what makes a kitchen oil sprayer super handy. You get just the right amount of the taste you want. In fact, you may enjoy adding your own herbs to olive oil, and in this case, the best olive oil dispenser will be of interest to you.
Likewise, when making a salad, you may just want to spritz the prepared oil and not have your lettuce and other vegetables drowning in slop. Good thing today, there is a nice selection of oil sprayers for you to choose from.
Small kitchen gadgets everyone needs
Regardless whether you enjoy cooking as a hobby or just want to eat quickly, there are certain utensils that are absolutely mandatory even for the most basic of food preparations.
1. Types of vegetable peelers
There are very few homes without a vegetable or potato peeler. Whether it is simply the old-fashioned peeler or one of the more ergonomic modern designs, it is hard to work in the kitchen without one. You might even use it to zest fruit.
2. Ice cream servers
Don't we all love ice-cream? Some of us eat it directly from the container, while others like to scoop it into a bowl. Of course, if you are serving it as dessert for everyone at a gathering, or making banana splits for a Saturday treat, you'll need a proper scoop and not just a regular spoon.
If ice cream is a staple in your home, one of these five ice cream scoops will be best for you. Your pie à la mode presentation will thank you!
3. Tongs kitchen utensils
Tongs are great for tossing salads, mixing bowls of fruit, grabbing hot dogs or sausages, twirling spaghetti on a platter, pulling steak off the barbecue, grabbing hot lids from pans, and anything else that is difficult to get a hold of. No kitchen should be without a pair of tongs which is why we have highlighted our pick of best kitchen tongs.
Mini tongs are handy for picking up sugar cubes out of the sugar bowl when you have guests over for tea or coffee. They're perfect for grabbing pickles from the relish dish or even out of the jar. Plus, they are the most suitable for delicate foods and items that are easily squished. Head on over to our post on the cutest small serving tongs!
4. Soup serving ladles
None of us really give our soup ladle much thought. It stays in the utensil drawer alongside all the other necessities such as a spatula, flipper, and slotted serving spoon.
But as unimportant as a ladle seems, you would probably miss it when you try to serve your big pot of favourite soup or chili. In a pinch, it can also do double duty as a beverage scoop in a punch bowl, as a serving utensil for pasta sauce, and even to add water to a specific recipe.
Every kitchen has at least one required soup ladle. Check out a few here!
5. Accurate meat thermometers
Needless to say, a lot of people don't bother with a thermometer when cooking. But for safety and proper food preparation, a meat thermometer is important. Also, it is good from a practical standpoint in that you don't want your food overcooked or dry and burnt out.
Many options exist nowadays because they have different features and capabilities. For that reason, we decided to explain the pros and cons of the best meat thermometers.
6. Kitchen timers for cooking
With mobile phone apps, as well as digital timers on stoves and microwaves, portable kitchen timers seem to have gone the way of the dinosaur. In truth, this is one gadget that every kitchen should have. Why not read the reasons for owning and using a handheld kitchen timer?
Kitchen cutting tools
Knives and scissors are everyday necessities which come in many colours, designs, materials, and special uses.
10 Cutting tools in kitchen:
Lastly, and this is really important … if you are going to be slicing and dicing any type of food, make sure you protect your beautiful counters by using a cutting board. It will be easier to clean up, as well. You can find cutting boards in all sizes, all materials, and all colours.
Final thoughts on small kitchen gadgets
Today, we can all use as much help as we can get in the kitchen. There are only so many hours in the day, and often, we have strict schedules with all our activities. So, we need to maximise our time preparing and cooking.
There's no doubt that many of us would welcome a few small kitchen gadgets to make our work more pleasant and less time consuming.
Whether we revisit old gadgets from years ago, or look for more modern alternatives, there will be something available that makes us say that this is the perfect tool or utensil for our needs.
Plus, who doesn't like receiving gifts? And to get one that is super useful is even better!