Top 6 best spice grinders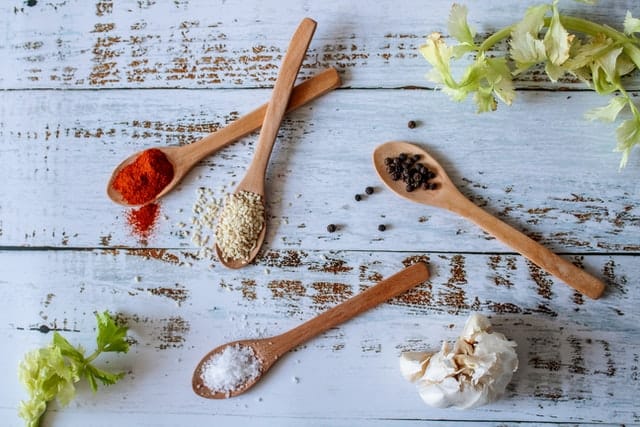 Spice it up! Aren't fresh spices simply the best odours on a market or in the garden?
Store-bought spices are not always of good quality and might contain preservatives and ground spices will lose their original taste if they are kept for too long. However, whole seeds store for a longer period without a problem.
Every chef and home cook want to serve the best possible meal with rich flavours that elevate their dishes. Grinding your spices freshly is a quick process, it will add another dimension to your food, and you will definitely taste the difference!
You can choose to grind your spices manually but it will take time and it is hard work. We'll help you select the best electric spice grinder on the market. We are using affiliate links, this will however not affect the prices.
Product Reviews
This 150 watt Coffee and Spice Grinder uses one-touch operation to grind quickly and evenly with durable stainless-steel blades. The safety lock system prevents accidents too.
Evenly grind coffee beans, spices, herbs and nuts
Large 4-ounce capacity
Pretty quiet when working
Clear view top
Safety Lock System
Not very easy to clean
Not suitable for very fine grinding
Hamilton Beach Grinders are ideal for precision grinding. The well-defined fineness settings guarantee perfect results.
A Hamilton Beach Grinder is easy to use and clean and offers hands-free operation with auto shut off as well as hide-away cords for easy storage. Some coffee bean grinders even include a stainless-steel grinding chamber that removes easily for cleaning in the dishwasher.
Positives
Quiet grinding
Removable grinding chamber
Cord storage
Stainless steel blades
Negatives
Doesn't work well for hard spices
Short cord
Related: Best rice cookers
The pulse-action button produces perfect customization for a wide range of consistencies, from coarse to fine, providing outstanding results.
For safety, the blades won't spin without the lid securely in place. In addition to coffee beans, the versatile grinder can also be used for mincing fresh herbs and dried spices, or for chopping or grinding nuts and seeds.
Positives
3-ounce beans capacity
Pulse action button determines degree of fineness
Minces fresh herbs and dried spices
Safety-lock lid
2-year worldwide warranty
Negatives
Not easy to grind small quantities
The clear plastic top is a bit quirky in the way it fits
Not easy to clean
The Shardor grinder has two bowls to grind different ingredients. One bowl with 2-blades is for dry grinding ingredients such as coffee beans and spices. The other bowl with 4-blades is for wet grinding ingredients like garlic and basil.
Flavour contamination won't happen easily and the bowl is removable for easy cleaning.
The 200W powerful motor and stainless-steel blade ensure even and fast grinding. Pressing down the lid activates the machine. You adjust the grind size by the holding time.
Positives
Two bowls for wet and dry ingredients
Quick grinding time
Powerful motor
Negatives
The lid doesn't close well
The motor heats up quickly
Very noisy
It is said to be one of the best all-round spice grinders on the market, for different reasons.
There are two separate milling bowls, each with a safety-lock, one is designed for chopping and the other for grinding.
The different blade systems ensure the right grind for all your ingredients.
The 200-watt motor handles most spices as well as nuts and coffee beans. The built-in smart overheat protection makes the motor last longer. The Secura grinder will stop working until it cools down.
Positives
Powerful motor
Built-in overheat protection
Two bowls with different blades
Safety lock
Negatives
Not easy to clean
Very noisy
Not very performant for chopping
Related: Best knife sharpeners 
The Cuisinart grinder is great for larger quantities of spices and harder items like nuts. The powerful 200-watt motor is made to handle grinding for up to 90gr without overheating or stopping of the machine.
The powerful motor also makes easy work of larger, harder items, like nuts and coffee beans, if you're looking for a multi-purpose machine.
Positives
Quick and quiet
Can grind for a long time
Removable bowl
Large capacity
Some parts are dishwasher safe
Safety lid
Negatives
Only 1 bowl
A little expensive
What to consider before buying?
Motor, speed and blade
These 3 essential parts of the grinder define the power and usage of the machine. The motor should be strong to acquire the necessary speed and make sure it doesn't overheat. That said, keep it sensible and don't let these machines run for 5 minutes, they are not made for that!
The blades are best made of stainless steel and need the strength to grind through hard spices such as cinnamon.
These 3 essential parts determine the quality of the required grinding.
Cleaning
Nobody likes cleaning, although it is important to not leave flavours behind in spice grinders. Therefore, it is essential to clean after every use. If parts are not removable, it can be tricky to clean electric grinders. Always have a brush to hand to get into difficult parts and wipe away all residue.
Size
We have 2 parts when it comes to size; the grind size and the size of the machine.
Depending on your recipe, you will need finer or coarser grinding. Always check if the machine has options and what the possibilities are.
Size matters if you work in a small kitchen like ours. Make sure you can store the grinder if you have limited counter space.
Capacity
How much spice do you grind at one time? Be aware that the machine might be big, but the capacity is small and it is the motor that takes up a lot of space.
Because we recommend grinding ingredients freshly before every use, we find it unnecessary to buy a large grinder.
Conclusion
You don't need an expensive grinder for small quantities of spice grinding but it should stand the test of time because if you're cooking regularly, you will use it often.
Our top choice in this list goes to the Hamilton beach fresh grinder. It is the least expensive and it does the job. The Secura is a close call because of the 2 bowls and the built-in heat protection.