A sharp knife is by far the most essential tool in a kitchen! You use them regularly to cut and chop ingredients or to slice meat. Dull knives are difficult to control, can skip while cutting and are simply dangerous.
Knives come with a price tag and need to be treated with care, and stored properly in a knife block or stuck to a magnet. Unfortunately many people overlook knife sharpening, or they don't know exactly how to do it properly. Keeping knives sharp is part of their essential care and maintenance, and a well looked after knife will last forever. Some KNIFE BLOCK SETS come with a sharpener but if you buy individual knives, you will need to find the perfect tool for you.
It surely is intimidating to see chefs slashing their knives against a steel rod. Some sharpening techniques might need some skill and practice but it's a cost-effective way to sharpen and there are multiple sharpening methods and sharpeners to choose from to make the task feasible for everyone.
Sharpeners sometimes work on specific types of knives. We'll explain the common techniques and advise on the best knife sharpeners available.
Common sharpening methods and techniques
With a honing steel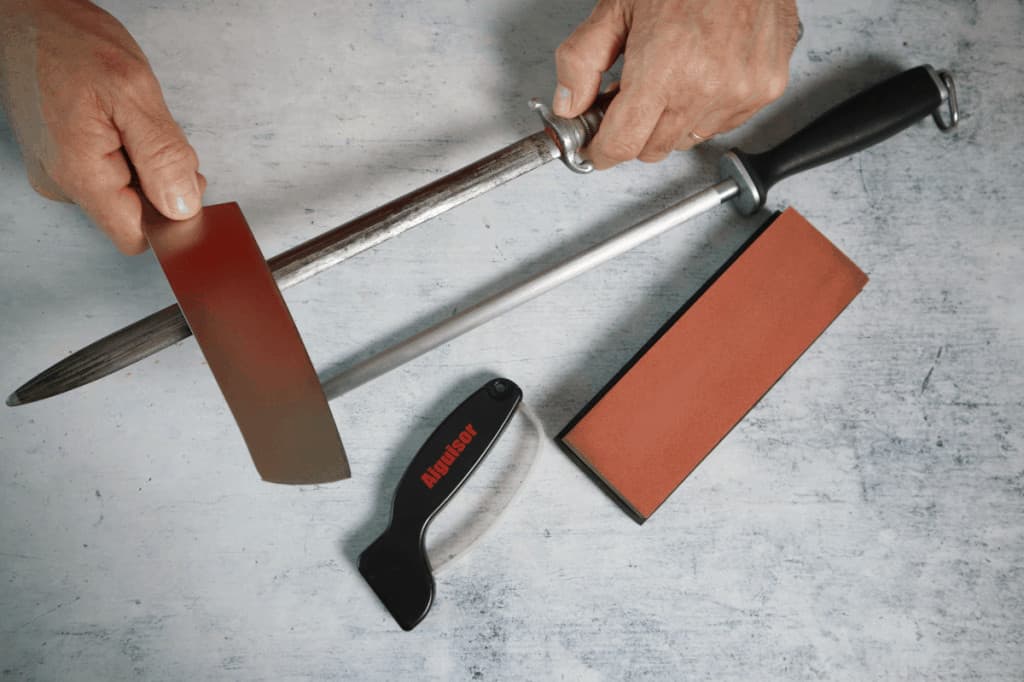 You don't need to be a chef to use this method, but it does need some skill and practice. This method is great for honing your knife and for daily maintenance. You won't have to use the other methods as often if you keep up with a honing steel.
With a waterstone
Waterstones or whetstones are rectangular stone blocks. They are not as intimidating as steel rods, but you do need patience and practice before being able to get the sharpest, shiniest knife blades. A waterstone can be used for all kinds of knives from Japanese to Western style blades. Choose a medium grit for normal sharpening and a finer grit for polishing a cutting edge until the blade is very sharp.
Pull-through sharpeners
These come in manual or electronic devices and require no particular sharpening skills. We personally find that pull-through devices are better for smaller knives and not at all suitable for Japanese blades. We tend to avoid electric pull-through devices, especially for expensive knives, as they might grind too strong and damage the knives.
How long does it take to sharpen a knife?
It is difficult to give an exact timeframe to sharpen knives because that depends on your personal sharpening skills, the device you use, the knife, the condition of the knife and how sharp you want the end result to be.
Honing on a steel rod or sharpening with a pull-through device should only take less than 5 minutes. Sharpening with a whetstone will take somewhere between 10 to 30 minutes.
Our selection of knife sharpeners
The ergonomic, oval shaped handle offers a steady non-slip grip. Although it is not recommended to heat it, it can withstand hot and cold temperatures.
The high-carbon, no-stain German cutlery steel resists rust, corrosion, and discoloration. This honing steel is strong and durable.
This double-sided premium quality whetstone has a bamboo base to hold the stone. It comes with a knife sharpening angle guide, a simple instruction manual & detailed eBook with lots of tips & tricks which is very helpful for beginners.
The silicone base for holding the stone inside the non-slip bamboo base ensures the stone is fixed while sharpening. There is no need for expensive sharpening/honing oils as water alone is sufficient to do the job and it can be easily cleaned using water.
This manual sharpener works for straight or serrated knives. The pressure you use is most important and depends on the knife you would like to sharpen. Press lightly for a fine bladed knife and harder for a sturdy chopping blade.
The sharpener also re-aligns edges and polishes a micro-bevel on the finest cutlery without fear of damaging blades. These steps keep knives razor sharp without removing any metal.
This straight-forward device has a 3-stage sharpening system for professional results at home. The adjustable blade thickness selector guides to optimise the sharpening angle.
Hunting knives, chef's knives, standard kitchen knives, filleting knives and paring knives, simply adjust the setting from thick to medium or thin.
This compact system has 2 ways to sharpen knives. Coarse for dull and damaged knives and fine for polishing the knives and for quick touch-ups for an already sharp knife.
The grip is small but the edge has an easy feel, and it has a non-slip surface which allows for safe sharpening on the edge of the table or countertop. With 5$ it is simply the most affordable sharpener available.
This knife sharpener stone holder sharpens the dullest knife! While the 400/1000 grit is perfect to sharpen the edge of the blade, the 3000/8000 grit is best for polishing the edge. The leather strop and honing compound put every fine edge to your knives, and the angle guide eases the process. You only require water and maintenance is low with a long-lasting life span.
Summary
We really take care of our knives and recommend manual devices over electric, especially if you have invested in high quality knives. Sharpening your knives wet on a stone might ask for skill and patience, but it gives you better control and the result is usually better. Depending on how often you use your knives, they will stay sharp for a longer period.