5 Best Oyster Knives for Easy Shucking
Oysters are a first rate choice to serve at a festive gathering, whether it's a tête à tête with a loved one or a celebration in a group. Shucking the oysters in an easy and safe way can be a challenge but not if you have the right knife!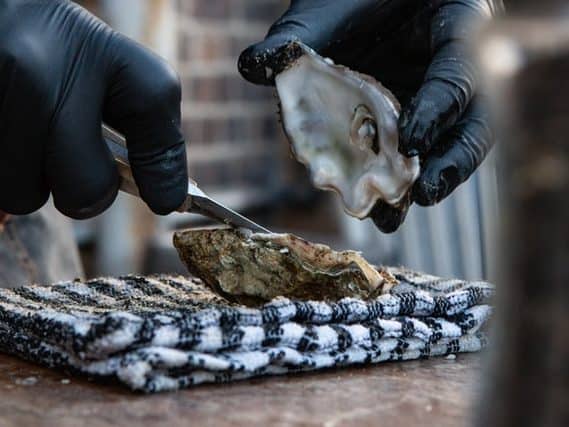 Oyster knives are not part of a typical home cook's knife kit. There are several brands that produce oyster knives, and there is one for everyone, from beginners to experienced shellfish fanatics. The blades are much smaller, shorter, and not at all sharp. These 'knives' assist you with loosening the hinge of the oyster gently and removing the top shell.
The choice of oyster knife will depend on how often you serve oysters, the type of oysters you consume, and how many you'll be shucking. This overview helps you choose which oyster knife is best for you! Adding such a tool to your kit will save you time when you are shucking oysters!
List of best oyster knives
Things to consider before buying the best oyster knife
The knife
There are five categories for oyster knives. The names might not immediately ring a bell, but New Haven blades are the most popular with a short and wide blade design which is slightly curved. Providence blades are like New Haven knives but without a curve. Boston and Galveston knives have a much longer and narrower blade while Frenchman oyster knives are wider and much shorter in length with sharper sides.
The blade
The blade is very important part with the length being between 2 to 4 inches (5 to 10cm), with or without tapered or rounded ends. Because oysters are very tightly closed, you need a sturdy oyster knife with a strong, sturdy blade that can manage pressure, consequently blades are commonly made from stainless steel or high carbon steel. Blades should be corrosion-resistant because oysters hold salt water on the inside. 
Sharpness is less of a worry because you only need to cut the abductor muscle which might be strong, but it is very soft to cut.
The handle
It is preferable for the handle to have a good non-slip grip. The shucker should feel comfortable and be the correct weight for your use to allow some leverage. Many models have a hand guard which is great for beginners and of course overall safety.
Overview of best oyster knives
If you are looking for a knife that is functional, comfortable to manage and stylish, this is the one! The non-slip handle has a good grip, even with wet hands, and the sturdy 3" blade with a slightly bent tip will easily pry open the toughest shells. The knife is easy to clean and dishwasher safe. Be aware that the blade flexes a little more than most other shuckers in this list, but it is still the best price-quality deal.
Related: Gratined oyster party
This Galveston shucker is the most versatile in our opinion because it works well to open oysters of all sizes, from smaller varieties to the larger ones.
The 4-inch blade is thin enough to allow easy manoeuvering into large hinges and shells without breaking parts of the shell. The carbon steel blade is sturdy and perfect to open dozens of oysters at one time. It's recommended to hand-wash only. At the time of writing this review this US-made knife is only available for shipping in the States.
You might ask yourself why anyone would need 2 knives to shuck oysters at home. The answer is simply so you won't have to do all the shucking yourself! The sturdy blade is made from stainless steel and professionally sharpened to open any type of shells easily and effectively. The non-slip handle with guard is comfortable with a good grip. Cut-resistant gloves are included which makes it even safer for beginners. 
Related: How to fillet a flat fish
The producers of the original Swiss Army Knife listen to their customer needs!  The New Haven style shucker has a straight blade with a bent tip and a super red coloured grip. The Victorinox shuckers are dishwasher safe but we recommend washing them by hand because reviewers have reported minor rust issues.
If you only eat oysters at special occasions, you probably can probably make do with a good budget shucking knife. This sleek looking oyster knife has a blade made of high-quality carbon stainless steel. Even professional chefs like this knife for its durability and strength. The colourful non-slip grip is polypropylene, and the entire lightweight knife is dishwasher safe.
How to shuck oysters with an oyster knife? 
Start by choosing the best oyster knife for your needs. Use a safety glove or kitchen towel and put an oyster into your hand with the hinge of the oyster exposed. Slide your oyster knife between the shells and move it from left to right to find the hinge with the muscle holding both shells together. Twist your knife gently and wiggle it without damaging the shell until the shell opens. Run the knife along the top on the inside of the oyster so that the entire top shell comes off.
After opening, always clean the oyster under cold running water if necessary and enjoy. Live oysters will automatically reproduce juice when opened. Keep opened oysters in the fridge and consume immediately or within one hour.
What is the difference between an oyster knife and the best oyster shucker?
The difference between an oyster knife and an oyster shucker is nothing really. They both refer to the same kind of utensil.
Basically, shucking is the act of removing the shell from the oyster. It is called this simply because shuck is the name for the shell itself.
Individuals use the term they prefer most when searching for information on the best oyster knife or the best oyster shucker.
Highlights of the best oyster knife
An oyster knife is an invaluable tool if you live near the seaside and regularly dig for oysters. This is sometimes called shellfishing or harvesting.
For those that live on coastal communities, families often make a day of oyster digging by collecting the oysters, and even clams, then setting up a fire to roast them with corn on the cob and potatoes. Another treat is adding a nice sauce to the oysters while steamed on hot coals.
Just be sure you have your knife for shucking, bin for discarded shells, and towels!