7 Best Fish Scalers for easy Fish Scaling
Fish is a delicious product but cooking it from scratch can be challenging. Whether you catch your own fish or buy at the fishmonger, fish have scales, and they need to be removed before filleting or preparing the dish.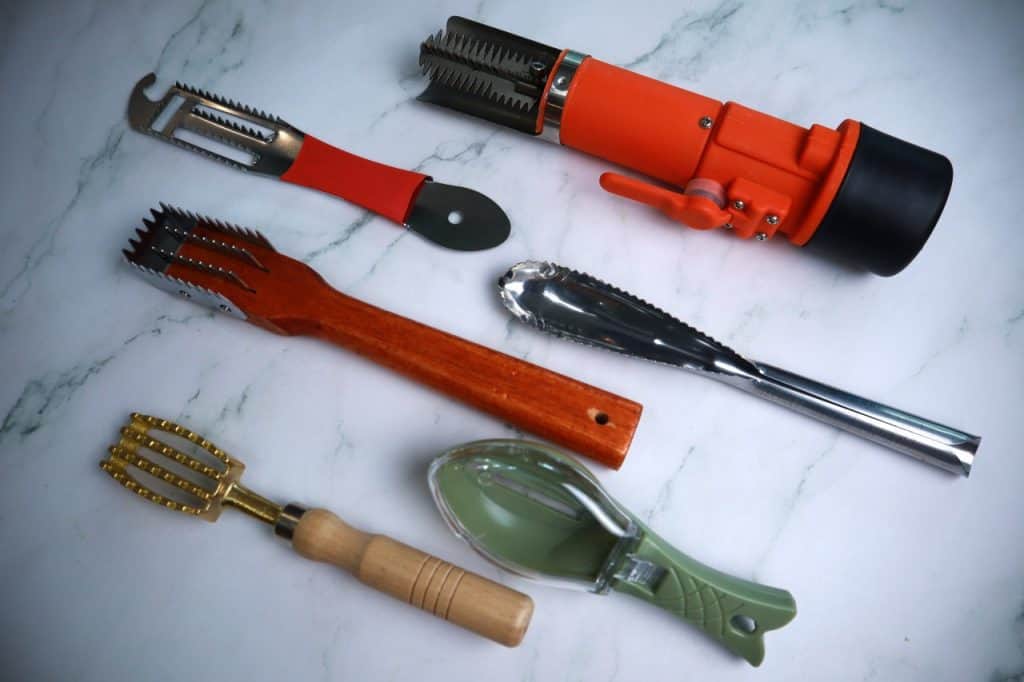 Is a descaling fish tool better than a knife?
Professionals sometimes use the back of a chef knife or a filleting knife for which you need some practice and skills to ensure all scales are removed. We have a few fish scalers at home and choose depending on the size and kind of fish. We suggest that you use a descaling fish tool, as well.
Scaling can be daunting if you don't have the right tools, but there are many special fish scalers available. In this review we outline those that will make your next fish scaling task easier, safer, and without making too much of a mess.
List of best fish scalers
Things to consider before buying a fish scaler knife 
Durability
As with all kitchen tools, your ultimate fish scaler should be made of quality materials and sturdy enough for the toughest scales. It shouldn't bend or break, and it must be rust-free as it will be used frequently in water. 
Ease of use
There are different types of Fish scalers available, and they have only one task which is to remove the scales. A good scaler should easily remove every fish scale without tearing the skin or fish apart ,and without getting stuck. 
Electric versus manual
If you only scale fish now and then, a manual fish scaler will be sufficient. Electric scalers however are the ultimate tool when preparing lots of fish dishes. They allow you to do the job quickly with good results. 
Overview of best fish scalers
This silver-coloured fish scaler is made of high-quality food-safe stainless steel.  It is sturdy, lightweight, anti-rust, suitable for long lifetime use and won't break or bend, and it is easy to clean. The non-slip ergonomic handle is designed for easy turning, and it is safe to use. This longer model of scaler is perfect for scaling all types of fish. A great choice as this model is recommended by professional chefs.
Related: How to fillet a flat fish
The Japanese fish scaler has over 32 serrated saw teeth, for complete and effortless scale removal including harder to reach areas near the fins and belly. The sturdy brass head is rust and corrosion resistant and has a comfortable wooden handle with ergonomic design.
Three specifically designed grooves help catch loose scales without them splattering around.
Related: Best gifts for real foodies
The circular, large surface design is different from your average fish scaler. It removes scales quickly and easily without the scales flying in all directions. 
The scaler is made from corrosion-resistant plastic and works for all types and sizes of fish. As the name suggests, it's 'magic,' not only because it is safe and easy to use, but also because it is very affordable. The only downside is the large grip which might be less comfortable for people with small hands.
Related: Best vaccuum sealers for home use
An electric fish scaler is perfect when scaling lots of fish at once. Fishmongers typically use this model because it is super-fast. It is cordless and therefore safe to use, but it is a little messy. The built-in rechargeable battery is long lasting and powerful and works quickly. The body and roller are made of stainless steel and although it is fully submersible waterproof, it is not dishwasher safe. 
Who needs two fish scalers? This set of stainless steel, lightweight fish scalers are anti-rust, non-toxic, and long-lasting. Their simple design is sturdy but easy to use and clean. Only negative point is the grip which may cause slips. A good choice for scalers if you only need to use them now and then.
Descaling fish is a messy affair, even if you are careful. This budget model is designed in a fish-shape with a transparent 'scale catching top' to collect the fish scales. 
The handle is created in the style of a fishtail and textured to allow a good grip. The fish head is the scaling part and once finished simply open the case, empty it and rinse. Overall, a convenient fish scaler but not as sturdy as all other fish scalers in this list.
This set has four different fish scalers made of quality stainless steel. This set features serrated edged teeth for quick and clean scale removal, one of which also comes with a built-in bottle opener which might be handy when going on a fishing trip. 
Highlights of a fish scaler knife
Fish scaling is a hard job for someone that is inexperienced. Thank goodness there are inexpensive tools to buy to help with this nasty task.
One of the main reasons to use a fish scaler is to protect your hands and fingers from being torn or injured from the scales. 
By choosing the fish scaler knife that best suits your own purpose and comfort, scaling any fish will become a breeze!