5 Best Oil and Vinegar Dispenser Sets
In professional kitchens oil and vinegar are bought in bulk. Using heavy containers daily will help work your muscles, but it is not convenient to add small amounts of oil and vinegar to dishes. Oil and vinegar dispensers are handy as they only release a small amount at one time, which makes the oil stay fresh for longer. There are basic oil and vinegar dispensers available for kitchen use, as well as beautifully designed sets for use at the dining table.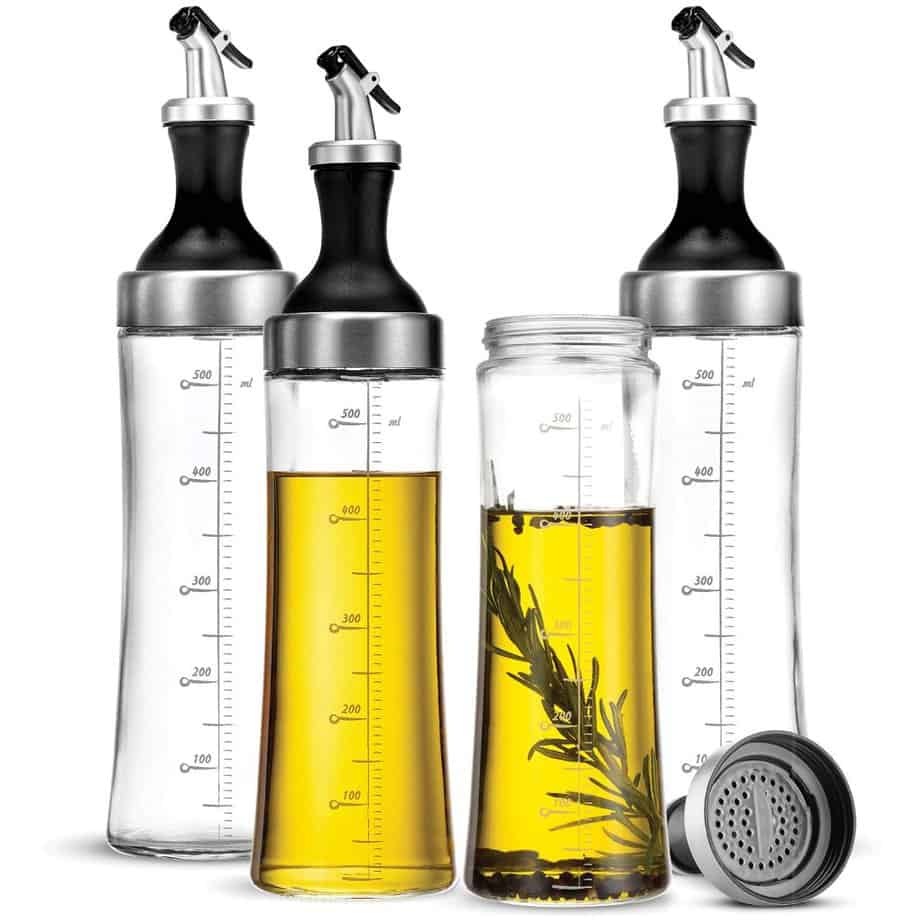 Whether you choose ceramic, metal, or glass dispensers, a drizzle of oil and a dash of special vinegar can add flavour to a dish. Here is an overview of the models we recommend.
List of best oil and vinegar dispenser sets
Things to consider before buying
Ease of use
It is not complicated to use oil and vinegar dispensers. Choose small spouts to avoid too much oil on the plate, but choose big enough spouts for flavoured oils and vinegars containing leaves or other ingredients. Always read reviews carefully before buying as some will drip and make a mess. Also keep in mind that dispensers are not always easy to clean but this is still necessary!
Capacity
If dispensers are used in the kitchen, you might want them at a larger size to avoid refilling too often. However, if your dispenser set is only for use at the dining table, the capacity shouldn't be too big, and oils and vinegars will be used before they turn bad or loose flavour and aroma.
Price
Oil and vinegar dispensers are not essential, but only convenient in the kitchen, and look great when presented on a dining table. Prices vary and how much you spend will depend on your personal preferences. Are you purchasing for convenience or for aesthetics? The choice is completely yours!
Overview of best oil and vinegar dispenser sets
Although clear glass is not recommended by us, these bottles are the most popular and the cheapest on the market. We are not completely against glass if you use the oil and vinegar often, meaning the ingredients don't lose aroma and flavour.
This set comes with one collapsible funnel for easy pouring and four spout seals are provided to avoid spillages. The bottles hold up to 17 oz (50 cl) which is the right amount to store in a bottle for regular use to ensure the products are not spoiling.
Read also : Best oil sprayers for cooking
This set should also get the title for best budget. The bottles have marked measurements displayed on the dispenser for precise amounts of oil. The wide opening allows for swift and simple cleaning and refilling as any brush can enter easily. A filter on the lid keeps spices and flavours such as hot pepper or tarragon from clogging the pouring spout. Oil will be steadily dispensed, and there won't be any spices stuck when refilling. Only a few Amazon reviewers mention easy leaking.
Read also : Best portable induction cookers
Ceramic cruets are beautifully presented, and they protect oils and vinegars from oxidation. The pouring spouts in this set are proportioned to help control the proper pour of ingredients.
The funky look of the integrated handles are also comfortable to grasp and make it easy to hold and use the dispensers. There are 2 sized bottles, 24 oz (70cl) and 13 Oz (38cl) which are also dishwasher safe for easy cleaning. This is definitely our pick for kitchen use and for the dining table!
Read also : Best food storage containers
This is very 90's but it still fascinates many. We recommend this set to use on the dining table only. Although the cork is made to fit the spout, be careful when pouring both oil and vinegar as the openings are large and corks need to be pushed firmly inside for perfect closure. This set is not easy to clean.
Read also : vinegars for cooking
This set doesn't only have 2 dispensers of 500ml but it also comes with a booklet with 40+ recipes, a half gallon mason jar, funnel and strainer, and a thermometer. The easy to follow recipes explain the easy process of infusing oil and vinegar. All but the kitchen thermometer are dishwasher safe for easy cleaning! A nice gift set for which you hopefully won't have to use the 30 day money back guarantee.