White Country Pizza with Livarot Cheese
You don't always need a pizza oven to make a delicious pizza! With only a few ingredients and a regular oven, it is possible to become a great pizzaiolo.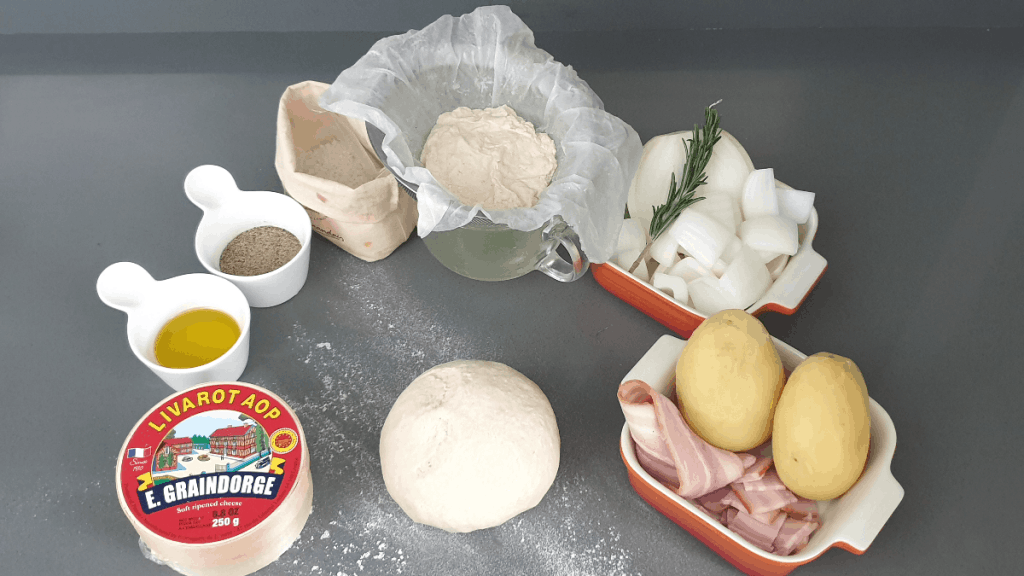 You can make your own pizza dough in advance and you can also prepare all ingredients the day before. Check here for the pizza dough recipe.
The recipe for the homemade ricotta cheese is easy and can be found here.
Some information about Livarot cheese
One of the oldest and greatest Normandy cheeses, this monastic French cheese made of cow's milk and easily distinguished by its washed rind and pungent aroma.  Its orange colour comes from different sources depending on the manufacturer, but is often annatto. 
Livarot is strong smelling, almost stinky cheese, at its best! The cheese itself is mildly flavoured, rich, and savoury with a nutty taste. Creamy and smooth, this soft cow's milk cheese from Normandy becomes runnier when at room temperature.
Originating in the commune of Livarot and protected by an appellation d'origine controlée (AOC) since 1975 and was granted a protected designation of origin (AOP) in 1996. This cheese is also called "The Colonel" because of the five strips of raffia that encircle the cheese, similar to the one worn on a French army colonel's uniform. It is available in four sizes, all of which have a cylindrical shape: Grand Livarot, Livarot, 3/4 Livarot and Petit Livarot.
Livarot Cheese Servings
When we talk about cheese, we immediately think of pairing it with wine, and this is no different when talking about Livarot. It pairs well with a full-bodied red wine or even a traditional French cider. But if you want to have it the traditional Normandy way, then you need to have it with a Calvados.
This cheese is great by itself as part of a cheese platter, but it tastes even better when paired with fruits and nuts or some cured meat which will temper the intensity of the Livarot flavour. This pizza with the addition of the smoked bacon and the sweetness of the onions is definitely a good combination.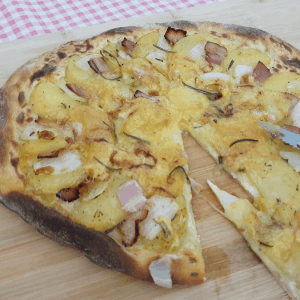 White pizza with Livarot cheese
With only a few ingredients and a regular oven, it is possible to become a great pizzaiolo.
Instructions
Sauté the onions and bacon with a tablespoon of olive oil for 3-5 minutes.

Add the sliced potato and sauté for another 3-5 minutes.

Divide the pizza dough and roll into a pizza shape.

Spread the ricotta cheese over the pizza dough.

Arrange the sautéed mixture on top.

Remove the rind of the Livarot and arrange some slices around the pizza.

Bake the pizza in a preheated oven to 250°C for 10-12 minutes.
Nutrition for 1 portion
Calories:
396
kcal
Carbohydrates:
43
g
Protein:
16
g
Fat:
18
g
Cholesterol:
45
mg
Sodium:
906
mg
Fiber:
1
g
Sugar:
6
g
Vitamin A:
237
IU
Calcium:
87
mg
Iron:
3
mg
Tried this recipe?
Let us know how it was! #culinaryambition
Highlights of livarot cheese pizza
If you are looking for a new way to eat pizza, or you are tired of the same old flavours, this white pizza with Livarot cheese will not disappoint.
You would expect no less from a cheese that has been respected and celebrated for such a long time. Indeed, it is so prestigious, it carries several designations. The flavour profile is different from other cow's milk cheeses, and we are sure you will enjoy this simple white pizza with Livarot cheese.