Best pizza dough with yoghurt
The deliciousness of a pizza depends on the quality of the crust. It might sound a little unusual to make pizza dough with yoghurt, but we guarantee this is a success!
How to make pizza dough?
You only need 6 ingredients, a short time for kneading, and no rising or resting time for this recipe.
We make this pizza dough by hand because it is so quick and easy, but if you wish you can of course use a standing mixer. For all pasta lovers check the list of 10 essential tools for making pasta.
Kneading and shaping
During the kneading it is important to check the consistency of the dough. If it is too dry, add a little water, if it is too sticky it will need a little extra flour, but don't overdo it. When the dough is perfectly kneaded, use a rolling pin to shape it into a regular, round pizza or you can choose to make it into a rectangular family style pizza. You can of course swing it and toss in the air like a real pizzaiolo if you are skilled but whatever the shape, we like a very crunchy crust, so we roll it as thin as possible. We would like to remind you that this recipe doesn't need rising or resting time!
Flavoured dough
The flavour of a pizza usually comes from the toppings but since you are making your own pizza, why don't you also add flavour to the dough? Add some dried spices, herbs or garlic powder while combining the dry elements.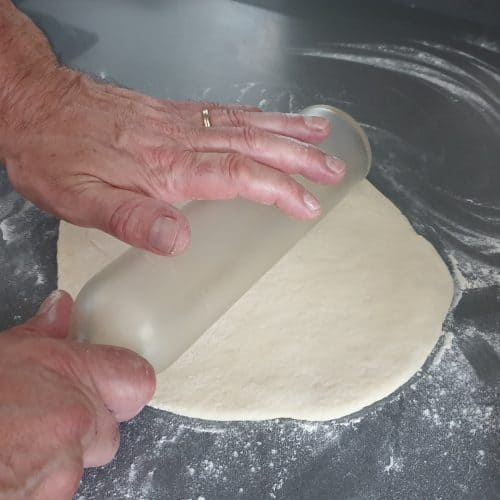 Best pizza dough with yoghurt
It might sound a little unusual to make pizza dough with yoghurt, but we guarantee this is a success!
Instructions
Combine the flour, baking powder, and salt.

Add the remaining ingredients and mix until well combined.

Knead the pizza dough on a floured working surface for 2 minutes until it forms a smooth ball.

You can either divide the dough into portions or leave it whole if you want to make a 'family pizza'.

Roll out to the required thickness.
Notes
By mixing all-purpose flour with baking powder, you create your own self-rising flour.
You can flavour the pizza dough with pepper, garlic, onion or any herbs of your choice.
Nutrition for 1 portion
Calories:
356
kcal
Carbohydrates:
39
g
Protein:
8
g
Fat:
18
g
Cholesterol:
1
mg
Sodium:
39
mg
Fiber:
1
g
Sugar:
1
g
Vitamin A:
15
IU
Calcium:
51
mg
Iron:
2
mg
Tried this recipe?
Let us know how it was! #culinaryambition