Best One Side Cooked Salmon a l'unilateral
One side cooked salmon sounds great but the French cooking term 'unilateral' makes it sound more exotic. If you travel to France, and dine in well-respected restaurants, you will find it on several menus.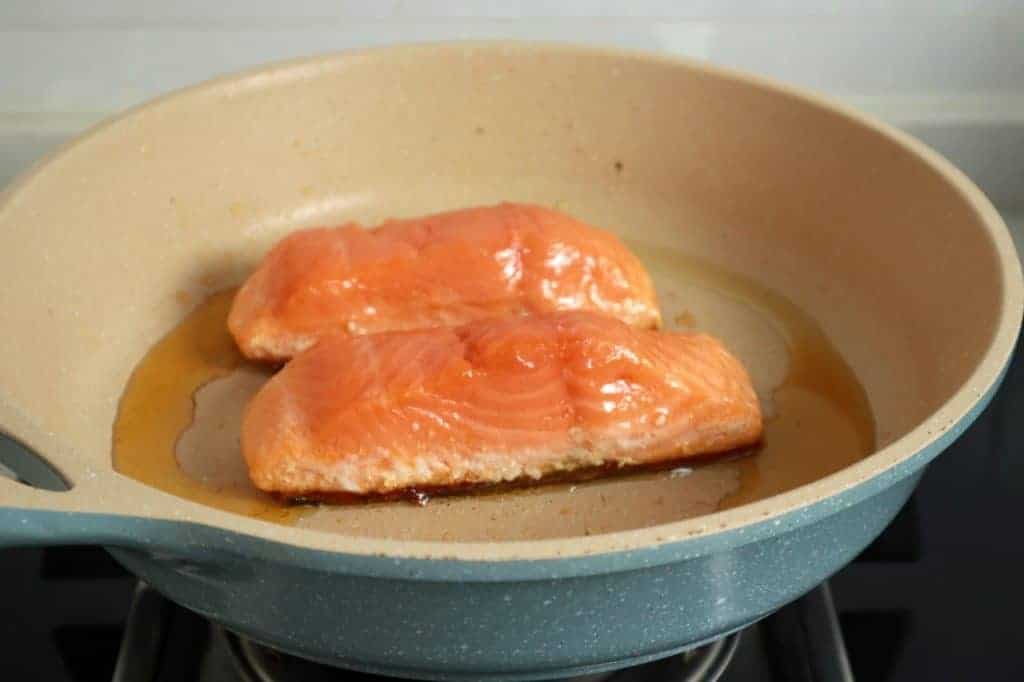 The French wording or culinary term means the fish is cooked over low heat on one side only. The heat from the bottom of the pan creates a crisp crust and will steam through the fish. This allows you to create a delicious golden crispy skin with a slightly flaky layer with soft and almost rare fish meat on top. Cooking salmon on one side is not just fashionable but it keeps the salmon moist and juicy as this cooking process prevents it from drying out and retains all flavours.
Tips for best unilateral salmon results
Use fresh salmon and not frozen one for this recipe.
To ensure a delicious crispy skin, make sure the fish is at room temperature and patted dry before placing it in the pan.
How to choose the best salmon
Salmon is not just a beautiful coloured pinkish/orange fish. There are varied species available, and a little awareness is required when preparing this fish.
If available and if it fits your budget, choose wild salmon. It will always have greater taste, texture and nutrition than farmed.
King salmon is the most popular and the most available species at fishmongers but not the most flavourful. They grow in the wild up to 45kg (100 pounds) but when farmed they are usually smaller with more fat.
Coho are smaller than King Salmon with a denser and brighter flesh, but more flavour. The fine texture has less fat and is great for cured and smoked preparations.
We plated this dish with mashed sweet potato and peanut butter, and pomegranate salsa.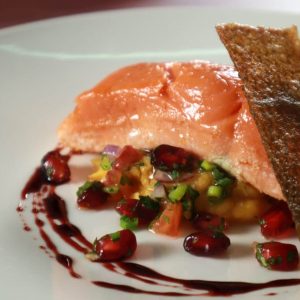 One Side Cooked Salmon à l'unilateral
The French wording means the fish is cooked over low heat on one side only.
EQUIPMENT (click pictures for details)
Instructions
Clean and portion the salmon fillets and make sure the salmon skin has no more scales.

Pat dry the fillets and rub olive oil over the salmon skin.
Cook à l'unilateral
Heat a non-stick pan over a low heat with a small amount of olive oil.

Add the salmon skin side down and cook on one side only. The cooking process will take a while.

Allow it to cook without touching or flipping the salmon over. Some albumin, a white fatty substance, will come out of the salmon fillet and can be removed gradually.

When the salmon is cooked, place it on a kitchen towel before serving.

Add all garnishes of your choice on the plate, remove the skin of the salmon, place the fish on the plate and season with the fleur de sel and fresh pepper mignonette. You can use the crispy skin as extra garnish.
Notes
The albumin is a protein that exists in the fish in liquid form when it's raw, but coagulates and becomes semi-solid during the cooking process of the salmon.
Nutrition for 1 portion
Calories:
275
kcal
Protein:
30
g
Fat:
17
g
Cholesterol:
83
mg
Sodium:
66
mg
Vitamin A:
60
IU
Calcium:
18
mg
Iron:
1
mg
Tried this recipe?
Let us know how it was! #culinaryambition