A gratin is more than just comfort food! Potato gratin is traditionally French but there are plenty of possible variations resulting in different versions of this dish. It can be a hearty side dish, and it pairs well with any meat or fish dish or it can even be served on its own.
The combination of fennel and potatoes with the creamy béchamel soften the flavour of the fennel. It's a dish that can be prepared in advance and warmed in the oven with a generous sprinkle of parmesan cheese just before serving.
As said above, it can be eaten on its own but it pairs very well with any fish or meat dish.
What does fennel taste like?
Did you know that fennel is a flowering plant species in the carrot family? This perennial herb with yellow flowers and feathery leaves. It is indigenous to the shores of the Mediterranean but has become widely naturalized in many parts of the world. The fennel bulb is mostly used when cooking and has a sweet, anise-like flavour. Combined with other ingredients, this anis-like taste reduces drastically and is very mild.
Every part of fennel it is edible, raw or cooked, from the bulb to the flowers. It is a perfect ingredient for salads, soups and stews.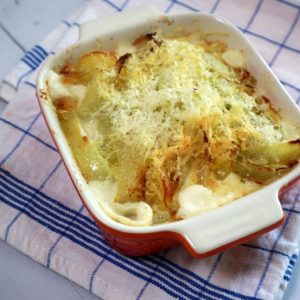 Fennel and Potato Gratin
The combination of fennel and potatoes with the creamy béchamel soften the flavour of the fennel.
EQUIPMENT (click pictures for details)
Instructions
Prepare the fennel
Cut the fennel lengthwise into 6 quarters, discard the green shoots.

Put 2 tbsp olive oil, the bay leaf, thyme and the crushed garlic in a large saucepan and arrange the fennel wedges on top with 100 ml water. Season with salt and pepper.

Place the saucepan on the stove and cook the fennel with the lid on until soft and tender
Prepare the gratin
Peel the potato and cut into 4 to 5 mm slices. Use a brush to grease the bottom and sides of the baking dish with soft butter.

Place the béchamel sauce on the bottom of the baking dish.

Align the cooked potato slices and fennel wedges on the béchamel sauce.

Sprinkle grated parmesan cheese on top.

Bake at 180°C for 25-30 minutes until golden brown on top and serve immediately.
Notes
Étuver is a French culinary word which means cooking vegetables under cover in a small amount of water or fat over a low heat until soft and tender.
Choose fennel that is bright white and has no discoloration or soft spots.
Nutrition for 1 portion
Calories:
290
kcal
Carbohydrates:
10
g
Protein:
8
g
Fat:
25
g
Cholesterol:
20
mg
Sodium:
1180
mg
Fiber:
1
g
Sugar:
5
g
Vitamin A:
785
IU
Vitamin C:
1
mg
Calcium:
205
mg
Iron:
1
mg
Tried this recipe?
Let us know how it was! #culinaryambition