Perch fillet with fennel-orange salad
Today's recipe is refreshing and will be a little surprising to some of you.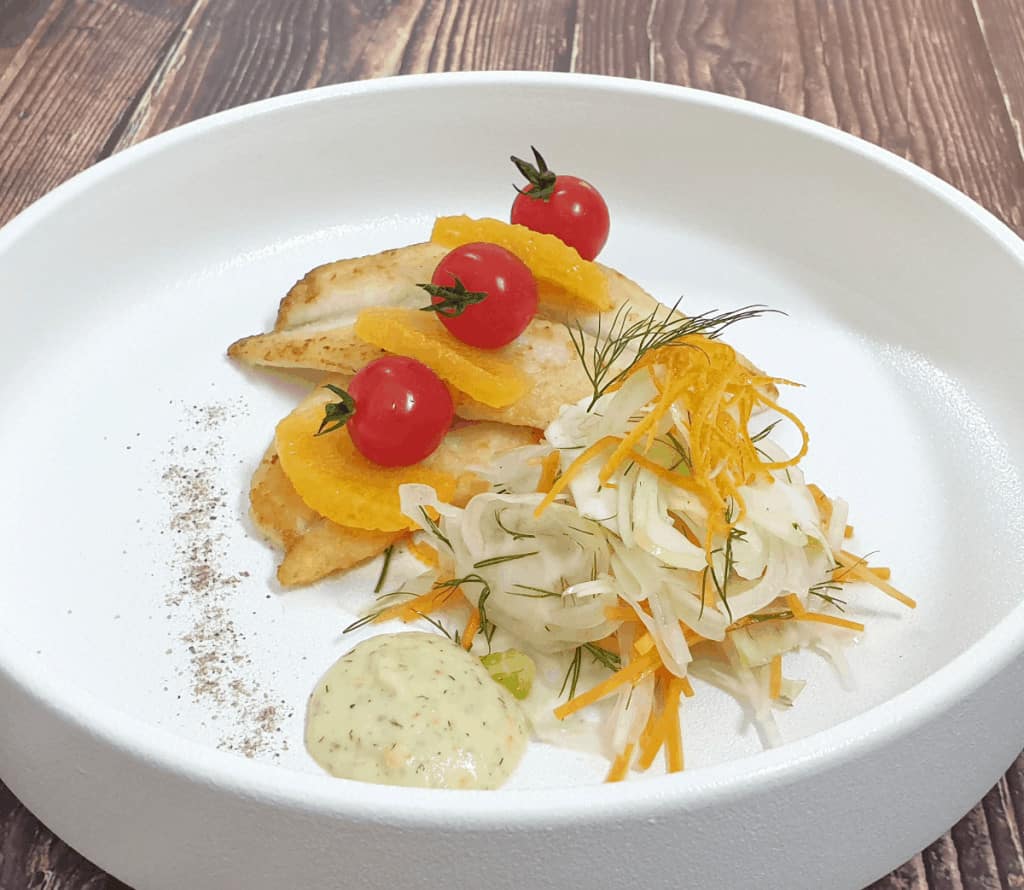 Perch is a versatile fish with moist, translucent, deep-pink flesh. Cooked, the lean meat is white, with a mild, sweet flavour with a firm but flaky texture.
Although we can use fennel in many ways, it's not a commonly used vegetable but we challenge you to give it a fair chance and try our crunchy salad.
Fennel consists of 2 parts, the fronds and the bulb. It is known to have a liquorice, aniseed flavour but when combined with citrus, this flavour is mild.
If you don't like citrus, you can also opt for sour apples to balance the recipe. Will this dish with less familiar flavours make it onto your regular list?
Check out our other fish and seafood dishes. This recipe is created for Champagne and wijnen De Blender.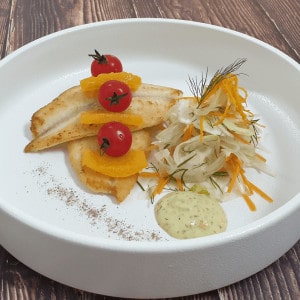 Perch fillet with fennel-orange salad
Perch is a versatile fish with moist, translucent, deep-pink flesh.
Ingredients
Instructions
Remove the zest of the orange with a microplane or zester and separate the orange segments.
Prepare the oil
Combine the oil and the zest and simmer for 5 minutes.

Let the orange zest infuse while the oil is cooling.
Make the dressing
Cut the outer leaves of the fennel into small pieces.

Add 1 tbsp of grapeseed oil, 1 tbsp of water, pastis, and fennel seeds. Cook in a covered pan over a low heat until soft and tender.

Blend to a purée and combine with the cheese, vinegar and 2 tbsp of grapeseed oil until a smooth texture.

Pass the mixture through a thin mesh sieve. Season to taste and set aside.
For the salad
Use a mandolin to slice the heart of the fennel bulbs into transparent slices.

Place the fennel into iced water for 20 minutes.

Drain and pat dry the sliced fennel before tossing together with the orange segments, a pinch of salt and pepper, the infused oil, and a lot of chopped dill.

Pan fry or grill the fish fillets.
Notes
Plunging the fennel in iced water will make the vegetable crisp.
Make the orange oil in advance. It keeps in the fridge for up to a month.
If you need some zest and you can't find organic oranges, blanch them for 1 minute to remove pesticides, chemicals or wax that may be on them.
Nutrition for 1 portion
Calories:
278
kcal
Carbohydrates:
1
g
Protein:
1
g
Fat:
31
g
Cholesterol:
8
mg
Sodium:
24
mg
Sugar:
1
g
Vitamin A:
136
IU
Vitamin C:
1
mg
Calcium:
7
mg
Tried this recipe?
Let us know how it was! #culinaryambition