There is most definitely a different soup for each day of the year but we still have times where we want something different!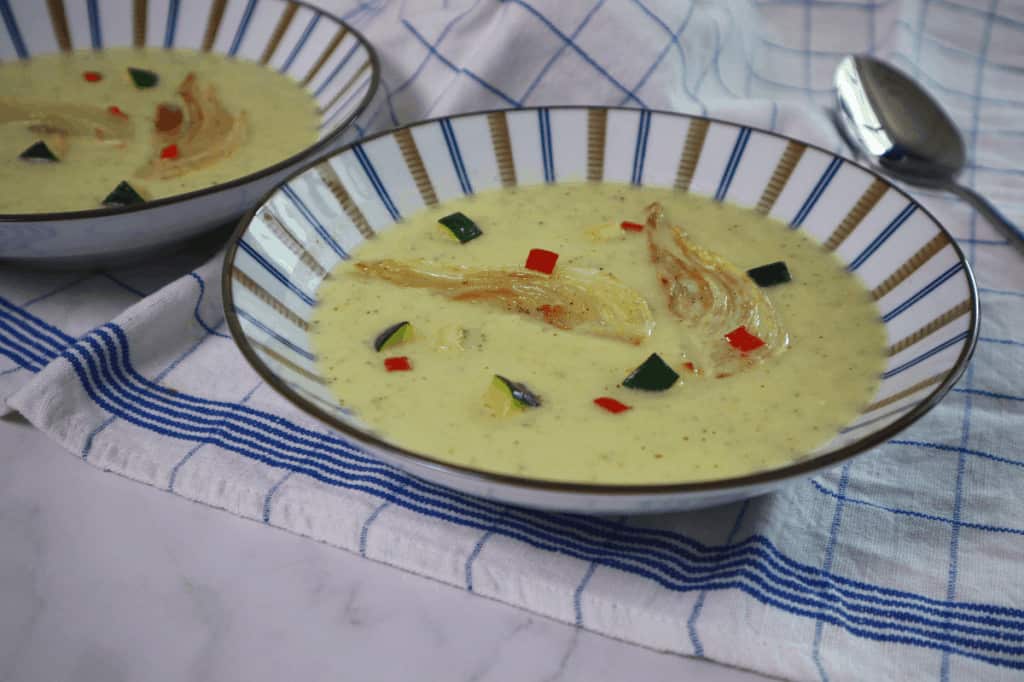 This fennel zucchini soup is a surprisingly refreshing combination, easy to make, and refined enough to wow your guests.
The aroma of the fennel is still pronounced with a taste of aniseed but softened by the zucchini which also works as a thickening agent.
The perfect way to appreciate fennel in a different way. Bon Appétit!
Fennel Zucchini Soup
This fennel zucchini soup is a surprisingly refreshing combination.
Instructions
Cut the fennel bulb and the courgette into dices or slices. Keep some nice fennel slices and courgette dices to garnish the soup.

Sauté the chopped onion with the olive oil over medium heat for 4 minutes until translucent, add the garlic, thyme and a pinch of salt and cook for one more minute.

Add the fennel and courgette, stir to combine and add the vegetable stock and the red chili. Bring to the boil and cook for 10-15 minutes until the vegetables are soft.

Season the soup to taste and blend the vegetables to a smooth texture.

Sauté the remaining courgette and fennel in olive oil until tender but still a bit crunchy to garnish.
Nutrition for 1 portion
Calories:
21
kcal
Carbohydrates:
5
g
Protein:
1
g
Fat:
1
g
Sodium:
1501
mg
Fiber:
1
g
Sugar:
3
g
Vitamin A:
824
IU
Vitamin C:
1
mg
Calcium:
4
mg
Iron:
1
mg
Tried this recipe?
Let us know how it was! #culinaryambition
How to cook fennel in soup
For this recipe, we dice the fennel in cubes, then boil it in vegetable stock until soft. Other preparations include shaving the fennel with a knife or thinly slicing it.
Any liquid will work to make a soup depending on your taste. Chicken stock, beef broth, vegetable broth, seasoned water, and tomato juice are some suggestions.
Highlights of fennel zucchini soup
While some say zucchini and others say courgette, they are the same thing, a member of the squash family. Zucchini is considerably lighter than other squashes and consists mostly of water. It is considered a summer squash and is very refreshing.
Combined with the licorice flavour of fennel, the two work nicely together in thiszucchini fennel soup. Since both flavours are on the mild side, they make a refreshing and light soup.