Fresh Italian Basil Pesto Recipe
Basil pesto should be available in your home at all times! A homemade version of this Italian classic is always tastier than storebought varieties and although it sounds chic and fancy, it is very straightforward to make. The name comes from the Italian word 'pestare' which means to crush with the use of a pestle and mortar, but nowadays of course, we use modern equipment to speed up the process.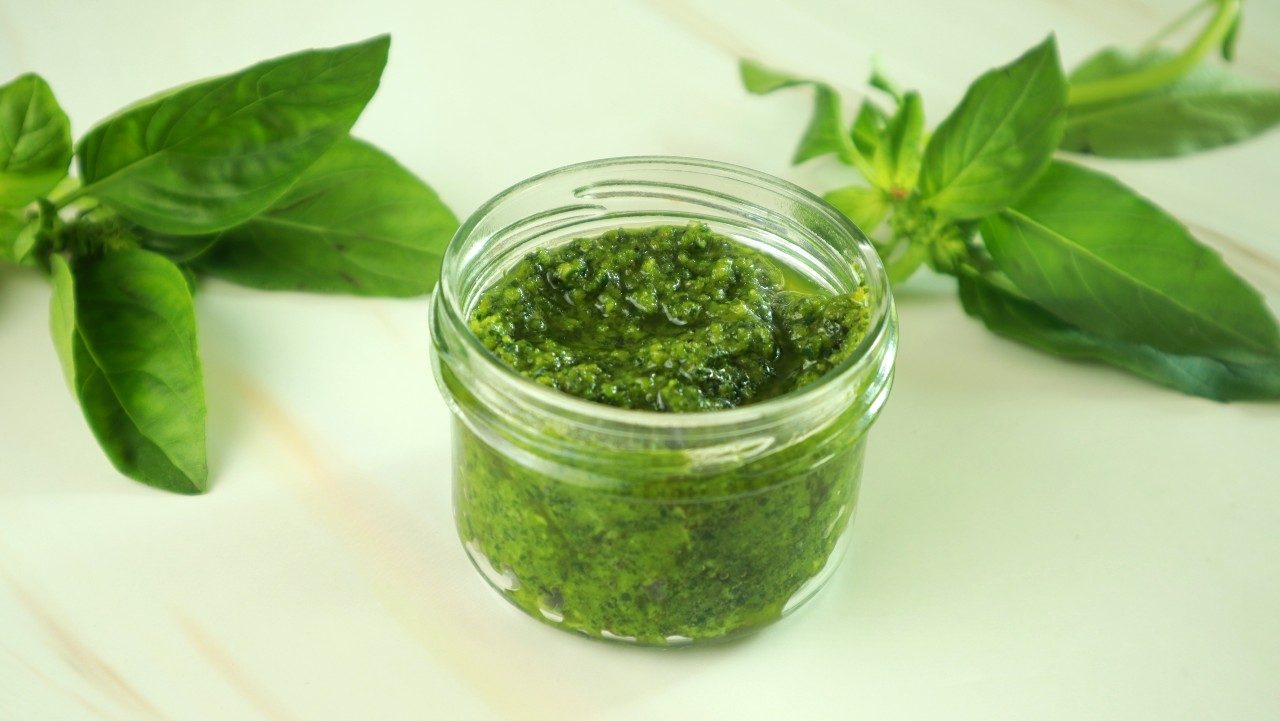 Basil, garlic, olive oil, pine nuts, and Parmesan cheese are the only ingredients you need to make this delicacy. It takes only 20 minutes with the use of a basic food processor to mix everything and finish the entire basil pesto recipe. 
Can ingredients be substituted?
Basil pesto can be made to your own preferences and many ingredients can be substituted too.
Parmesan cheese can be substituted by Pecorino Romano which is slightly saltier.
Pine nuts are traditionally used but they are expensive and not always readily available. They can be replaced with almonds, walnuts or pecan nuts to save money. It is advisable to toast the nuts to bring out their flavour.
Basil might be too aromatic for some family members, so try using half spinach and half basil.
What is basil pesto used for?
Fresh pesto will instantly add a refreshing touch and extra flavour to your meals. Here are a few suggestions.
Toss grilled vegetables in pesto before serving.
Add pesto to a pasta salad to lift the dish.
Chicken and pesto spaghetti is a classic dish.
Top up a minestrone soup with pesto and Parmesan shavings.
Use pesto as a dressing for salads.
It is a perfect topping to flavour your pizza.
How to keep pesto?
Freshly prepared pesto can be kept in the refrigerator in an airtight container for up to 5 days when covered with a thin layer of oil.
You can also freeze it. Ice cube trays or small jars are perfect to store batches in small portions for up to 6 months. Defrost in the refrigerator when needed.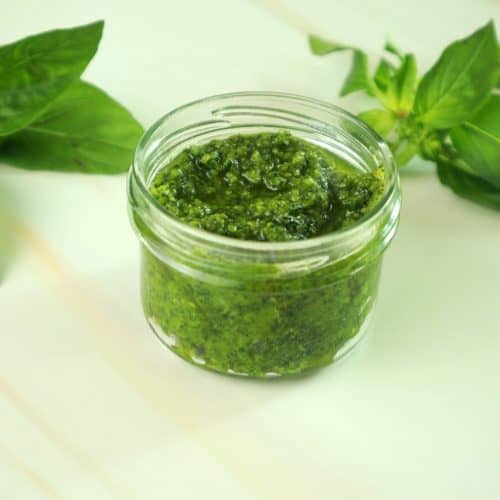 Basil Pesto
Basil, garlic, olive oil, pine nuts, and Parmesan cheese are the only ingredients you need to make this delicacy.
Instructions
Wash the basil carefully and pat dry the leaves. It is important that the basil leaves are very dry.

Place the basil leaves into the food processor with the garlic, the nuts and Parmesan cheese.

Pulse the ingredients to chop them coarsely, then add salt and Pecorino cheese.

Blend all the ingredients for about 1 minute before adding olive oil.

Blend for a further 2-3 minutes, until you get a smooth texture. Adjust the seasoning if required.
Notes
Add a pinch of salt only if you are using Parmesan cheese.
Nutrition for 1 portion
Calories:
106
kcal
Carbohydrates:
1
g
Protein:
5
g
Fat:
9
g
Cholesterol:
9
mg
Sodium:
201
mg
Fiber:
1
g
Sugar:
1
g
Vitamin A:
427
IU
Vitamin C:
1
mg
Calcium:
165
mg
Iron:
1
mg
Tried this recipe?
Let us know how it was! #culinaryambition