Original Thai Papaya Salad Pok Pok
If you have been to Thailand, you will most probably have tried the famous papaya salad, also called 'som tum' and 'papaya pok pok'. If you haven't travelled to Thailand, you will no doubt have heard about this popular Thai salad.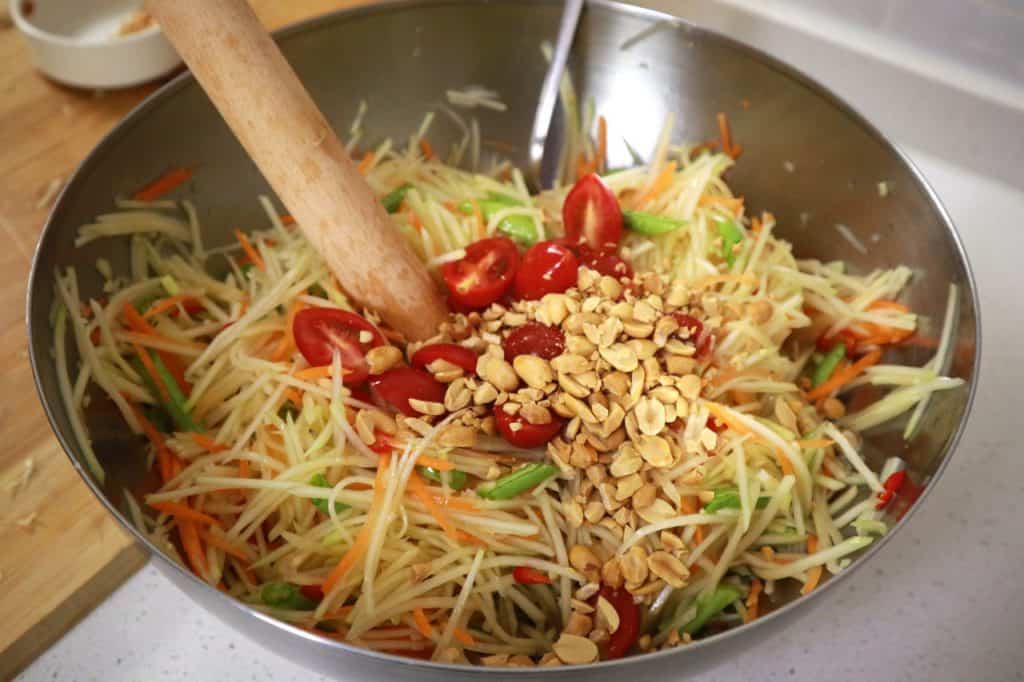 We recently found green, unripe papaya at the market and instantly knew that lunch would be this refreshing, classic som tum! The papaya is traditionally pounded with a pestle and mortar, and this is where the term 'pok pok' comes from. Since we don't have a big enough mortar, we use a regular mixing bowl which is a great alternative.
Green papaya has a very mild, almost bland taste, but the additional ingredients take this salad to the next level with upfront bold and spicy flavours.
As with all Thai food, it is important to find a balance between sweet, sour and salty flavours. Thai people compete to eat this salad as spicy as possible, and they love challenging 'farang'(foreigners) to do it too. We don't make this salad too fiery, but we do find that a minimum of one chili is required to keep it authentic.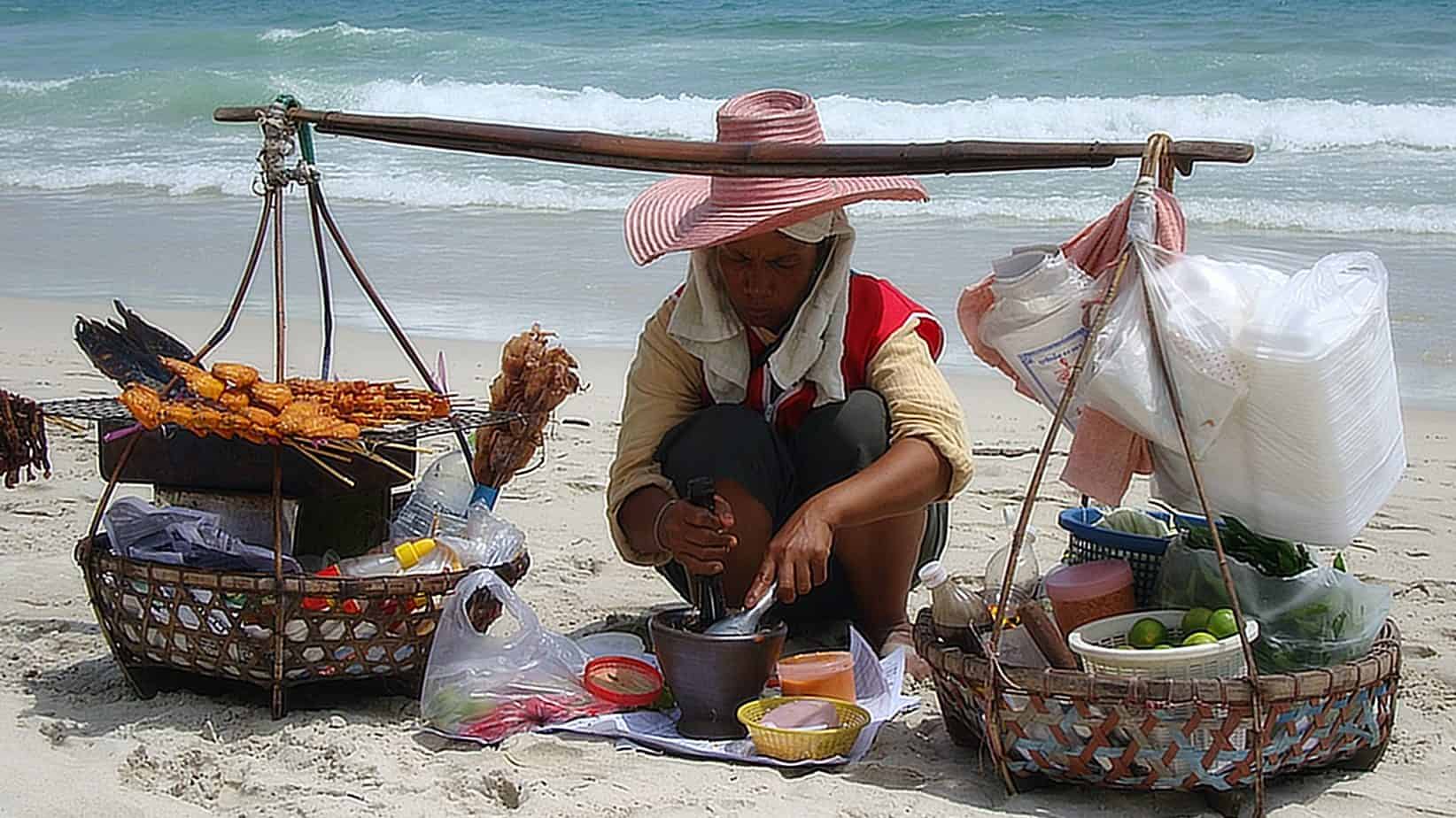 Papaya salad originates from Isaan in the northeast of Thailand, but nowadays you can find it everywhere, from vendors who make it fresh on the beach to the streets in Bangkok and the hills in Chiang Mai. It is often eaten with barbecued sticky rice to soften the spiciness.
Variations of papaya salad
Som tum Thai is the version we are sharing here but we haven't added dry shrimps.
Som tum poo is made with soft black crab and fermented fish sauce.
Som tum ba is also called jungle salad and plenty of additional ingredients with pickled or fermented bamboo shoots being the most important.
Where to find all ingredients
Green unripe papaya and palm sugar are difficult to find in Western Countries. Asian supermarkets usually have all the ingredients to make this salad, and you can find palm sugar on Amazon.
Related: Best mandoline slicers, manual vegetable peelers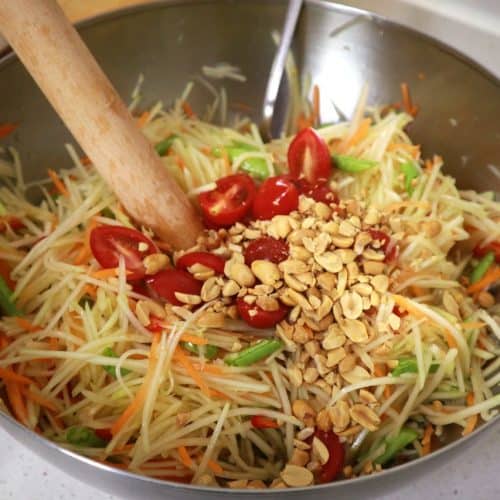 Thai Papaya Salad or Som Tum
The papaya is traditionally pounded with a pestle and mortar, and this is where the term 'pok pok' comes from.
Ingredients
For the garnish
Instructions
Roast the unsalted peanuts in the oven at 160°C. Cool them and crush them roughly.
Prepare the vegetables
Wash and peel all vegetables

Cut the green papaya and the carrots to julienne.

Cut the snake beans to 4-5 cm sticks and halve the tomatoes.

Chop the garlic cloves and the Thai red chili birds.

Squeeze 3 limes and reserve the juice for the dressing, then cut another one into quarters for garnish.
Prepare the dressing
Pound the garlic, chilies and quartered lime in a bowl.

Add the lime juice, palm sugar, fish sauce and the tamarind juice. Stir well with your spoon and adjust to taste.

Add the ⅓ of the julienned green papaya, the carrots and pound to bruise the vegetables into the dressing.

Add the remaining green papaya, tomatoes, green beans, peanuts and mix well.

Serve the salad in a bowl and garnish with the white cabbage, cucumber and fresh coriander leaves.
Notes
Palm or coconut block sugar is the best for Asian recipes. Melt the sugar blocks with a small amount of water to make a thick syrup and store in the refrigerator.
The palm sugar has a lower glycaemic index and is considered healthier than sugar cane.
Tamarind is a remarkable ingredient, as sour as lemon and as sweet as dates. It is the fruit pod of a tree, native to Asia and northern Africa.
Nutrition for 1 portion
Calories:
84
kcal
Carbohydrates:
13
g
Protein:
3
g
Fat:
3
g
Sodium:
564
mg
Fiber:
2
g
Sugar:
7
g
Vitamin A:
5460
IU
Vitamin C:
9
mg
Calcium:
31
mg
Iron:
1
mg
Tried this recipe?
Let us know how it was! #culinaryambition