Bite-size Prawn Tacos with Tomato Salsa
Prawns are delicious and serving them in bite-size mini tacos will impress your guests. We recently organised a cocktail making and tasting marathon for friends. We needed appetisers and fingerfood to accompany the drinks and these mini tacos filled with prawns not only looked the part, but also tasted fantastic!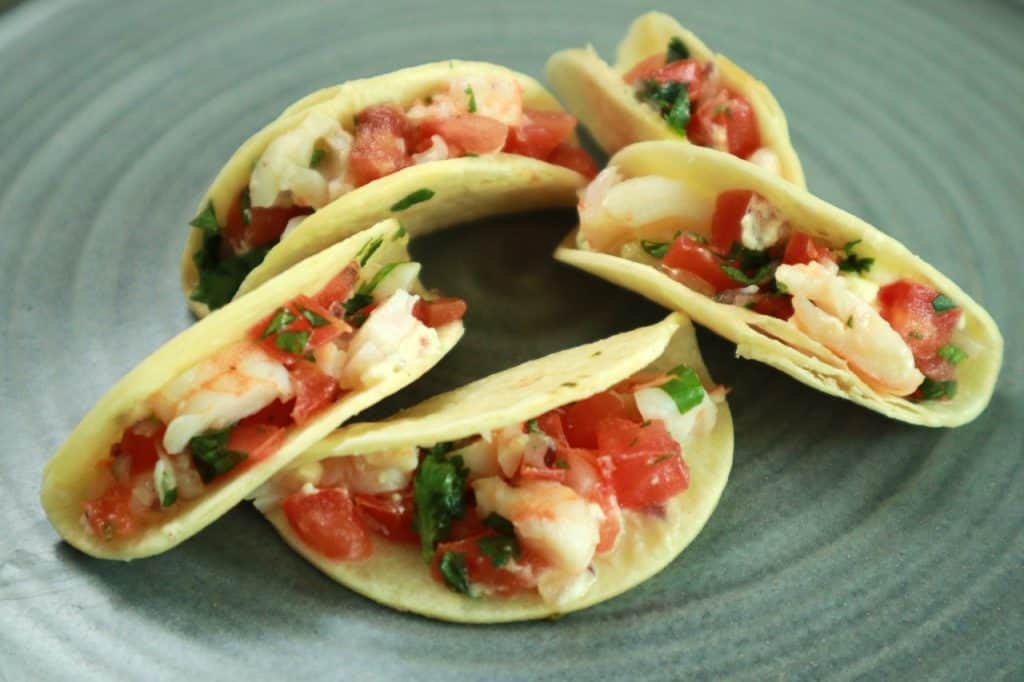 Preparing them is straightforward and you prepare your ingredients as if making fillings for regular tacos, however I do recommend cutting the fillings smaller, so they fit snugly inside the mini taco shells.
Make mini tacos yourself
As we were unable to find mini tacos in the stores, I simply cut them out from the soft tortillas and decided to serve them soft rather than crunchy for ease and less mess. After baking and shaping a few to form mini taco shells, I found it time consuming to fill them. However, if you do decide to bake them, there is no need for special moulds for shaping, just brush the soft tortillas with a little water and use your oven rack or the side of a tray to drape them over to create the shell shape. Bake for 5 minutes and they are ready!
Whatever style you decide to make, this dish always presents well. We even used mini pegs to present these tacos.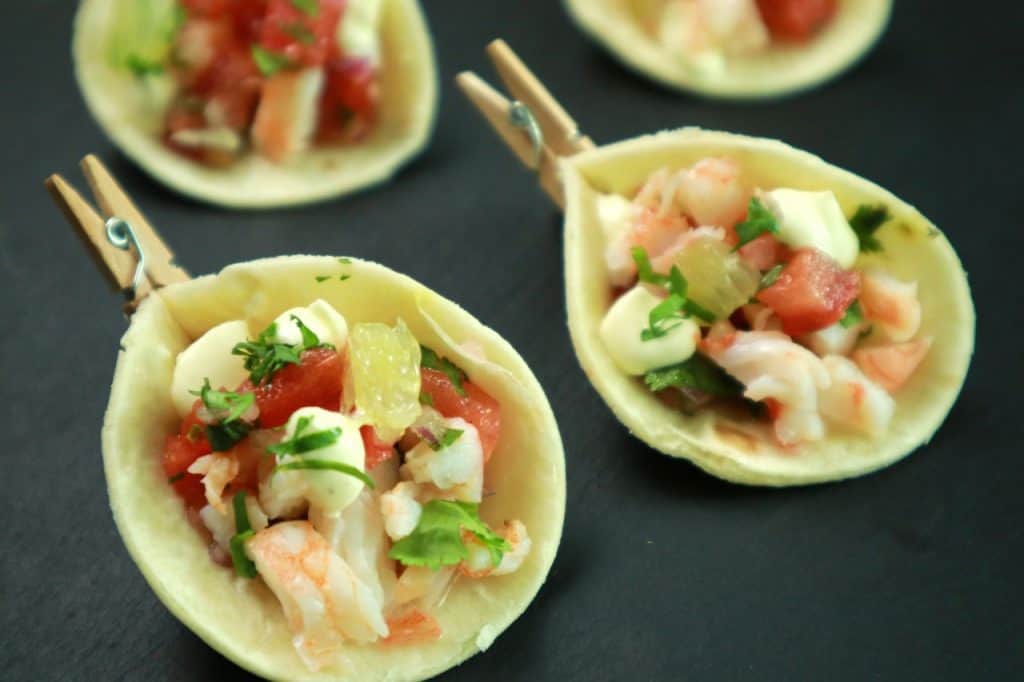 We served tomato salsa and sour cream to accompany the prawns. Although guacamole is kind of standard when eating tacos, there simply was just not enough space in these mini versions, and even without the avocado mix, they were still delicious.
Mini Prawn Tacos with Tomato Salsa
These mini tacos filled with prawns not only looked the part, but also tasted fantastic!
Instructions
Use a round cutter to cut the flour tortilla into smaller versions.

If you would like to shape and crisp up the tortillas, brush them with water, and place them over your oven rack and bake for 5 to 10 minutes. Let them cool down.

Combine the ingredients for the salsa, add 1 tbsp olive oil, lemon juice and season to taste with pepper and salt.

Chop the cooked prawns and add to the salsa.

Divide the salsa mix between the tortillas, add a touch of sour cream and garnish with some fresh coriander.
Nutrition for 1 portion
Calories:
9
kcal
Carbohydrates:
1
g
Protein:
2
g
Fat:
1
g
Cholesterol:
16
mg
Sodium:
12
mg
Fiber:
1
g
Sugar:
1
g
Vitamin A:
5
IU
Vitamin C:
1
mg
Calcium:
7
mg
Iron:
1
mg
Tried this recipe?
Let us know how it was! #culinaryambition