3 easy Recipes for quick and tasty Finger Food
It's in the name; finger food is served in such a form and style that it can conveniently be eaten with the fingers without cutlery.
Depending on the country you live in, there are multiple names for these bite size snacks.They can be called antipasti, aperitifs, canapés, cocktails, munchies, and without a doubt, we have probably missed out on some other names!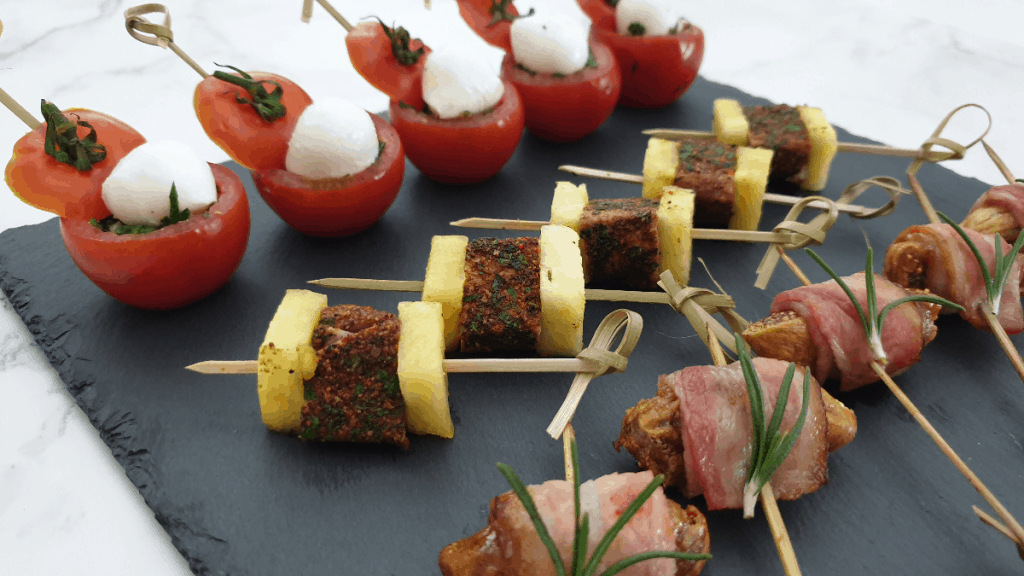 The History of Finger Food
It is hard to track the full history but it's said that the origin is with the French who call it canapés. A canapé means sofa and the edible version of the word began as slices of toasted or fried bread covered with various toppings. The name was inspired from how the toppings 'sat' on the bread, similar to how humans sit on sofas. Nowadays the French still use the word canapés but is now used to describe all finger foods. 
You don't need much equipment to make the recipes today. There is no cooking needed for the tomato-mozzarella, the tuna needs only a quick sear, and bacon bites are super crispy when prepared in the air fryer.
There are plenty of choices to make a variety of fingerfood. Check also our appetizers and starters section, there are several dishes which can easily be turned into bite size snacks.
This recipe is created for Champagne en wijnen DeBlender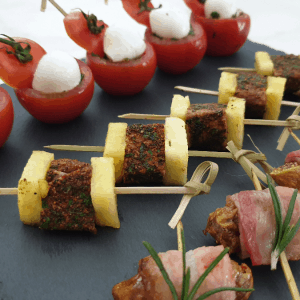 3 easy Recipes for quick and tasty Finger Food
It's in the name, it can conveniently be eaten with the fingers without the use of cutlery.
Ingredients
Tomato-mozzarella
8

pcs

cherry tomatoes

8

pcs

fresh mini bocconcini

3

tbsp

chopped fresh basil

1

tbsp

toasted pine nuts

1

tbsp

grated Parmesan cheese

1

tbsp

extra virgin olive oil
Tuna-pineapple skewers
150

gr

maguro tuna steak

150

gr

fresh pineapple cubes

1

tsp

white peppercorns

2 gr

1

tsp

black peppercorns

2 gr

1

tsp

red peppercorns

2 gr

1

tsp

coriander seeds

1.3 gr

1

tsp

cumin seeds

1.6 gr

1

tsp

chili flakes

1.5 gr
Fig-bacon bite
4

dried figs

4

fine bacon slices

Olive oil
Instructions
Tomato-mozzarella
Cut the tops off the tomatoes and hollow out with a small spoon.

Sprinkle on some salt and pepper then turn the cherry tomatoes upside down on a kitchen towel for 20 minutes to drain the juice.

Combine the basil, pine nuts, Parmesan, olive oil and season to taste.

The basil mixture is best made by hand to keep a coarse texture and not a creamy one

Fill the cherry tomatoes with the basil mixture and the bocconcini.
Tuna-pineapple skewers
Toast all peppercorns for 2-3 minutes over a medium heat. Then add the coriander for 1 minute and finish with the cumin and chili flakes for another minute.

It is important to toast the spices in this order; the cumin will burn faster than the peppercorns.

When the toasted spices are cooled, coarsely grind them to a rough powder.

Coat the tuna steak with the ground spices and sear the steak for 20-30 seconds on each side.

Slice the tuna steak into small cubes and arrange on a bamboo cocktail skewer with the pineapple cubes.
Fig-bacon bites
Remove the hard stem and halve the figs.

Wrap each fig in bacon and secure with a bamboo stick.

Heat up the oven to 180°C.

Bake the fig-bacon for 10-15 minutes or until the bacon is crisp.
Nutrition for 1 portion
Calories:
89
kcal
Carbohydrates:
7
g
Protein:
6
g
Fat:
5
g
Cholesterol:
9
mg
Sodium:
24
mg
Fiber:
1
g
Sugar:
4
g
Vitamin A:
563
IU
Vitamin C:
10
mg
Calcium:
36
mg
Iron:
1
mg
Tried this recipe?
Let us know how it was! #culinaryambition