Creamy Vanilla Rice Pudding – an Easy Nostalgic Treat
This vanilla rice pudding will transport many of you back to childhood! This nostalgic, comforting, creamy, delicious dessert can be eaten warm or cold.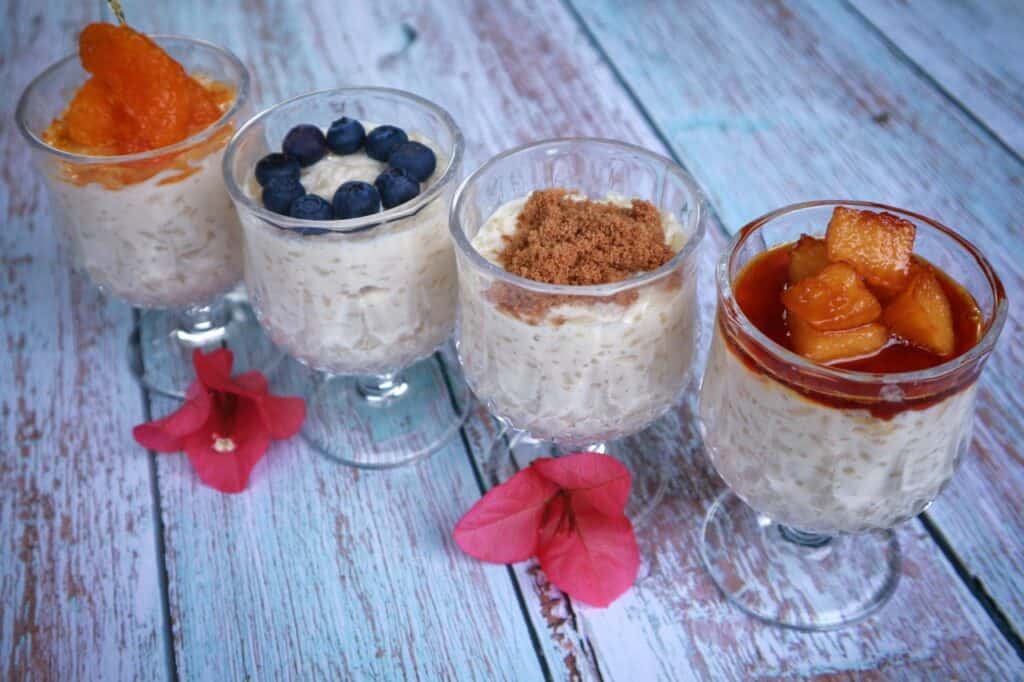 With only four ingredients most probably available in your pantry, create a magical recipe loved by young and old. The rice mixture simmers slowly away on the stove and only needs occasional stirring. Although it might take a bit longer to prepare compared to other rice puddings, it is worth it! This recipe has a subtle touch of sugar and vanilla, and extra fragrance and taste can be added with cinnamon or other spices. We use vanilla pods in this recipe but substituting with vanilla powder or vanilla extract is fine too.
Why should vanilla rice pudding simmer
While the rice cooks in the milk, it releases starch that works as a thickening agent turning the rice grains into a soft and creamy mass. Begin with uncooked rice or it is possible to use leftover cooked rice. We choose to blanch the rice shortly before cooking as this results in a creamier outcome.
What is the best rice for pudding?
Round rice has a high starch content. The French culinary term 'crever' is specifically used for rice and it means to blanch or boil the rice (starting with cold water) to open the rice grains and release starch. Releasing some of the starch before starting the cooking process in the milk, makes the pudding creamier and less dense.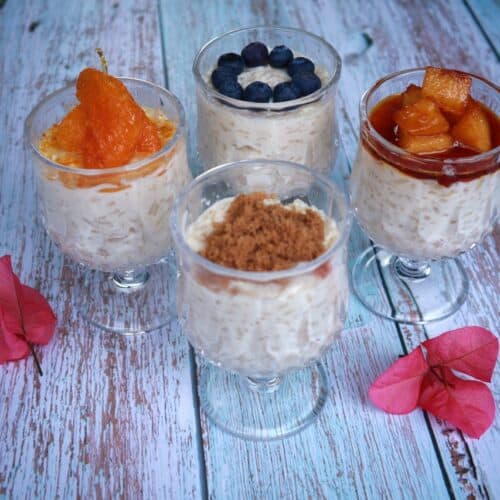 Vanilla Rice Pudding
This nostalgic, comforting, creamy, delicious dessert can be eaten warm or cold.
Ingredients
For garnish
Caramelised apples or mandarin segments
Instructions
Wash the rice 2 or 3 times with cold water and bring to the boil (crever.) Once boiling, remove from the heat and drain the water.

Bring the milk, sugar, vanilla beans and salt to the boil until the sugar is dissolved.

Add the blanched rice to the milk mixture and bring again to the boil, stir until the grains are detached.

Lower the heat and simmer for 35-40 minutes until most of the milk is absorbed by the rice. Stir frequently to prevent the rice from sticking to the bottom of the pan.

Remove and discard the vanilla beans.

Transfer the rice pudding into service jars or glasses and let it cool to set.

Garnish the rice pudding with a topping of your liking.
Notes
The rice pudding will be a little runny when still warm, but once chilled, it will thicken.
Nutrition for 1 portion
Calories:
291
kcal
Carbohydrates:
39
g
Protein:
12
g
Fat:
14
g
Cholesterol:
31
mg
Sodium:
113
mg
Fiber:
5
g
Sugar:
27
g
Vitamin A:
418
IU
Calcium:
344
mg
Iron:
5
mg
Tried this recipe?
Let us know how it was! #culinaryambition