Best Spiced or Mulled wine recipe
We have the Romans to thank as it was them who first warmed wine with spices and introduced this delicious drink in Europe. It is traditionally served during the winter holiday season and especially around Christmas.
We have lived in warm countries for the last 25 years but the tradition has spread widely around the world and wherever we have lived we always managed to find a place or a Christmas market where mulled wine was served.
What is spiced wine?
Spiced wine, also known as mulled wine, is usually made with red wine along with various mulling spices. The mix varies depending on the 'cook' and ingredients such as cider, and brandy or rum can be added along with the traditional ingredients.
What is it called otherwise?
Glühwein is probably the most well-known name and used in German speaking countries and the Alsace region in France. Scandinavians call it their version 'glögg' and are often tempted to add the stronger alcohol such as vodka and aquavit. The French call it 'vin chaud' which in many other European countries is a direct translation meaning warm wine.
The best mulled wine recipe
We would like to believe that we have the most traditional or the best recipe, but flavours and tastes are personal and there are many other good recipes available too. We have tested and tasted variations of several batches which make us feel confident about our recipe.
The spices are nicely balanced with the warmth of the wine and the sweetness of the orange and honey.
This spiced wine recipe is for one bottle of wine but you can easily multiply and prepare this in advance for a party. Choose a full-bodied wine such as Shiraz or Malbec and never let the wine boil but instead let the spices infuse and they will soon spread Christmas scents throughout your home. Cheers!
Related: Pumpkin custard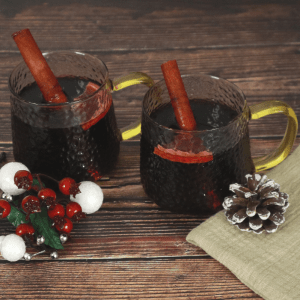 Spiced or mulled wine
The spices are nicely balanced with the warmth of the wine and the sweetness of the citrus and honey.
Ingredients
Instructions
In a medium saucepan over medium heat, combine all ingredients.

If you don't want the spices to float around, bind them in a small piece of cheesecloth or tea bag.

Bring to a simmer not a boil, then reduce heat to medium-low. Simmer gently over low heat for 15 to 30 minutes.

Serve warm and garnish with a slice of citrus and a cinnamon stick.
Notes
You can use sugar instead of honey but we prefer honey as the sweetness is more subtle.
You can adjust the amount of each ingredient to your own liking. 
Nutrition for 1 portion
Calories:
214
kcal
Carbohydrates:
12
g
Protein:
1
g
Fat:
1
g
Sodium:
9
mg
Fiber:
1
g
Sugar:
6
g
Vitamin A:
16
IU
Vitamin C:
5
mg
Calcium:
38
mg
Iron:
1
mg
Tried this recipe?
Let us know how it was! #culinaryambition