Free Range Scrambled Eggs with Caviar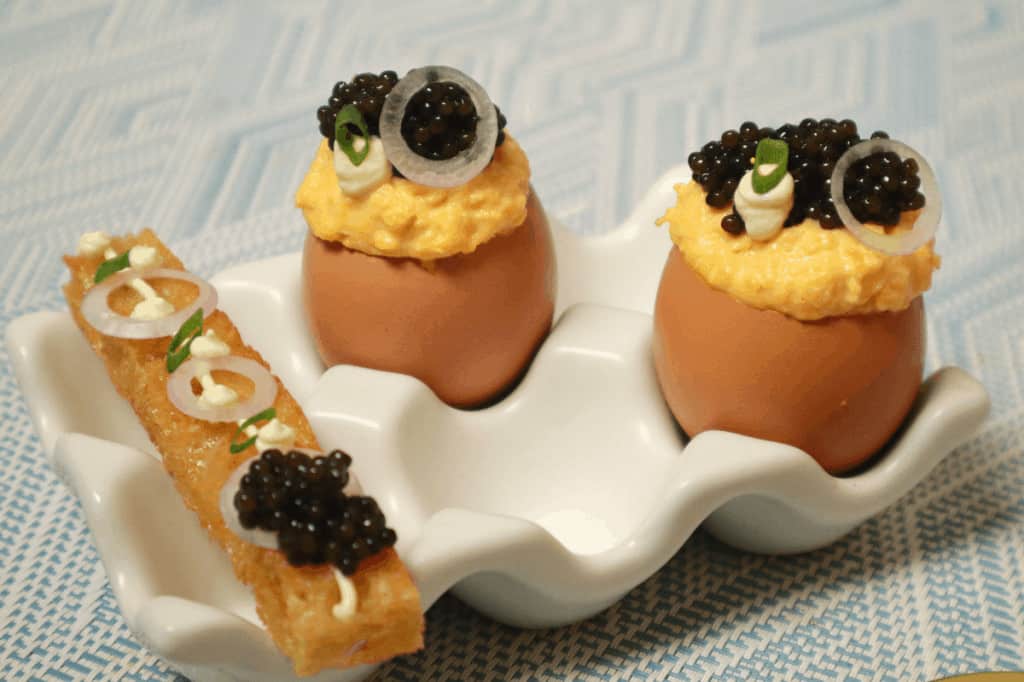 Good caviar doesn't need a lot to shine on a plate and it is generally known that eggs pair well with these flavourful edible pearls.  
Think of fluffy scrambled eggs served with this splendid caviar and the resulting flavours and textures.
Indulge in caviar for breakfast
It seems scrambled eggs are easy to make but when aiming for this ultimate breakfast experience some techniques are required to serve the perfect eggs. 
Work over low heat to develop the curds little by little, stir constantly to prevent the eggs sticking to the bottom of the pan and turning into an omelette. The added whipped cream makes the eggs very creamy and soft. The caviar is provided by our friends of Kings fine food and Kaluga Queen. You can substitute the caviar for lumpfish eggs but the texture of the eggs will be less subtle.
The use of an egg cutter or toque oeuf will help you to cut the egg shells perfectly.
Less is more is a perfect quote for this dish!
Also read our other caviar recipes.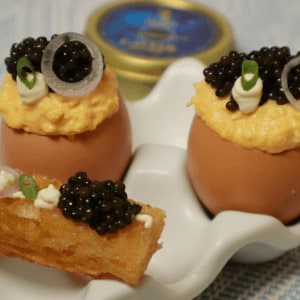 Free Range Scrambled Eggs with Imperial Caviar
It is generally known that eggs are pairing well with these flavourful edible pearls.
Instructions
Whip the cream to soft peaks and season to taste with salt and pepper.

Place the red onion rings in iced water for 10 minutes then transfer to a kitchen towel.
Prepare the eggs
Place the cold butter in the saucepan.

Add the eggs, season with salt and white pepper and whisk the eggs over low heat.

Cook the eggs, whisking continuously until they begin to set around the edge. When you obtain a creamy texture, remove from the stove.
Finish the dish
Add 2 tablespoons of whipped cream into the scrambled egg mixture and gently combine together.

Serve the scrambled egg into the egg shells or any other serving dish.

Add a good teaspoon of caviar on top and the toasted bread on the side.
Nutrition for 1 portion
Calories:
209
kcal
Carbohydrates:
1
g
Protein:
1
g
Fat:
23
g
Cholesterol:
86
mg
Sodium:
24
mg
Sugar:
1
g
Vitamin A:
849
IU
Vitamin C:
1
mg
Calcium:
33
mg
Iron:
1
mg
Tried this recipe?
Let us know how it was! #culinaryambition
Highlights of scrambled eggs with caviar
Eggs have become one of the most versatile foods around. An egg is not only a breakfast meal, but is completely suitable for lunch, dinner, and snacks.
It is a healthy ingredient that works with many sauces, vegetables, and meat. Fruit is another great accompaniment. You can enjoy whatever is in season to keep your meal fresh and colourful.
Restaurants have long served steak and eggs, but let your tastes be elevated with caviar. It may sound posh to eat eggs and caviar for breakfast, but the truth is this is a wonderful ingredient for a lovely brunch of eggs, toast and caviar. It is a perfection indulgence for one, two, or a group of people!