Lamb Medallion with Garlic Sauce and Zucchini
Lamb might be too strong in flavour for some, but the loin of which we cut lamb medallions is mild in flavour, tender, and delicious.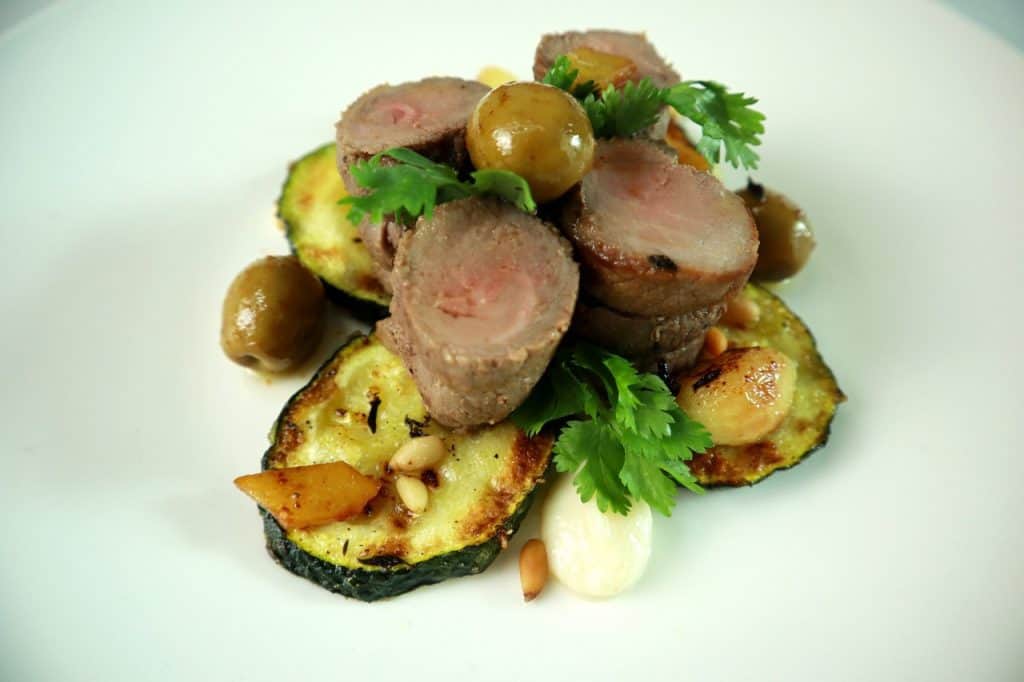 Why Lamb medallions and zucchini
Today's dish has many flavours and textures that will blow your mind! The juiciness of the lamb with the crunch of the pan-fried zucchini and the specific finishing touch of our own homemade creamy garlic sauce is just divine.
The best part of this recipe is the quite short preparation and cooking time. It might all sound complicated, but it's easy if you follow our instructions.
Culinary terms
We always try to use as little of the technical language as possible. Unfortunately sometimes culinary terms are needed.
Dégorger is a French culinary word used for vegetables and means 'to leave to sweat'. Sprinkling salt over the vegetables makes them 'sweat' and eliminates the excess water and the bitterness if there is any. This process will avoid a wet and soggy texture when pan frying.
Blanchir or blanching garlic in water prevents oxidation and softens the flavour especially when this process is repeated multiple times.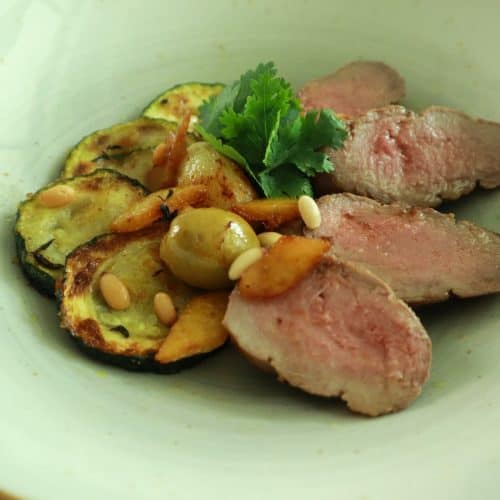 Lamb Medallion with Garlic Sauce and Zucchini
Lamb loin of which we cut medallions is mild in flavour, tender, and delicious.
Instructions
Prepare the lamb
Heat up a good amount of olive oil over a medium heat, add the 2 garlic cloves and the thyme.

Season the lamb with salt and pepper and pan fry for 3-4 minutes on each side.

Meanwhile, cut the confit lemon skin into small lozenges or cubes and add to the pan with the pitted green olives.

Rest the meat for 2 minutes on a wire rack covered with a thin foil.
Prepare the zucchini
Cut the zucchini into 8-10 mm slices.

Dégorge the zucchini, sprinkle with sea salt and let them 'sweat' for 30 minutes.

Pat the zucchini slices dry with a kitchen towel.

Coat the zucchini slices with a thin layer of corn starch.

Heat olive oil in a large sauté pan and add the zucchini slices.

Shallow fry them in small batches for 2-3 minutes on each side until golden brown.

Drain on kitchen paper, season with salt and pepper and keep them hot.

Arrange all cooked ingredients on a plate. Spoon the green olives and lemon confit around the plate, sprinkle toasted pine nut seeds and finish with fresh coriander and the garlic cream sauce.
Nutrition for 1 portion
Calories:
658
kcal
Carbohydrates:
9
g
Protein:
32
g
Fat:
55
g
Cholesterol:
99
mg
Sodium:
166
mg
Fiber:
1
g
Sugar:
1
g
Vitamin A:
67
IU
Vitamin C:
2
mg
Calcium:
27
mg
Iron:
4
mg
Tried this recipe?
Let us know how it was! #culinaryambition
Highlights of lamb medallion with zucchini and garlic sauce
Wondering about something different for dinner, and not sure what to try?
This is one of the lamb medallion recipes that is easy to make and quick too for those that are not accustomed to cooking lamb. Using the loin for your medallions means that the meat is tender and flavourful.