Fresh Homemade Cannelloni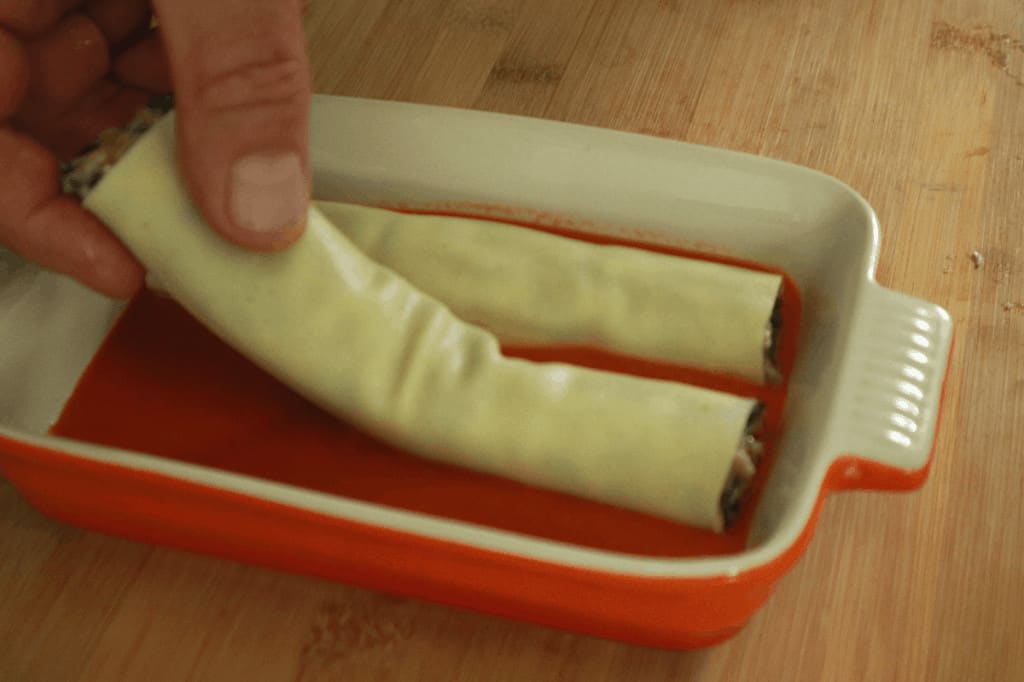 In Italian cuisine cannelloni are a type of lasagna in a cylindrical form with a delicious filling and covered by a sauce. Popular stuffing ingredients include spinach and ricotta or minced beef. The shells are then typically covered with sauce.
There are two ways to make cannelloni; you can start with the store bought dry pasta tubes or you can make fresh pasta and roll fresh lasagne sheets. It is not a sin to buy pasta, but you know we like to make our food from scratch and so we are using freshly made pasta.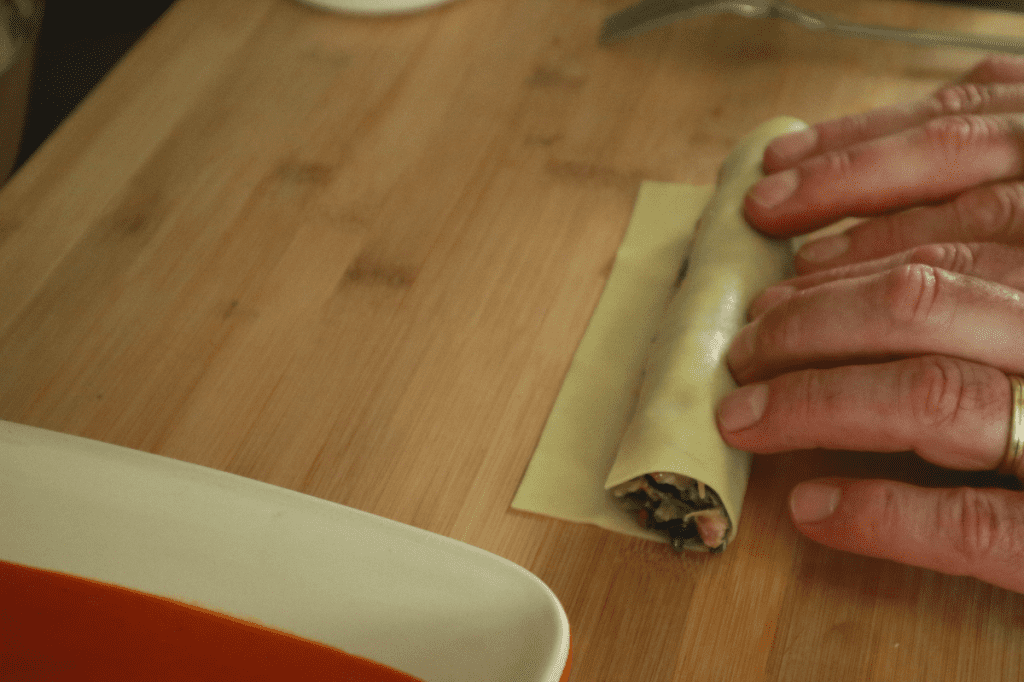 It is very traditional that cannelloni are smothered generously with sauce to ensure the pasta absorbs plenty of it meaning the dish is moist and tasty.
We like this tradition and will follow with the most common sauce for cannelloni which is tomato sauce.
As in most Italian cuisine, the recipes are straightforward, but you can add your personal touch with the addition of extra herbs resulting in superb dishes.
What's the difference between cannelloni and manicotti?
Manicotti are very large pasta tubes, usually ridged. It is the American version of the smooth cannelloni.
Manicotti recipes tend to be filled with only cheese and the sauces contain meat and vegetables, while cannelloni recipes have meat or vegetables fillings with cheese sauce on top.
Prepare yourself well and familiarise yourself with our detailed recipes for Bechamel sauce, tomato sauce and pasta!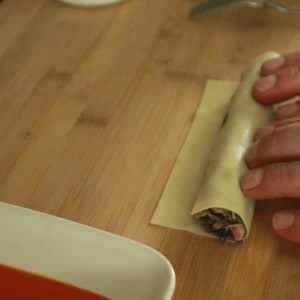 Fresh Homemade Cannelloni
In Italian cuisine cannelloni are a type of lasagna in a cylindrical form with a delicious filling and covered by a sauce.
Ingredients
8

pcs

rectangles 10 x 12 cm of fresh egg pasta dough

200

ml

tomato sauce

300

ml

Bechamel sauce

20

gr

finely grated parmesan cheese
For the filling
2

pcs

chopped garlic cloves

1

tbsp

chopped fresh ginger

100

gr

smoked lardons

300

gr

chopped bok choy

300

gr

chopped fresh spinach

300

gr

sliced rosette bok choy

or kale

300

gr

minced pork
Instructions
Prepare the filling
In a large skillet pan or cocotte, sauté the garlic, ginger and lardons with a drizzle of oil over a medium heat until fragrant.

Add all green leaves, increase the heat and quickly cook and stir all together for 4-5 minutes until the water is completely evaporated. Remove from the stove, season to taste and cool down.

Finish the filling by combining the green leaves with the minced pork and season taste.
Prepare the pasta
Bring a large amount of water with salt to boil and blanch the fresh pasta rectangles for 3 minutes. Allow the pasta to cool and pat dry.

Arrange the blanched pasta on your workstation and divide the filling equally.

Make rolls to make the cannelloni.

Pour the cold tomato sauce in a baking tin.

Arrange the cannelloni in the tomato sauce, seam side down and cover with the bechamel sauce.

Sprinkle the grated parmesan on top and bake 160°C for 30-40 minutes until golden brown and bubbling.
Notes
The size of the fresh pasta rectangles depends on the size of your baking tin.
The filling mixture can also be used for a succulent patty or burger.
Nutrition for 1 portion
Calories:
482
kcal
Carbohydrates:
8
g
Protein:
18
g
Fat:
43
g
Cholesterol:
81
mg
Sodium:
530
mg
Fiber:
3
g
Sugar:
3
g
Vitamin A:
10645
IU
Vitamin C:
59
mg
Calcium:
230
mg
Iron:
4
mg
Tried this recipe?
Let us know how it was! #culinaryambition