Crispy Garlic Chips – a No Fuss recipe
Crispy garlic chips are the perfect 'seasoning' to many dishes.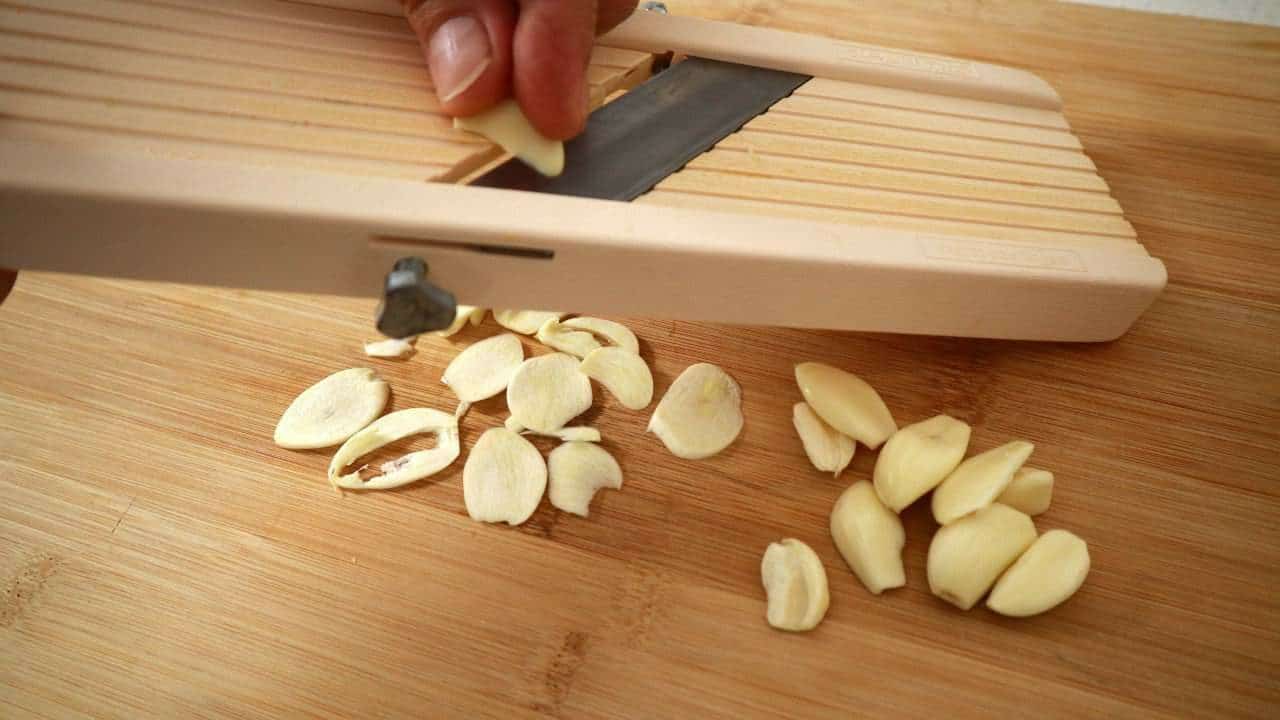 These air fried crispy pieces of garlic are easy to produce and a fancy way to enhance flavour. These chips are a different way to add a touch of garlic flavour to salads or other dishes.
Avoid burned garlic chips
As the garlic is thinly sliced it is easy to burn during frying resulting in bitter chips. Soaking the sliced garlic in ice water or blanching before cooking will remove the juice that contains allicin and sulphur both of which are responsible for causing easy burning.
Setting the air fryer at a lower temperature avoids burning the edges before the middle is crisp.
Pressed garlic vs sliced garlic
It is obvious that pressed garlic can't be transformed into crispy chips, but we wanted to point out that the pressed version will always be stronger in flavour and more pungent since you break more cells.
How to store garlic chips
Although we recommend consuming these crispy garlic chips right straight after cooking when their texture is optimal, they can be stored for up to one month in an air-tight container at room temperature.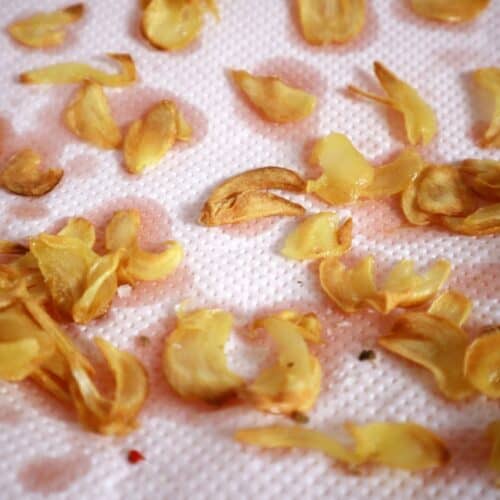 No-Fuss Crispy Garlic Chips
These air fried crispy pieces of garlic are easy to produce and a fancy way to enhance flavour.
Ingredients
1-2

pcs

whole garlic bulbs

1

tbsp

avocado oil or olive oil

Salt or flavoured salt
Instructions
Peel the garlic cloves and remove the shoots if there are any.

Use a mandoline to slice the cloves into thin slices.

Soak the garlic slices in iced water for 30 minutes.

Drain the water and dry the garlic.

Toss the dry garlic slices with the avocado oil.

Place the garlic slices into the air fryer basket and cook at 160°C for approximately 8 minutes or until they are golden brown.

Transfer the garlic chips to a paper towel, sprinkle flavoured salt and allow to cool before serving.
Nutrition for 1 portion
Calories:
21
kcal
Carbohydrates:
0.1
g
Protein:
0.01
g
Fat:
2
g
Sodium:
0.1
mg
Fiber:
0.003
g
Sugar:
0.002
g
Vitamin A:
0.01
IU
Vitamin C:
0.1
mg
Calcium:
0.3
mg
Iron:
0.02
mg
Tried this recipe?
Let us know how it was! #culinaryambition