Crab meat Cakes with Sweet Corn
Crab cakes are seasonal, and usually eaten during warm weather months. They are very popular in the United States where they are made with mayonnaise. You already know that we like to personalise our recipes and do our own 'thing' with them. 😊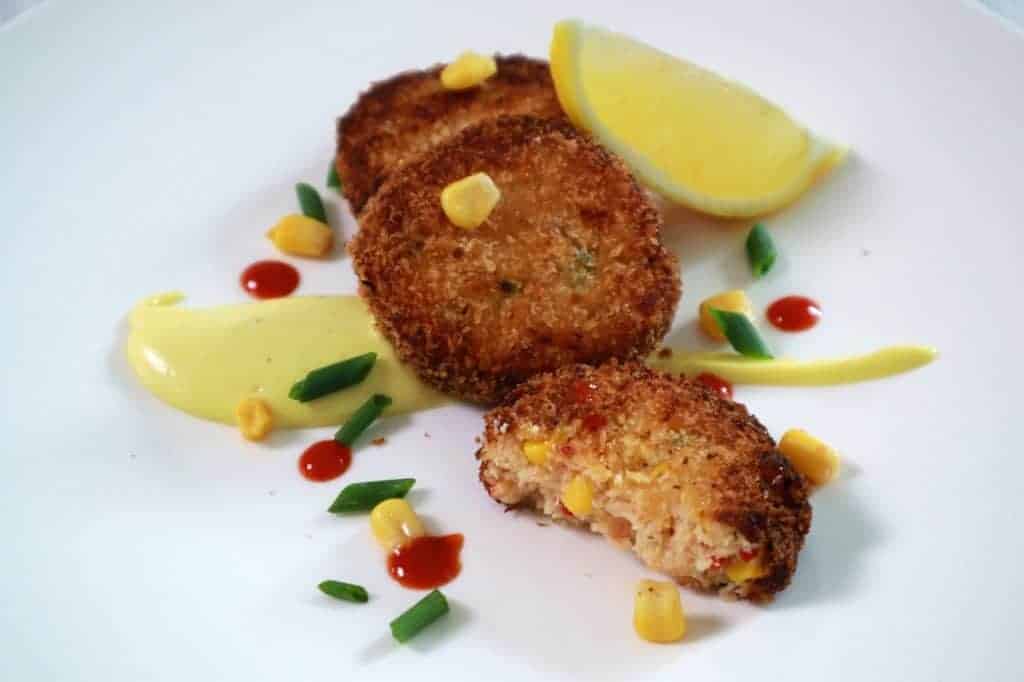 Our recipe doesn't contain mayonnaise like most of the classic ones, but a mixture of soaked white toasted bread that adds moisture to the preparation which ensures your crab cakes will never dry. The sweet corn adds extra flavour and texture.
Because many of us are now more aware of healthier food preparations, we chose to air fry one batch and deep fry the other. Both cooking processes delivered crispy crab cakes, but the air fried ones were not as coloured and slightly drier.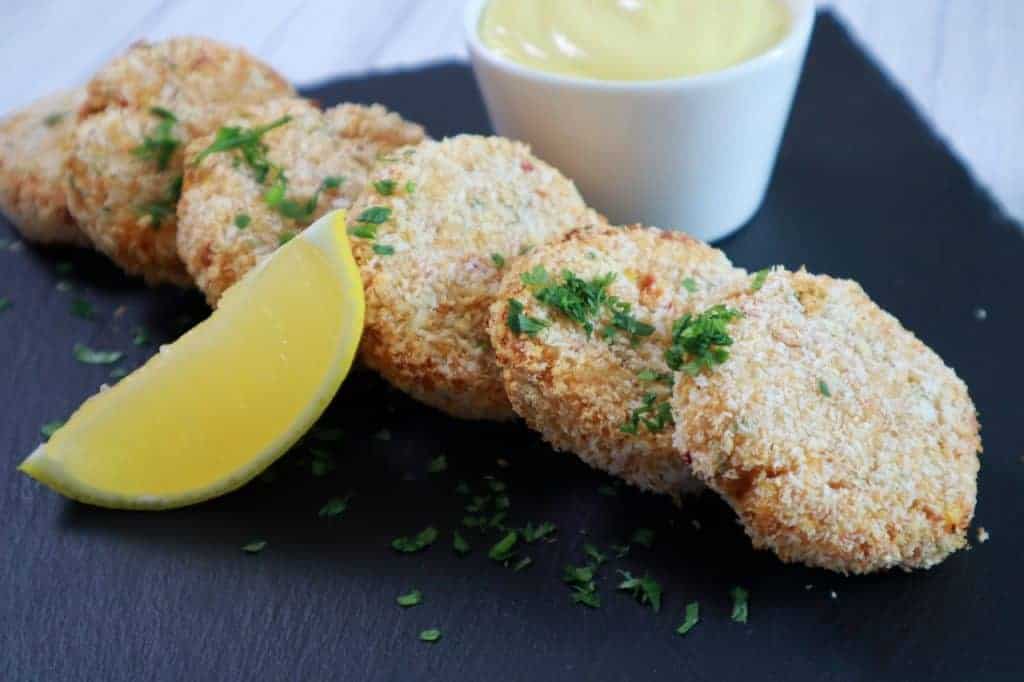 You still don't need to worry as a dipping sauce will add moisture and flavour. Serve them as an appetizer or add a mixed salad on the side to make it into a healthy lunch. We used a skordalia dip with ours but a lemon dressing or herb mayonnaise pair very well too.
Related: Best air fryers for healthier eating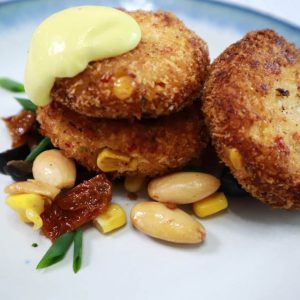 Crab Cakes with Sweet Corn
Crab cakes are seasonal, and usually eaten during warm weather months.
Instructions
Remove the crusts from the fresh bread, cut in small pieces and soak in the milk.

Remove all shells and cartilage from the crab. Dice half of the crab meat and keep aside.

Place the other half of the crab meat into the food processor with the soaked toast bread and whole egg and blend to a smooth paste.
Prepare the crab cake mixture
In a mixing bowl, combine the crab paste with the diced crab meat, sweet corn, red chili, spring onions and season to taste with salt, pepper and Sriracha sauce.

If the mixture is sticky and/or too wet, then add some panko breadcrumbs to absorb the moisture. Refrigerate for 30 minutes.

Divide the mixture into twelve portions, shape the crab patties and coat the patties with the panko.
Cook the crab cakes
option 1: Bake the crab cakes in the air fryer oven at 220°C for 15 minutes.

Option 2: Shallow fry the crab cakes in a pan for 2-3 minutes until golden brown.
Notes
Panko can be replaced with oatmeal or crushed corn tortillas for a gluten free version.
Nutrition for 1 portion
Calories:
118
kcal
Carbohydrates:
13
g
Protein:
13
g
Fat:
2
g
Cholesterol:
25
mg
Sodium:
553
mg
Fiber:
1
g
Sugar:
3
g
Vitamin A:
120
IU
Vitamin C:
6
mg
Calcium:
59
mg
Iron:
1
mg
Tried this recipe?
Let us know how it was! #culinaryambition