What is celery root?
Celery root or celeriac is a close relative of the celery plant, but this root has an outspoken, delicate flavour.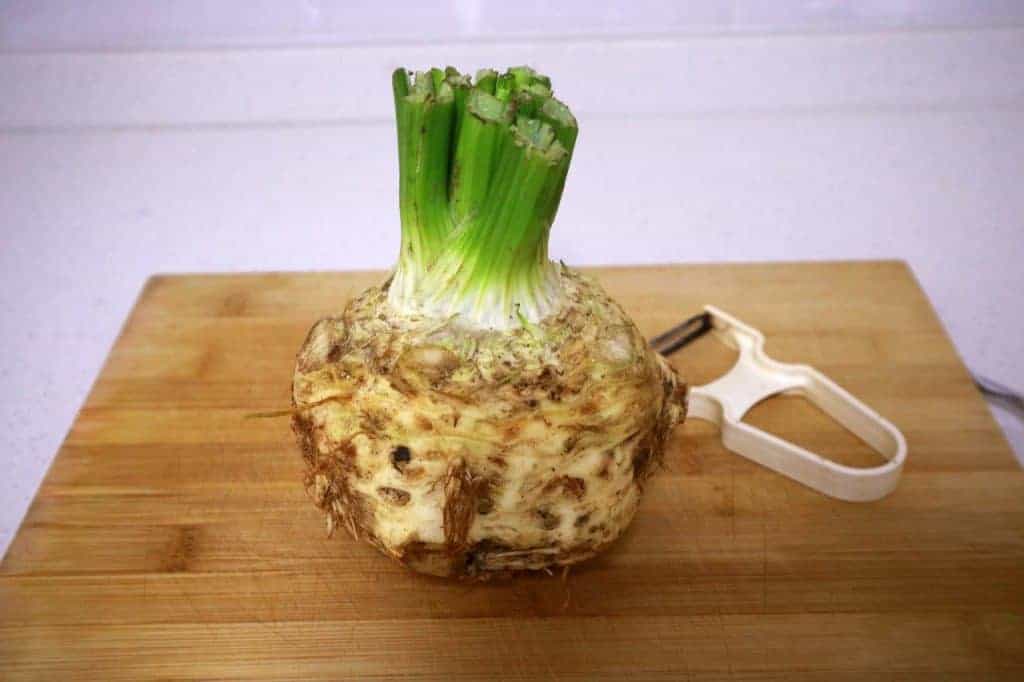 It is versatile and can be eaten raw in salads, boiled in soups or puréed, and roasted with other vegetables.
What is celery root purée?
Celery root purée is silky and creamy and a healthy, low-carb alternative to mashed potatoes.
Nothing can go wrong with this easy recipe, even if you are learning to cook and have never tried this ingredient you can do it!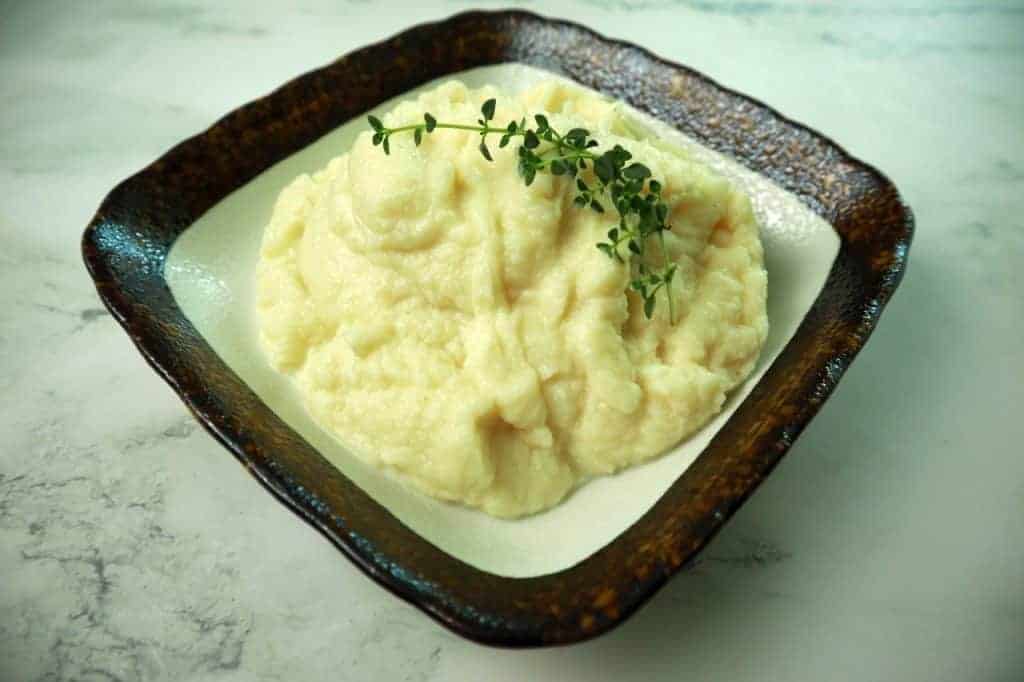 What to eat with celery root purée
Celery root goes well with game, grilled steak, lamb or chicken. 
Celery root puree
Celery root puree is silky and creamy and a healthy, low-carb alternative to mashed potatoes.
Instructions
Wash and peel the celery root and cut into pieces.

Place the celery root into a saucepan, cover with cold water, add ½ glass of milk, the bay leaf, thyme and a pinch of salt. Bring to the boil, and simmer for about 20 minutes until the celery root is tender

Drain and discard the thyme and bay leaf. Bring the remaining milk to the boil. Use a food processor to blend the celery root to a smooth purée, add a small amount of the boiled milk at the same time to adjust the texture.

Season and add a small knob of cold butter. Pass the celery purée through a thin mesh strainer and keep it warm.
Notes
For a thicker texture add potato to the celery root.
To avoid oxidation of the celery root after peeling, rub it with lemon or submerge into a water bath with a lemon slice.
Nutrition for 1 portion
Calories:
114
kcal
Carbohydrates:
7
g
Protein:
4
g
Fat:
8
g
Cholesterol:
13
mg
Sodium:
102
mg
Fiber:
1
g
Sugar:
6
g
Vitamin A:
436
IU
Vitamin C:
1
mg
Calcium:
149
mg
Iron:
1
mg
Tried this recipe?
Let us know how it was! #culinaryambition
Highlights of celery root purée
This celery root purée recipe is the perfect addition to any meal.
It is much easier to prepare than mashed potatoes since you don't have all the peeling to do. It boils faster, and the total time to prepare is much shorter. If you are cooking for several people, you can see how celery root purée would be a real time-saver.
It's also great for vegetarians, is low in fat, and has hardly any calories. The mild flavour means that it pairs well with other vegetables, plus nobody will say they dislike the taste.
Finally, it is a very nice accompaniment to any meat.