Grilled, Juicy Mediterranean Lamb Chops
We do not often get hold of lamb chops here in China so today is a feast, no matter what happens!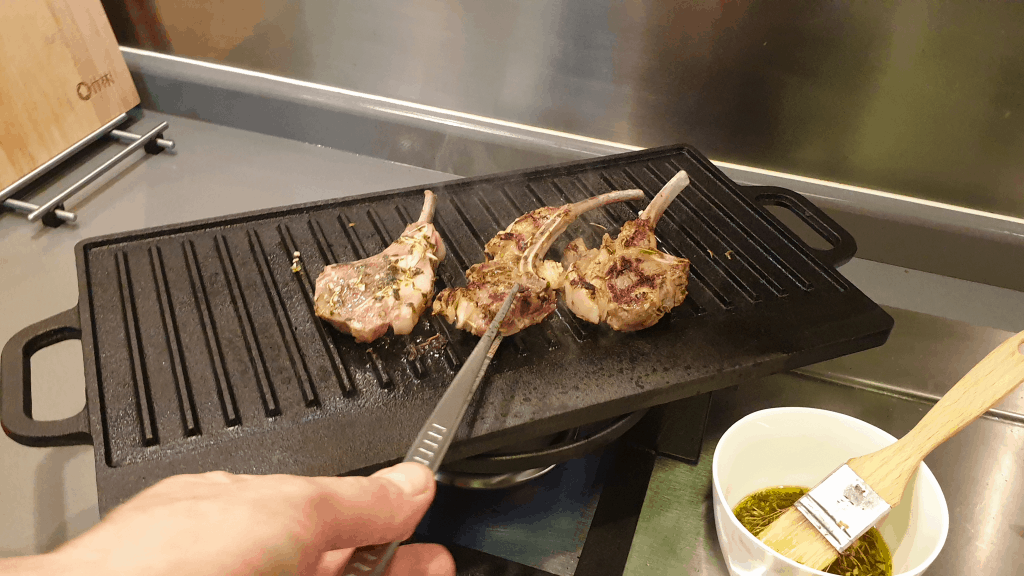 Lamb is an excellent source of protein and vital nutrients like iron, zinc, selenium and vitamin B12. The meat of lamb which comes from an animal that is less than a year has a milder flavour compared to mutton. Mutton is the meat of a sheep that's over the age of one. 
True lamb lovers often choose chops as it is known to be the most tender part of the animal.
Mediterranean lamb chops recipe
There are many ways to prepare lamb and with this Mediterranean lamb recipe you will certainly present a delicious dinner.
Read also : 6 best indoor grills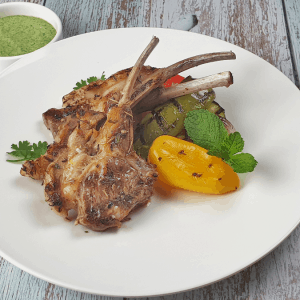 Grilled Mediterranean lamb chops
True lamb lovers often choose chops as it is known to be the most tender part!
Ingredients
For the green yogurt sauce
Instructions
Prepare the marinade:
Combine all ingredients together in a mixing bowl and season with salt and pepper.

Rub the lamb chops with the marinade and refrigerate for one hour.
Prepare the green sauce:
Remove the skin and the seeds from the pepper and slice into long strips.

Sweat the onion, garlic, and green pepper with the ras el hanout and cook under cover and for 6-8 minutes or until soft and tender.

Transfer the cooked mixture to a blender and add fresh mint, coriander and the Greek yogurt.

Blend to a smooth texture and season to taste with salt, pepper and green tabasco.
Grill the meat:
Heat a grill or barbecue to high and sear the lamb chops for 4-5 minutes, flip over and cook for another 2-3 minutes. Season to taste with salt and pepper and rub the remaining marinade on the lamb chops.
Notes
You can use fresh or dry herbs for the marinade. When using dry herbs, add 1 tbsp of water to rehydrate the dried herbs.
The cooking time for the meat may vary as per the thickness of the lamb, however, 6-8 minutes seems to be a good time for a rosé (medium) lamb.
"Ras el hanout" is originally from the Maghreb region in Africa, it is a blend consisting of over a dozen spices such as cardamom, cumin, clove, cinnamon, nutmeg, ginger, chili, coriander, peppercorn, paprika….. ·
Nutrition for 1 portion
Calories:
133
kcal
Carbohydrates:
5
g
Protein:
4
g
Fat:
11
g
Cholesterol:
4
mg
Sodium:
15
mg
Fiber:
2
g
Sugar:
2
g
Vitamin A:
635
IU
Vitamin C:
35
mg
Calcium:
53
mg
Iron:
1
mg
Tried this recipe?
Let us know how it was! #culinaryambition
Highlights of Mediterranean lamb chops
If you have wondered how to cook Mediterranean lamb chops, this recipe should help you get started.
The marinade is light and fresh. Mint jelly is usually served with lamb, but this recipe is even more special since fresh mint is added to the green yogurt sauce.
So, if you usually rely on your favourite restaurant to supply your craving for lamb chops, now you have somewhere to start, and grill your own Mediterranean lamb chops at home.