Traditional Bolognese Sauce or meat ragu
The origins of the Bolognese ragù are related to those of the French ragoût, a stew of ingredients reduced to small pieces, which became popular in the 18th century.
The earliest documented recipe for a ragù served with pasta comes from late 18th century Imola, near Bologna.
Bolognese sauce is a complex sauce which involves various cooking techniques, and thus culinary terms, including sweating, sautéing and braising. There is no definitive recipe for this sauce, but meat dominates as the principal ingredient, while tomatoes, in one form or another, are only an auxiliary ingredient. 
Many professional chefs as well as home cooks have given this sauce their own twist. We are sharing our own recipe of this popular meat sauce with the unusual inclusion of carrots, celery and chilli, as we like the flavours.
Related: Easy homemade ratatouille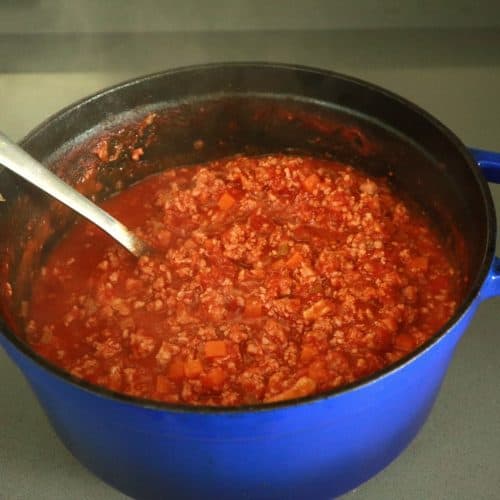 Bolognese Sauce or meat ragu
Bolognese sauce is a complex sauce which involves various cooking techniques.
Instructions
Sweat the onions in some olive oil for 3 – 4 minutes before adding the celery and carrots and stir-fry for another 3 – 4 minutes.

Add the minced meat and constantly stir with a spatula or a spoon to break up big lumps if there are any.

Add all the other ingredients; season with salt and pepper and leave to simmer for 2 hours. Stir occasionally.
Notes
The Bolognese sauce can be stored in the refrigerator for up to 4 days and can be frozen for up to a month.
If the texture of the Bolognese sauce is too thick, it is recommended to add extra passata during the cooking process.
Nutrition for 1 portion
Calories:
445
kcal
Carbohydrates:
11
g
Protein:
24
g
Fat:
33
g
Cholesterol:
89
mg
Sodium:
762
mg
Fiber:
3
g
Sugar:
7
g
Vitamin A:
880
IU
Vitamin C:
17
mg
Calcium:
71
mg
Iron:
4
mg
Tried this recipe?
Let us know how it was! #culinaryambition