Best Easy to make Ratatouille
Ratatouille is the ultimate summer dish but we make it all year long. Why should we restrict our enjoyment of this bright, chunky vegetable stew for only a short season if ingredients are available all year round?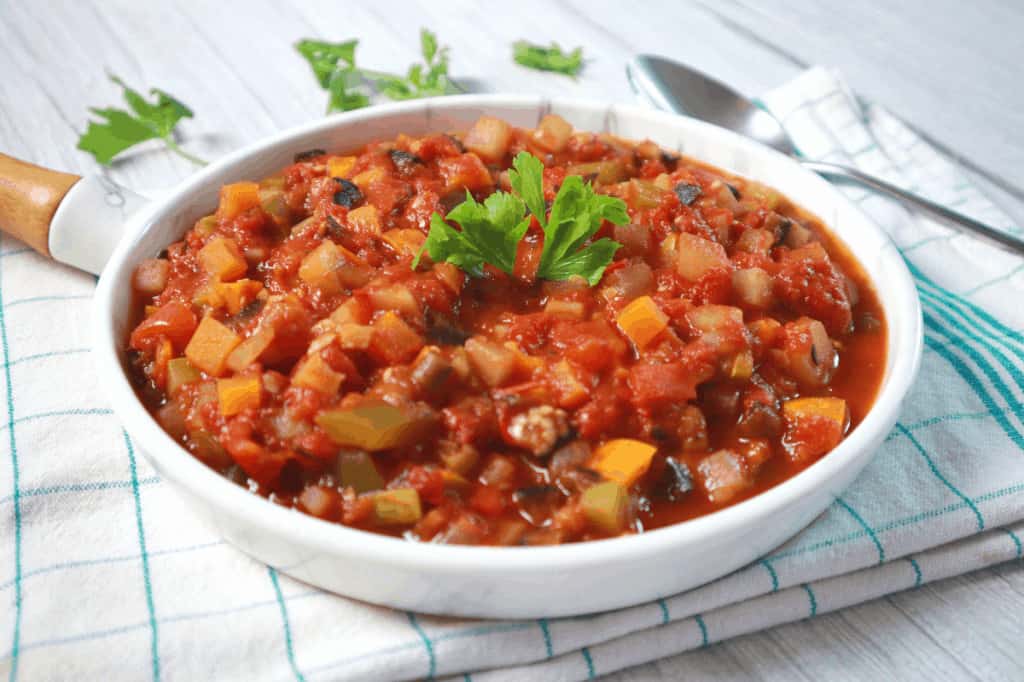 This classic French vegetable stew originates in Provence and is packed with delicious products. Tomatoes, eggplant, zucchini, bell pepper, onion and garlic are traditional ingredients, but we also add carrots and turnips when available. Fresh herbs like thyme and basil are added to infuse aromatic flair.
It is best to cook the vegetables separately to ensure equally cooked produce. Be confident,follow our step-by-step guide, and cook your way from the toughest vegetables to the softest before adding the tomatoes and simmering the mixture to let all vegetables 'compote' or stew. When preparing this dish recently we were unable to find enough ripe tomatoes and decided to use canned, peeled tomatoes. 
Preparing a ratatouille is time consuming, as firstly it is necessary to cut and chop all vegetables and secondly to wait while they are simmering. This said, it is the perfect side dish if you have lots of friends and family over for dinner and otherwise it is easy to freeze for later. The French have it with crusty bread but this recipe can be eaten cold or warm at any time of the day. 
Variations of ratatouille
For a Mediterranean touch, add green or black pitted olives 5 minutes before finishing the simmering process.
Make a Caponata, leave out the carrots and use more aubergine or eggplant. Olives and capers are part of this dish.
If you like a bit of a kick like we do, add chilis or cayenne powder to add spiciness.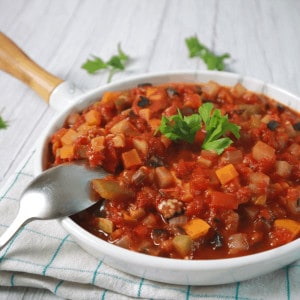 Ratatouille
Ratatouille is the ultimate summer dish but we make it all year long.
Instructions
Wash and peel all vegetables and cut in same sized cubes. Crush the garlic.

Warm olive oil over a medium heat and sauté the onions until translucent.

Add the garlic and carrots and after 2-3 minutes add the bell peppers and sauté for another 3-4 minutes.

Follow on with the turnip, the zucchini and the eggplant and sauté each time for 2-3 minutes.

Add tomatoes, bay leaves, thyme and oregano with a pinch of salt and pepper before simmering until all vegetables are tender but still chunky.

Season to taste
Notes
You can adjust quantities if you like certain vegetables more than others.
Nutrition for 1 portion
Calories:
132
kcal
Carbohydrates:
5
g
Protein:
1
g
Fat:
13
g
Sodium:
109
mg
Fiber:
1
g
Sugar:
3
g
Vitamin A:
114
IU
Vitamin C:
9
mg
Calcium:
29
mg
Iron:
1
mg
Tried this recipe?
Let us know how it was! #culinaryambition