Peach Melba with White Peaches
The classic Peach Melba is a dessert of peaches and raspberry sauce served with vanilla ice cream. It was invented in 1892 or 1893 by the French chef Auguste Escoffier at the Savoy Hotel, London, to honour the Australian soprano Nellie Melba.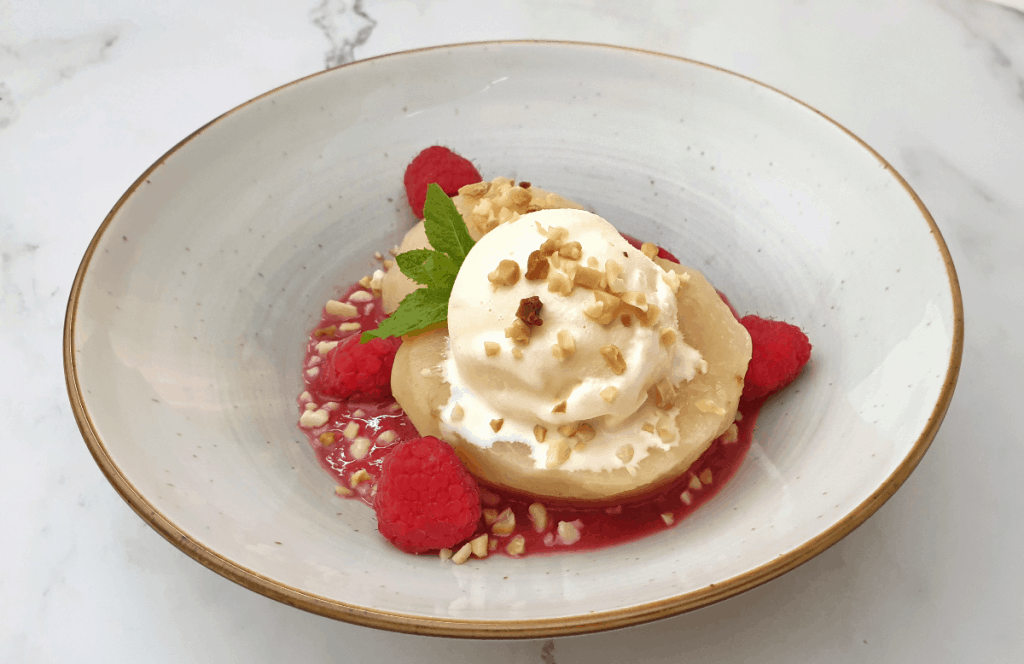 Some people choose to give it a twist and substitute peaches for pears, apricots, strawberries or they use raspberry sauce or melted redcurrant jelly instead of raspberry purée. Escoffier himself is quoted as saying, "any variation on this recipe ruins the delicate balance of its taste."
The only thing we have changed in the recipe today is to use white peaches instead of yellow, simply because we were given so many this week.
You might choose to make ice cream yourself or you might buy some. Peach Melba will always be a classic, cool and refreshing dessert and a great ending to all your summer meals!
Also read: Best Ice cream scoops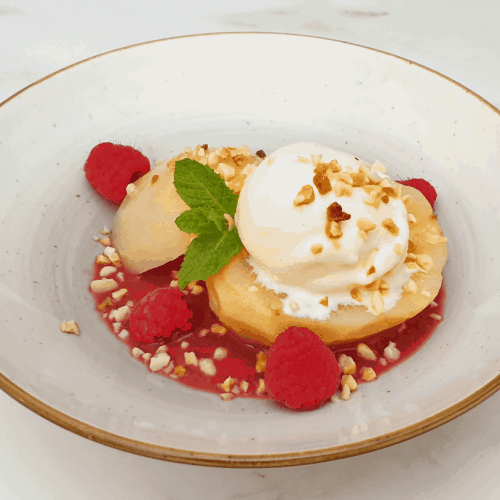 White peach Melba
This classic, cool and refreshing dessert is a great ending to all your summer meals!
Ingredients
Instructions
Grill the almonds in a preheated oven at 160°C and toast until golden brown.
Poach the peach
Combine all ingredients for the syrup in a saucepan and boil for 5 minutes.

Meanwhile, score the peach skin, bring some water to the boil, and blanch for 30 seconds. Transfer to iced water and peel the peaches.

Place the peeled peaches into the syrup and simmer for 20 minutes until soft but not mushy. Let the peaches cool down in the syrup.
Make the purée
Mix the raspberries and the icing sugar in a bowl to a purée.

Pass the mixture through a thin mesh sieve and refrigerate.
Finish
Spoon the fresh raspberry purée on a plate and place a halved peach on top. Place 1 scoop of vanilla ice on the peach and sprinkle a lot of toasted almonds on top.

Garnish with some fresh raspberries and a sprig of mint.
Notes
You can choose not to flavour the syrup and leave the cinnamon and anise start out.
Nutrition for 1 portion
Calories:
324
kcal
Carbohydrates:
78
g
Protein:
2
g
Fat:
2
g
Cholesterol:
7
mg
Sodium:
27
mg
Fiber:
5
g
Sugar:
71
g
Vitamin A:
90
IU
Vitamin C:
16
mg
Calcium:
52
mg
Iron:
1
mg
Tried this recipe?
Let us know how it was! #culinaryambition