Pan Seared Hokkaido Scallops with Tomato Coulis
Scallops are always welcome on our menus as we just love them. In whatever form they are prepared or whatever flavour they're served with, it is always seventh heaven on a plate!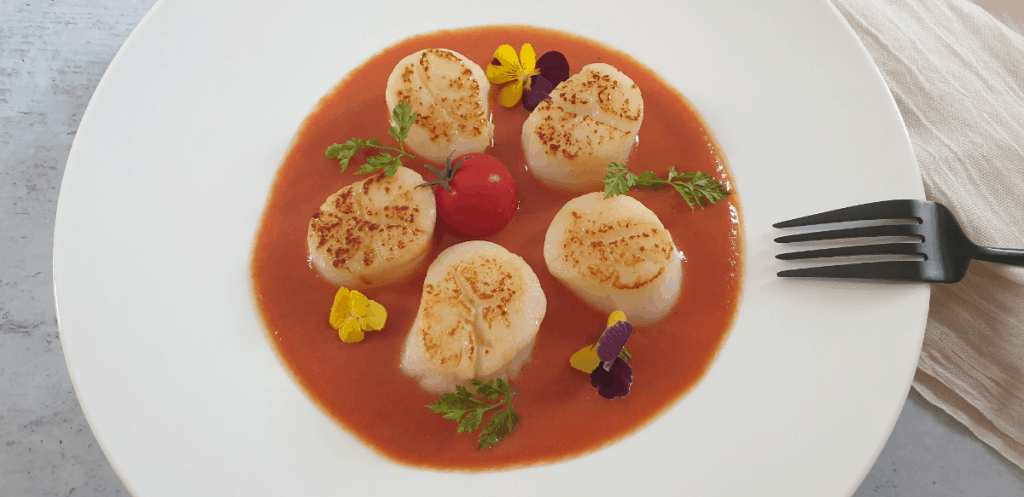 Hokkaido scallops are harvested in northern Hokkaido in Japan. Although there are other origins for scallops, the Hokkaido are the most famous in the world for their natural sweet flavour and firmness. 
Did you know that scallops, like all bivalves, lack actual brains. Another fun fact is that scallops can be male or female, but there are others that are both at the same time and then there is a small third group that are male first and change to female later…they don't have the choice though…nature is intriguing.
Japanese scallop recipe
In this recipe we marry the scallops with the natural flavour of the cherry tomatoes. The balance between the sweetness and acidity is perfect and there is no need to add extra sugar to the tomatoes. 
Give a little twist to this dish by adding a few pistils of saffron and orange zest to the coulis instead of herbes de Provence. 
Related: Carpaccio of scallops with an exotic touch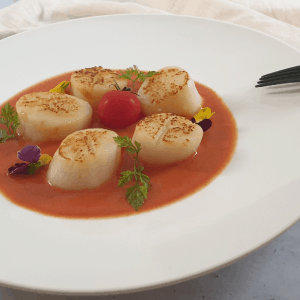 Pan seared Hokkaido scallops
In this recipe we marry the scallops with the natural flavour of the cherry tomatoes.
EQUIPMENT (click pictures for details)
Instructions
The coulis
Preheat the oven to 180°C and arrange the halved cherry tomatoes on a baking tray.

Drizzle the olive oil over the tomatoes and season with salt, pepper and herbes de Provence.

Bake for 30 minutes or until the tomatoes have released their juices and their skins are starting to blister.

Transfer the baked tomatoes with the extracted juice into the blender. Adjust the thickness with some water if required and season to taste. Pass the tomato purée through a thin mesh sieve.
The scallops
Pat dry the scallop meat on a kitchen towel.

Sear the scallops in clarified butter over a high heat and season to taste.
Notes
Clarified butter can hold a temperature of up to 170° C for frying compared to regular butter which burns at 120°C.
Clarified butter can be made in advance and stored in the fridge for up to a month.
You will only get a nice brown crust on the scallops if they are completely dry and your pan is really hot.
Nutrition for 1 portion
Calories:
123
kcal
Carbohydrates:
5
g
Protein:
2
g
Fat:
11
g
Cholesterol:
20
mg
Sodium:
30
mg
Fiber:
1
g
Sugar:
3
g
Vitamin A:
611
IU
Vitamin C:
29
mg
Calcium:
18
mg
Iron:
1
mg
Tried this recipe?
Let us know how it was! #culinaryambition
Why is it called Japanese scallops recipe?
Many people would not know the formal word "hokkaido", but they know that the scallops come from a region called Hokkaido in Japan. That's why they call it the Japanese scallops recipe.
Highlights of Hokkaido scallops
Hokkaido scallops are light and refreshing to eat. They are excellent as appetizers, or eat as many as you like for a full meal.
Hokkaido sea scallops are highly sought after due to their wonderful sweetness, and meaty texture. They can be eaten raw in sushi, or if you prefer pan seared, and even grilled. They are quite versatile.
These Japanese scallops have many health benefits and are the source of several required nutrients. And, they are an excellent form of protein.