Pan seared peppered red tuna with sweet & sour gels
Red tuna always works well for a festive meal, but today we introduce you to some new products which gained popularity in molecular cuisine.
This dish is fairly straightforward to make and has the addition of xanthan, gellan and agar agar. If you haven't heard of these products, you might have some concerns, but fear not, let us explain to you what these powders are exactly about.
Xanthan gum is a popular food additive that's commonly added to foods as a thickener or stabilizer. It is effective in a wide range of viscosities, temperatures, and pH levels. It is easy to use and has no taste. Xanthan is a sugar-like compound created when sugar is fermented by a type of bacteria called Xanthomonas campestris. It is used in medicines for lowering blood sugar and total cholesterol in people with diabetes.
Gellan gum is a food additive typically used to bind, stabilize, or texturize processed foods. It grows naturally on water lilies and is a popular replacement for other gelling agents because it's effective in small amounts and produces a clear gel that isn't sensitive to heat. Gellan gum also works as a plant-based alternative to gelatin, which is derived from animal skin, cartilage, or bone.
Agar, or agar-agar, is a jelly-like substance, obtained from red algae. It is a natural vegetable gelatin counterpart. Though agar is a great substitute, it is much more powerful than gelatin. Dishes made with agar will be firmer and less creamy than those made with gelatin. Agar-agar is popular in warm continents since dishes made with this ingredient stay firm when exposed to higher temperatures, while gelatin loses some of its stability.
Now that you understand how powerful these powders are, it is easier to comprehend that the advanced part is only in the name of these products. These ingredients will help to enhance your dishes without changing the taste of your recipes.
Related: Red tuna tartar with young coconut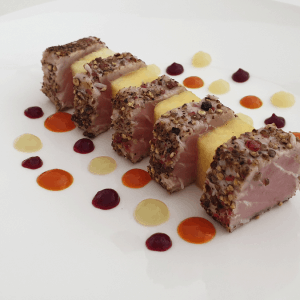 Pan seared peppered red tuna with sweet & sour gels
Today we introduce you to some new products which gained popularity in molecular cuisine.
Ingredients
Instructions
Peel the fresh pineapple and cut 20 square pieces 20×20 mm.

Juice the remaining pineapple.
Make the gels
Combine all the ingredients for the beetroot gel.

Dissolve the powders well into the liquid and bring the mixture to the boil.

Ensure that the powders are properly hydrated, then transfer to a bowl over an iced bath to cool (or keep in the fridge).

When the gel gets firm, blend it. Start at low speed and increase gradually. The gel should become liquid but thick enough to make dots.

Season to taste and transfer into a squeezy bottle

Repeat the same operation with the pineapple juice and the ketchup mixture.
Prepare the tuna
Coarsely grind all peppercorns with a grinder or crush by hand and keep aside.

Cut the tuna loin into 2 rectangular pieces 30x30x200 mm.

Coat them with a mix of the ground pepper and fleur de sel.

Place the tuna onto oiled parchment paper.

Heat up a Teflon pan over a medium to high heat and sear the tuna loin on each side for 20-30 seconds and place on the parchment paper.

Transfer to the cutting board and slice to the same thickness of the pineapple.

Make a canvas of your plate using all the different elements. Squeeze dots of the gels around the plate as garnish
Notes
Fluid gel can be stored in the fridge up to a week.
Nutrition for 1 portion
Calories:
213
kcal
Carbohydrates:
25
g
Protein:
19
g
Fat:
4
g
Cholesterol:
29
mg
Sodium:
375
mg
Fiber:
3
g
Sugar:
16
g
Vitamin A:
1779
IU
Vitamin C:
8
mg
Calcium:
48
mg
Iron:
2
mg
Tried this recipe?
Let us know how it was! #culinaryambition