Pan Fried Chinese Prawn Dumplings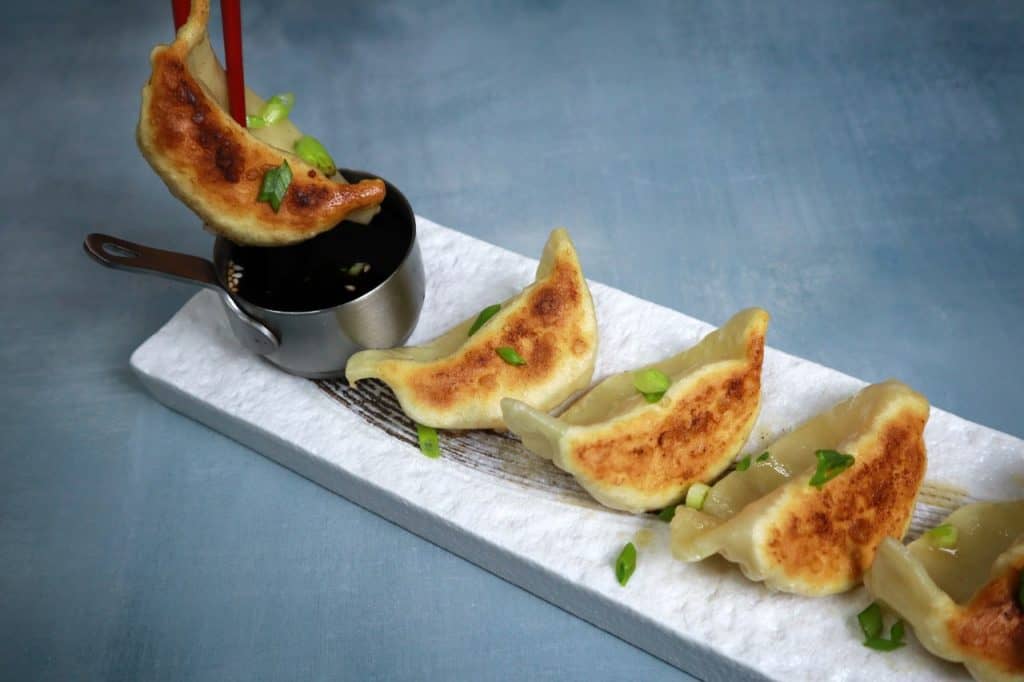 What are Chinese dumplings?
Chinese dumplings (Jiaozi, 饺子) are wrappers of unleavened dough with savoury fillings. The minced ingredients, usually a variety of meat or prawns, eggs, tofu, and vegetables can be prepared in several ways. Whether the dumplings are boiled, pan-fried or steamed, they are all delicious and a Chinese symbol of unity and good luck. If you ever have the chance to travel to China, you should absolutely attend a traditional dumpling making class! 
Cooking method for prawn dumplings
Today we pan fried the prawn dumplings, also called gyoza, because we like the crispiness. The process is called the 'fry steam fry' technique because this is exactly what happens. We begin by frying the gyoza until the bottom is golden brown. Then we add water to create steam and allow it to evaporate completely, after which we flash fry again at the end to crisp up the dumplings.
Make your own dumpling wrappers
As we live in China, fresh pasta and wrappers are readily available at affordable prices. It would be crazy not to buy these. If you don't have access to Chinese or Asian markets, you can easily make the wrappers yourself.
Chinese dumpling dough is soft but not sticky and needs to be easy to roll out into thin discs.
All is calculated by weight and not by volume. 200gr of all-purpose flour needs 100 to 110 gr of water. If using a cup, measure 2 cups of flour with ½ cup + 2 teaspoons of water.
How to fold dumplings?
There are multiple ways to fold dumplings. we are using the most common method for todays dumplings but feel free to use your creativity and make some more fancy folded dumplings.
Pan Fried Chinese Prawn Dumplings
Whether the dumplings are boiled, pan-fried or steamed, they are all delicious and a Chinese symbol of unity.
EQUIPMENT (click pictures for details)
Ingredients
For the sauce
Instructions
Combine all ingredients for the filling and season to taste.

Place a spoonful of filling onto a wrapper. Seal the wrapper using the technique you're most comfortable with.

Heat cooking oil over a high heat. Start frying the dumplings until the bottom part is golden brown.

Pour cold water into the pan and cover up to ⅓ of the dumplings. Cover the pan with a lid and cook over a high heat until the water evaporates completely. Fry for another 30 seconds for the dumplings to crisp up.

Mix the ingredients for the sauce together and serve alongside the gyoza.
Nutrition for 1 portion
Calories:
11
kcal
Carbohydrates:
1
g
Protein:
1
g
Fat:
1
g
Cholesterol:
11
mg
Sodium:
53
mg
Fiber:
1
g
Sugar:
1
g
Vitamin A:
1
IU
Vitamin C:
1
mg
Calcium:
5
mg
Iron:
1
mg
Tried this recipe?
Let us know how it was! #culinaryambition
Fried shrimp dumplings alternative
Dumplings can have many different kinds of fillings. Basically whatever you enjoy eating, and whatever you have on hand in the kitchen. But one nice ingredient is fried shrimp.
Many people confuse prawns and shrimp, thinking they are the same thing, but they are different species. Prawns are often larger, and some think they are sweeter in taste.
But let's talk about fried shrimp dumplings as an alternative to prawns. Shrimp mix nicely with bamboo shoots, mushrooms, carrots and onions. Again, everything will depend on your tastebuds.
You can use fresh shrimp, canned shrimp, or frozen shrimp to make your fried shrimp dumplings, then add your vegetables, and a nice sauce for dipping.
Highlights of pan fried Chinese prawn dumplings
Chinese prawn dumplings are a really nice treat for many occasions. They can be the focus of the meal served with other dishes, or used simply as appetizers for a stand-up affair.
You can really show of your creative side when folding your dumplings, as there are many fancy ways to do this. There are even molds with various designs if you can't think of a specific shape.
If you can't manage making the wrappers yourself, you can buy fresh at the store which will be just as nice.