Traditional British Crumpets
Crumpets are popular in the UK and are eaten at breakfast and afternoon tea.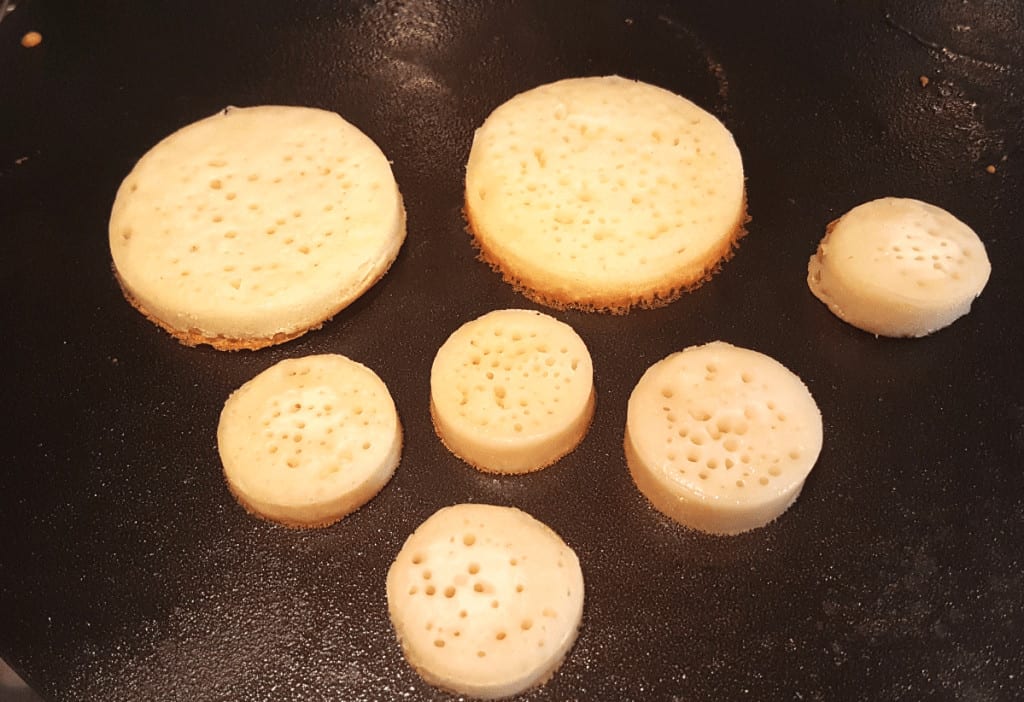 We have made hundreds of them when living on Koh Samui as they were not readily available and the demand by our British friends was huge! It was easy to make them all happy.
What are Crumpets?
Some call them griddle cakes because originally, they were made in a cast-iron griddle pan. Nowadays we make them in a frying pan which works well too.
The recipe is straightforward and requires only flour, milk, water and yeast as key ingredients. Rushing is never recommended when cooking, and especially so when making crumpets, as the batter mix needs to rest and rise, and the cooking must be done over a medium heat, so best to plan ahead.
The yeast in the batter creates the holes while cooking. Traditionally, they are toasted just before serving and eaten with lots of butter as well as jam and many other toppings.
We made some fancy crumpets and served them with sour cream, smoked salmon and Oscietra Caviar, but you can use your personal preferences to serve them.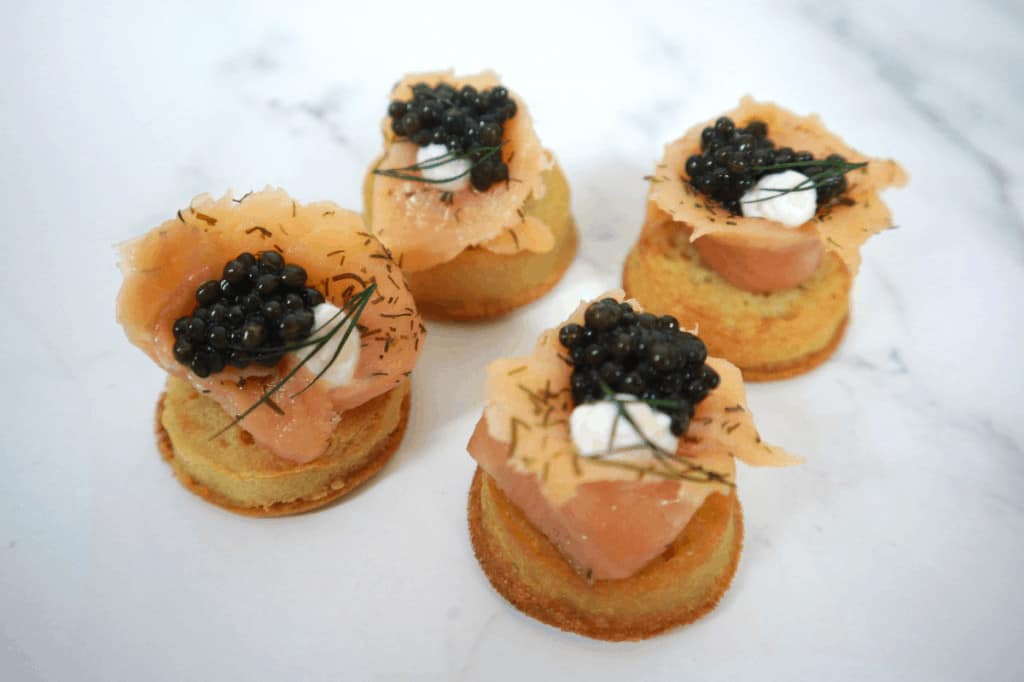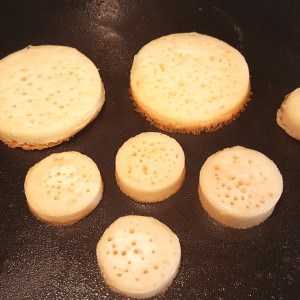 British Crumpets
Crumpets are popular in the UK and are eaten at breakfast and afternoon tea.
Instructions
Part 1
Sift the flours and combine them with the bicarbonate of soda, the baking powder and the sugar.

Dilute the yeast in the milk.

Add the milk and the water to the flours and whisk until well combined.

Cover with a towel or plastic wrap and let it rest for a minimum of 1 hour until the batter has air pockets and rises a little.
Part 2
Combine the milk, the water, the salt and the oil and add to the mixture of part 1.

Cover and rest again for 15 minutes.
Cook the crumpets
Heat a frying pan over a moderate heat.

Use greased crumpet rings and spoon batter into the ring to about 1cm thickness.

From the moment the batter cooks, it should form holes. If they don't form easily, add a little more lukewarm water to the batter mix.

Don't flip over the crumpet until the surface is completely dry and set and covered with holes. Remove the ring and only flip them over at the very end for a short time.

The cooked side will be dark brown, but not burned, while the side with the holes keeps a pale golden colour.
Notes
Crumpets can easily be frozen.
Nutrition for 1 portion
Calories:
67
kcal
Carbohydrates:
13
g
Protein:
2
g
Fat:
1
g
Cholesterol:
1
mg
Sodium:
299
mg
Fiber:
1
g
Sugar:
1
g
Vitamin A:
16
IU
Vitamin C:
1
mg
Calcium:
30
mg
Iron:
1
mg
Tried this recipe?
Let us know how it was! #culinaryambition