Brillat-Savarin cheesecake with mango coulis
Who doesn't like a good cheesecake?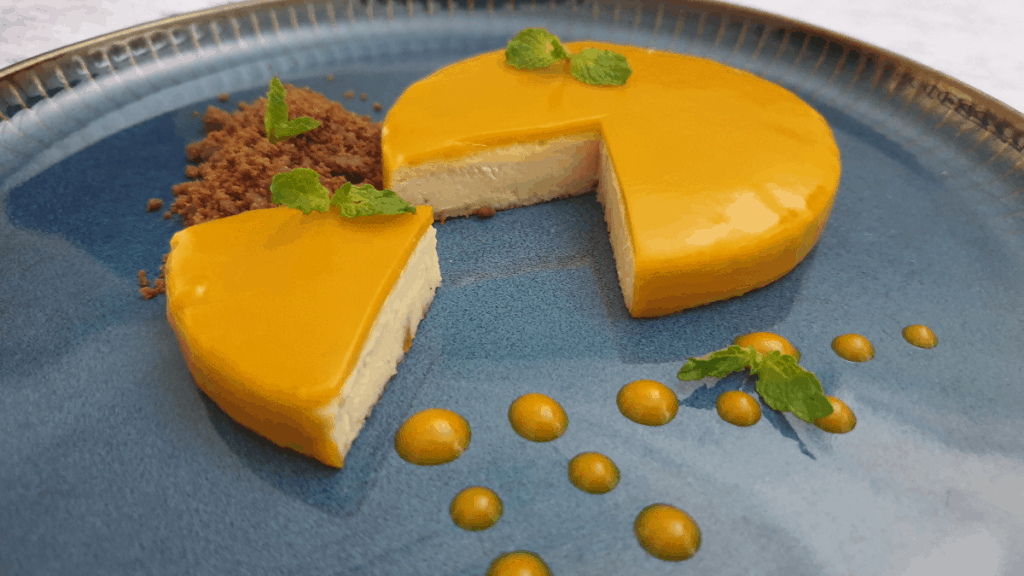 Yannick doesn't like cheese, but when transformed into a cake, he loves it! So we got hold of the creamy Brillat-Savarin cheese and couldn't think of anything better than making a cheesecake!
Brillat-Savarin is a very creamy dessert cheese that is produced all year round in the Normandy region. It was created in the 1930's and is named after 19th century gastronome and epicure, Jean Anthelme Brillat-Savarin.
This cheese is classified as a triple cream cheese, and so, Brillat-Savarin has a fat content of at least 75% achieved by adding rich, luscious cream to whole milk.
A matured Brillat-Savarin has a typical white, bloomy rind with an interior paste that is buttery-white in colour. The texture is dense, moist, and slightly chalky with enough lusciousness and creaminess for a triple cream cheese. Flavours are intense with notes of salt and cream and hints of mushroom, nuts and truffles.
Like with other cheeses, wine pairing is a natural next step. We'd like to inform you that red wine is not the perfect match here because the mushroom and salty flavours will accent the tannins of the wine. However Brillat-Savarin pairs perfectly with Champagne, so have a glass of bubbles ready with this delicious cheesecake. We find it a brilliant match!
Brillat-Savarin cheesecake with mango coulis
Have a glass of bubbles with this cake, a brilliant match!
Instructions
Make the crumble
Combine all dry ingredients for the base and work the butter into the mixture by hand until it forms coarse crumbs.

Bake the crumble mix at 160°C for 12-15 minutes.

Use a spatula to crush and mix the crumble while cooling. Set aside.
Prepare the cheesecake
Mix all ingredients in a blender.

Pour the cheesecake mix into a (silicone) mold and bake at 110°C for about 60 minutes.

Remove the baked cheesecake, allow it to cool and then freeze.
Finish the cake
Warm the mango puree over medium heat and stir in the softened gelatin sheets.

Unmold the frozen cheesecake, place on a wire rack and pour the warm mango coulis over it. It will set immediately once it comes in contact with the frozen cake.
Nutrition for 1 portion
Calories:
653
kcal
Carbohydrates:
50
g
Protein:
20
g
Fat:
43
g
Cholesterol:
103
mg
Sodium:
642
mg
Fiber:
2
g
Sugar:
40
g
Vitamin A:
1991
IU
Vitamin C:
27
mg
Calcium:
199
mg
Iron:
1
mg
Tried this recipe?
Let us know how it was! #culinaryambition