Air Fryer Baby Potatoes – an Easy Roasted Side Dish
Air fryer roasted baby potatoes are a delicious and convenient side dish that can be served for any meal of the day.
We fell in love with our air fryer as soon as we got it! It might not be the ideal kitchen appliance for all your oven recipes, but it is just perfect for this one.
For starters, an air fryer doesn't heat up the kitchen the way that turning on the oven does, and this is particularly welcome during the summer season!
Is air frying only good for baby potatoes
You can use other firm potatoes varieties, but as it is the season for baby potatoes now, we prefer to use this variety. Besides, air frying is more eco-friendly as food cooks quicker and it is no different when roasting these potatoes. Keep the seasoning to a minimum, add some choice herbs and place the potatoes into the air fryer. The air circulates and crisps up the outside while the inside is cooked to perfection.
Enjoy this versatile and tasty side dish with breakfast dishes, alongside roast lunch or dinner, or as a yummy addition to a salad!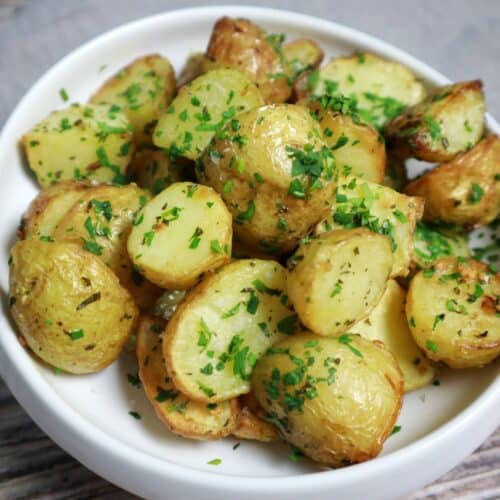 Air Fryer Roasted Baby Potatoes
Air fryers cook food quicker and it is no different when roasting potatoes.
Instructions
Wash and cut the baby potatoes into quarters, no need to peel them first.

Season the baby potatoes with salt, pepper and olive oil.

Add the potatoes to the air fryer at 200°C for 10 minutes.

Add the garlic and rosemary to the potatoes and toss, then continue cooking for 10 minutes until tender and brown.

Season the roasted potato with the chopped parsley, salt and pepper.
Nutrition for 1 portion
Calories:
140
kcal
Carbohydrates:
18
g
Protein:
2
g
Fat:
7
g
Sodium:
7
mg
Fiber:
2
g
Sugar:
1
g
Vitamin A:
94
IU
Vitamin C:
21
mg
Calcium:
15
mg
Iron:
1
mg
Tried this recipe?
Let us know how it was! #culinaryambition