Everyone who knows us is in no doubt that food and hospitality is our passion and we have been practicing and sharing our knowledge for many years. At the start of the year as Covid-19 began and developed worldwide we quickly realised that without travel we couldn't go forward with our plans.
We always try to turn challenges into something positive and so we decided to continue with our passion and vision in Shanghai. We, like many others, look forward to travelling and have more adventures abroad in the future! So, we decided to focus and start a website.
We must have done something right because many people are now following us and asking how we achieved such results without being technical nerds.
Where to start?
The growing use of digital technology has served many during the pandemic and we decided to follow this path. The only problem we had was that we were complete novices and had a lot to learn!
There are so many internet marketing programs out there, it made our heads spin. It's hard to know which program to trust or if they are worth your time to subscribe and commit to. Authority Hacker is one of the many marketing sites that claims to help people build a successful online business. So, after looking at several reviews and although we were skeptical, we decided to go with the Authority Hacker program to start our online adventure.
Authority Hackers proved to be the perfect online course for us, and so we will tell you what the course is all about and how we experienced the learning process first hand!
What is it?
Affiliate Marketing experts Gael Breton and Mark Webster joined forces in 2014 to teach people how to build authority websites that make you passive income.
Besides teaching, Mark and Gael also build and run a portfolio of successful authority sites in different niches, many of which they reveal publicly and use as case studies. Through their site AuthorityHacker.com, they share all they've learned since they started making money online.
The step by step videos are easy to follow and without unnecessary fluff, they created useful, actionable strategies, tools and training to educate users on how to create successful online marketing and affiliate marketing authority websites. You don't need to be a nerd to understand all the content because it is very well laid out.
Authority Hacker runs two courses:
The Authority Site System 3.0: A complete course for beginners on how to start, build, grow highly profitable affiliate and authority sites. This is the course we have followed and applied.
Authority Hacker Pro: is for more advanced marketers who already have a profitable website and are looking to move on to the next level. It is only available at certain times of the year.
Authority Hacker – 'The Authority Site System' review
Positives
It is very important to us that we work with real people who are reachable when necessary. This course has perfect follow up and Mark and Gael (the owners are real and active!) together with their team are available via email or social media. They usually reply within a few hours with concise answers.
Well laid out and easy to follow
Before starting the course, we didn't know a thing about making websites, let alone setting up an authority site to make a passive income. This course is well laid out with step by step videos and documentation and is easy to follow.
Live example authority sites
The real life case studies are helpful to understand everything and choose your niche. They are presented in different fields to show better what the possibilities are once you decide.
There is no nonsense in the course. All information is to the point and useful.
Negatives
The price is on the higher side
Not much to say here besides the fact that this course comes at a price. We bought the course during a limited time where they offered it at a special price. But knowing all the insider information we would definitely pay the full price. We will keep you informed once they run special offers again.
You'll need to build your website for several months before being able to earn a full-time passive income. You will need to invest a lot of time before it all starts happening. Fortunately, the Authority System lays out exactly what you should be doing and when. This business isn't for someone looking to make an income by next month. It can take anywhere from 6 months to a year to see results.
Why is the Authority Hacker System (TASS) different?
What they promise.
The Authority Site System covers everything you need to build your own highly profitable authority site. Once you know how, nothing stops you from starting two or three or even more.
The program details
Product/Program: The Authority Site System
Product/Program Owners: Gael Breton and Mark Webster
Opportunity: Build and grow one, or more, highly-profitable authority site/s
Price: $997 (DISCOUNT to $599 sometimes available via the link above)
View: Authority Hacker FREE TRAINING Webinar
Our personal experience with 'The Authority Site System'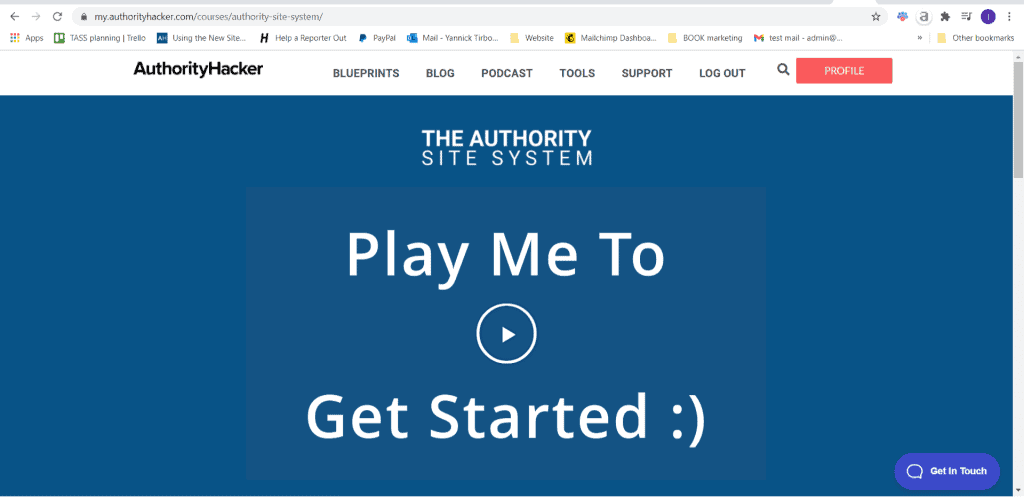 Signing-Up:
This course signing up is easy and straightforward. We took advantage of the discounted pricing last April. Once you sign up, you have full access to the Tass course 3.0 training.
Another positive during sign up and throughout the course…there are no up-sells!
Login and Members Area:
Very easy and clearly laid out and simple to navigate throughout the course. The course is laid out in different sections with videos as well as full written notes.
How does it work and the features?
Throughout the year, this course is updated constantly to keep adapting to the market and requests of members. Updates are always free to members and this is what is available in this course currently.
180+ Video Lessons – The easy-to-follow over the shoulder video lessons across 16 modules explain the different aspects of developing, launching and optimising your authority site and how to make money with it.
Real Life Case Studies – As mentioned before, Gael and Mark are running their own authority sites which are proof that they not only talk the talk but really know what they are teaching. They use these sites to guide you step by step through how they built up from the ground. They currently still use these sites so you can check it out at any time.
Ready to use Templates – You don't have to waste time to design templates as there are over 25 templates with SOP's designed ready to use. Just copy and paste them to your computer and focus on the learning. In this system you also learn the best white-hat SEO marketing practices needed to help your website content rank well on search engines.
To-Do List – They think of everything and have an easy to follow task list. You can work at your own speed and with this to-do list you won't get overwhelmed and can set goals and time limits if you wish.
In any way, we recommend working a little each day applying what you have learned immediately.
Support and Active FB Community – The Authority Hacker's Expert customer service is very good and helpful and the Facebook group of the Authority Hacker site system is an extremely active and welcoming user community. A group of friendly like-minded people makes it easier to brainstorm and get help if needed.
Free updates – Once you are a member, you'll receive free support and updates for life.
How much does it cost?
The Authority Hacker Site System will cost you a one-off fee of 997$. There is the added BONUS of trying the program 100% RISK-FREE for 30 days. If you don't like what you see, they'll give you a full refund, no questions asked.
They also have a 30-day "no questions asked" money-back policy. So you eliminate any risk if you decide this course is not right for you.
Check out the FREE training webinar before signing up.
Does the Authority Hacker Site System Work?
Our site can surely still improve but we have received lots of compliments on how it looks and functions and how much we have achieved in only 6 months.
The owners have proof with their own successful sites that this system works but now we have first-hand experience that even beginners like us with no knowledge can make it happen.
We can honestly tell you that THE COURSE IS EASY TO FOLLOW, but you still must put the time in, and consistency is key.
Due to Covid-19, we had plenty of time to build our website and we learned and applied the principles of this course daily. We have continued doing this and now we are starting to see the results of all the effort.
You might, just like us, find the price a concern, but when you consider how much of an investment in a physical offline business course would be versus this course, it is all worth it. We haven't tried other programs but the comments and appraisals we received say everything, so we are not looking back and wish we would have come across this course earlier.