China – Part 3 – Gansu, the Famous Silk Road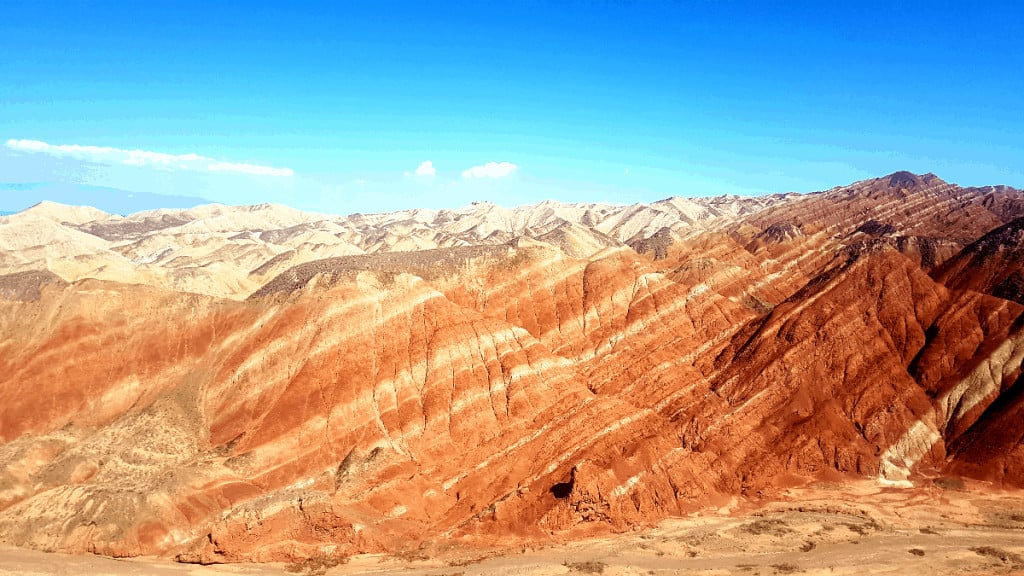 Recently we were allowed to travel again within China and decided to tick a few more boxes on our list during a trip along the famous Silk Road! Gansu, a landlocked province in Northwest China covers most of this route so we started in Lanzhou, the capital of the province and we saw many beautiful sceneries on the way to Dunhuang.
As a result of Covid, tourism was down and in many tourist areas, we were alone almost everywhere, which made it a magical experience for us.
Lanzhou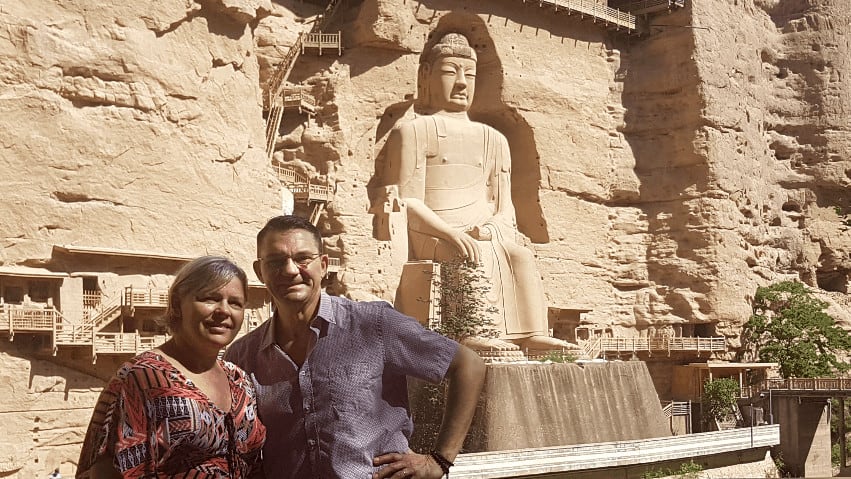 Lanzhou is a very industrial city and the capital of the Gansu province. It is located on the shores of the Yellow River and was a major stop on the Silk Road, where it was known as the Golden City.
Bingling Si or Bingling temple was our highlight at this first stop. This temple complex is not easily accessible, but definitely worth the effort. After arriving in LiuJiaXia it's a 1-hour speed boat trip to finally get to the caves and visit a series of grottoes filled with Buddhist sculptures carved into natural caves and caverns on the banks of the Yellow River.
Zhangye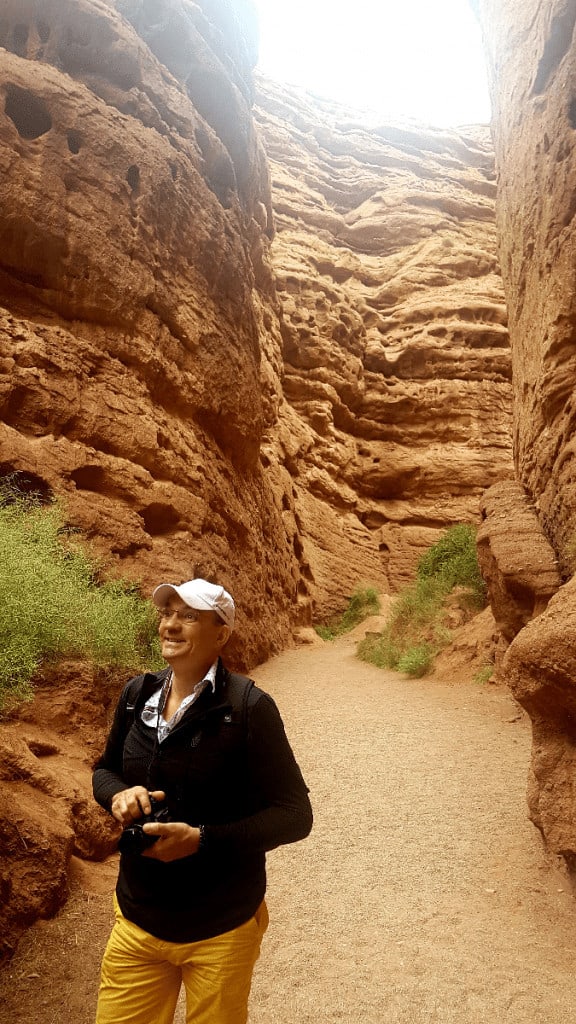 The rainbow mountains in Zhangye Geopark were another place to tick on our to-do list and they didn't disappoint! The site was declared a UNESCO World Heritage site in 2009. The colours mimic a rainbow of soft red, yellow, blue, white, and green stripes, painted over the tops of rolling mountains. It took millions of years to form but it is breath-taking. There are 4 platforms around the park from where you can admire this natural beauty. As everywhere in China, tourism is well organised, with a bus taking you to and from different areas at your own leisure. The best time to visit is early morning and late evening during cooler temperatures when the sunlight is not too bright, and the colours stand out more.
Another natural wonder is the Pingshanhu Grand Canyon. It is one of the world's five canyons, and equally famous as the Grand Canyon in Colorado. Sculpted over millions of years, through wind and rain erosion it is breath-taking to explore this place. There are several walks possible in the canyon with some being really challenging. As the canyon is about 800 metres deep, there are a lot of steps to get to the bottom and back up, a real work-out. We were very lucky and privileged again to only meet goats on our walks.
Jiayuguan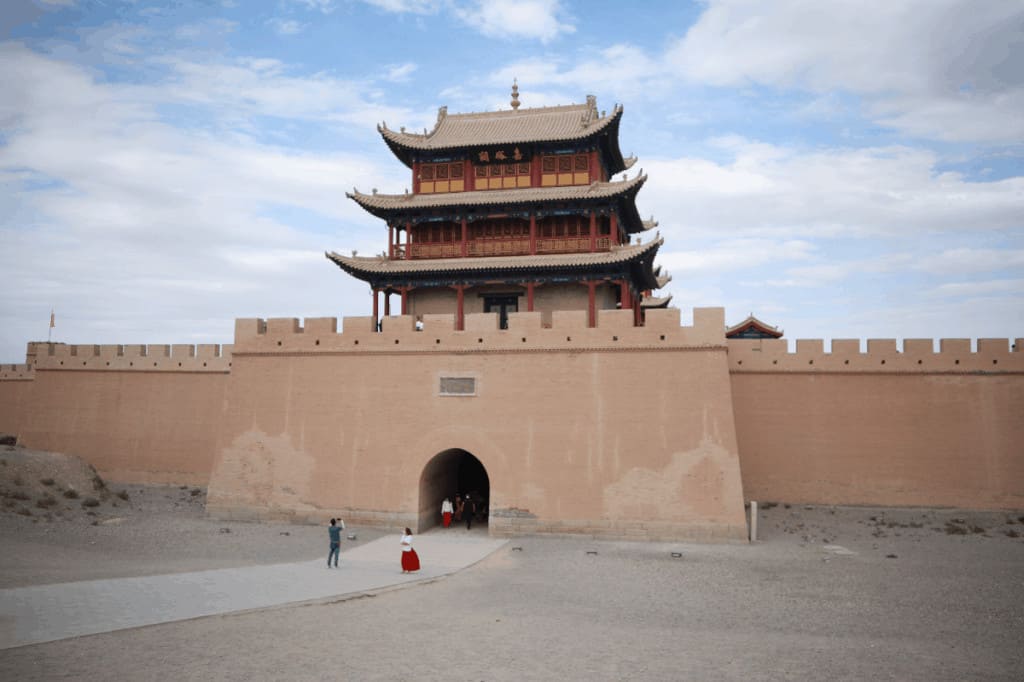 Besides amazing nature there is also a lot of cultureto explore such as the Jiayuguan Fort, built during China's Ming dynasty, being the most important fortress for military defence and the western end of the Great Wall! For those who have visited the wall near Beijing, the wall here looks different as it is mainly built with loess soil and not with the massive grey bricks and stone slabs.
Dunhuang
This city is situated at a point of vital strategic and logistical importance, on a crossroads of two major trade routes within the Silk Road network. Lying in an oasis at the edge of the Taklamakan Desert, Dunhuang was one of the first trading cities encountered by merchants arriving in China from the west.
The Mogao Caves, also known as the Thousand Buddha Grottoes, are worth a visit. They contain some of the finest examples of Buddhist art, spanning a period of 1,000 years.
The most stunning in Dunhuang was again a natural wonder in the form of The Crescent Lake with the singing dunes. This little oasis in the Gobi Desert is a tourist spot but don't worry, there is enough space for everyone to enjoy the views. There is even a possibility to ride a camel and this is also the very first place in the world where we have seen traffic lights to give way to them.
Wine and Dine
Mutton and beef are the most famous ingredients when dining in Gansu province. You can find them roasted, braised, boiled or grilled from just parts to the whole sheep and it is often served with noodles. We tasted a few of the local dishes and all were tasty, often with a hint of cumin and mildly spicy.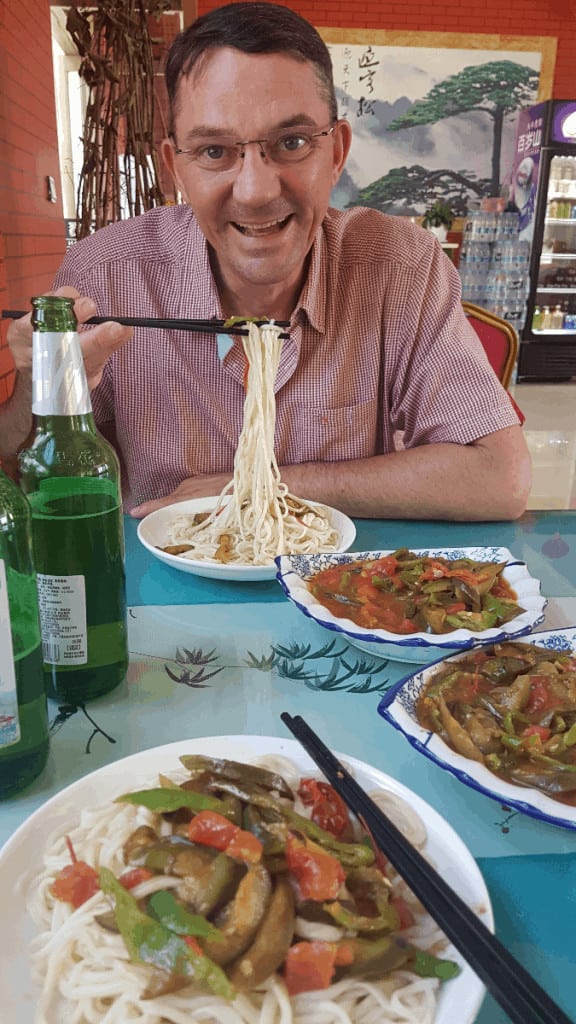 The Lanzhou beef noodle soup is one we will remember. The noodles are pulled by hand in a matter of minutes before being boiled and covered in a clear broth. Tender slices of beef with chopped coriander and lots of garlic are added and spices are always available on the side for those who want an extra 'kick'.
Transport
The flight from Shanghai to Lanzhou is only a little over 3 hours.
We travelled by high-speed train from Lanzhou to Jiayuguan, a four-hour ride.
As our available time to travel around this beautiful province was short, and as we wanted to visit many places along the way, we decided to get a car with a private driver and guide. It was convenient and relaxing without wasting time.
There are no direct flights from Dunhuang to Shanghai but even with a stopover in Lanzhou it only took 5 hours to return.
Get organised
Flights and accomodation
You can organise flights and accomodation seperately but there are plenty of organisations who can help you with tailormade packages. These tours are made for your convenience and to optimise your time during your holiday, whether you like a relaxing holiday on the beach or a cultural trip in an exciting city somewhere on this globe. Travelstride has gathered different organisations and there is surely something that will suit your needs. Check out the many ways on how to explore part of China guided or by yourself!
Plan this specific trip
6 days is pretty short to travel to a stretched-out province like Gansu and making the most of it would have been difficult on our own. Peter Huang from Silk Road Expeditions organised our tailor-made tour with the right balance of culture, nature, history and the necessary rest stops.
You can reach Peter and his team at Wechat ID silkroadexpeditions
Protect Your Trip
Get yourself travel insurance and have a stress-free trip! Protect yourself from possible injury and theft while travelling. World Nomads has good and affordable cover for short term trips.
VPN
Not everything on the web is accessible in China, but a good and reliable vpn helps. We tried a few and Astrill or PIA are working the best.