What documents do you need to prepare before travelling?
Travelling is exciting, enriching, and relaxing. If you travel frequently, you'll know how to organise yourself.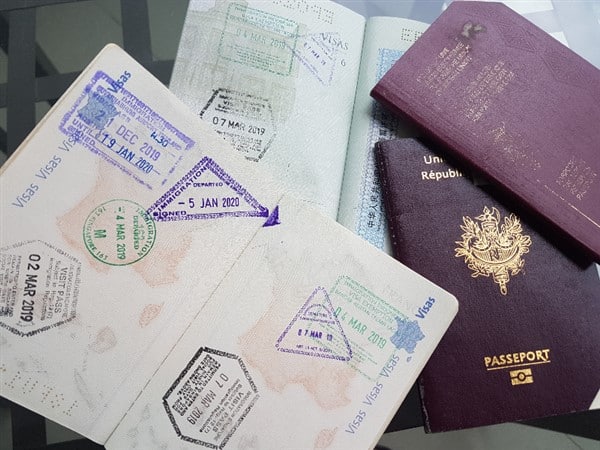 As my hubby leaves the organisation for me, I make sure that we can 'take off' without worries. This list identifies essential documents for travelling and will let you enjoy your holiday from the moment you step out of the door!
Passport
In most countries, your passport will be your most important document to confirm your identity. It is a worldwide rule that it be valid for 6 months minimum when entering a country. But the world is big, and every country has its rules and regulations. Always double check before travelling and if your passport has a short validity or if you are not sure, get a new one! Be aware that it can take up to 2 months in some countries to get a new passport so get yourself organised in time.
Passport Photos
A few headshots are the first thing you need when applying for a passport. It's good to check the exact sizes you need for passports, visas and even documents you might have to complete while travelling. Having a few passport sized photos to hand during your trip is a must if you don't want to waste unnecessary time. And if you don't need them this time, they will be a done thing for the next trip.
Flight Tickets in & out
It is obvious that you need a flight ticket when travelling further away. Customs in most countries are requesting that you have an outbound ticket, whether it is by air, land or by sea.
Find cheap flight deals on Skyscanner. This search engine is easy to use and will find you the best deals! Travelling is freedom and if you are not on a tight schedule it is difficult to plan the exact departure date. You can always buy the cheapest option out, even if you are not sure you will use it.
Visas
Another essential part of international travelling. As Belgian and French citizens we can travel most of the world without having to apply for visas in advance. You can check on each country's website if you need a visa and what the specific requirements are. They will also inform you if you need to apply in advance or if you can get it on arrival. You want to get this right to avoid problems upon arrival. Do not overstay on visas, it might not be general knowing but it is illegal.
Travel Insurance
If you apply for a visa you will need to have travel insurance with sufficient cover. However, even if you don't need a visa, it is advisable to get yourself travel insurance and offer yourself a stress-free trip! Protect yourself from possible injury and theft while travelling.
If you apply for a visa, you will very often be asked to show that you have a regular income and enough money to travel. It is also possible that they ask you to prove it when you pass customs, especially in countries where they offer visas on arrival. World Nomads has good and affordable cover for short term trips.
Money, Money, Money
Having a credit card is a must as they will ask for it when checking into hotels. We recommend always having some cash for emergencies or for when ATM's are out of order or unavailable.
Medical shots
Vaccinations are not the best part of travelling but they are necessary to avoid some of the diseases that exist around the world. Honestly, nobody wants to come back with yellow fever, hepatitis or rabies. On this website are all the details you need to know.
International driving licence
Do you like driving yourself? Your original driving licence will most probably not be accepted, and it is a good idea to apply for an international driving licence before travelling. I'll remind you again that all countries have different requirements and all information is on the websites of the embassies.
Address Book
You need to have the addresses and contact numbers of the places where you will stay. Book in advance and have it all to hand. It's possible you may have to fill in forms giving all the details of hotels or apartments or a friend's place. Besides, it's easy for yourself if you have it all in order so you know where you are heading.
Copy of Travel Documents
When travelling you won't always be able to find copy machines, but it is likely people will ask you for copies of your documents. It might be for minor things like buying a sim card or renting a bike, but often rental companies will accept a copy and you can keep your original documents safe with you.
Emergency Numbers
Always have emergency numbers with you.
In case of emergency (ICE) is the code to put in your phone with the number of the person who needs to be contacted just in case something happens.
Always keep your insurance details and number with you.
In case you lose your credit card or if it's stolen, have the number of your credit card provider ready so you can cancel easily.