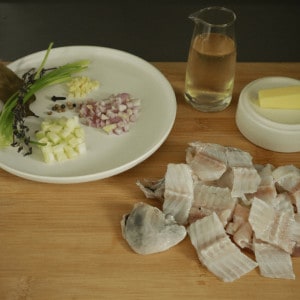 Homemade Fish Stock - Fumet
A fish stock, or fumet in French, is a clear flavourful infusion made from fish bones, heads and other trimmings.
Sweat the shallots, celery and garlic with the butter over a low heat for 3 minutes until soft but not browned.

Add the fish bones to the pot and cook slowly for 3-4 minutes until the bones break easily.

Add the white wine and some water up to 2 cm above the fish bones.

Add in the remaining aromatics and bring to a simmer for 20 minutes. To keep the fish stock clear, don't boil it.

Pass the fish stock through a fine mesh strainer. (When you get to the bottom, dispose of the remnants as they will be filled with sediments).
Fishbones are best when used fresh, but they can be refrigerated for up to 4 days.
If you don't have a fine mesh strainer, lay a paper towel or cheesecloth in a normal strainer.
Fennel, onion and leek can be added to flavour the fish stock. Never add carrots because they may change the colour.
Calories:
347
kcal
Carbohydrates:
14
g
Protein:
2
g
Fat:
25
g
Sodium:
296
mg
Fiber:
3
g
Sugar:
4
g
Vitamin A:
1138
IU
Vitamin C:
5
mg
Calcium:
61
mg
Iron:
2
mg