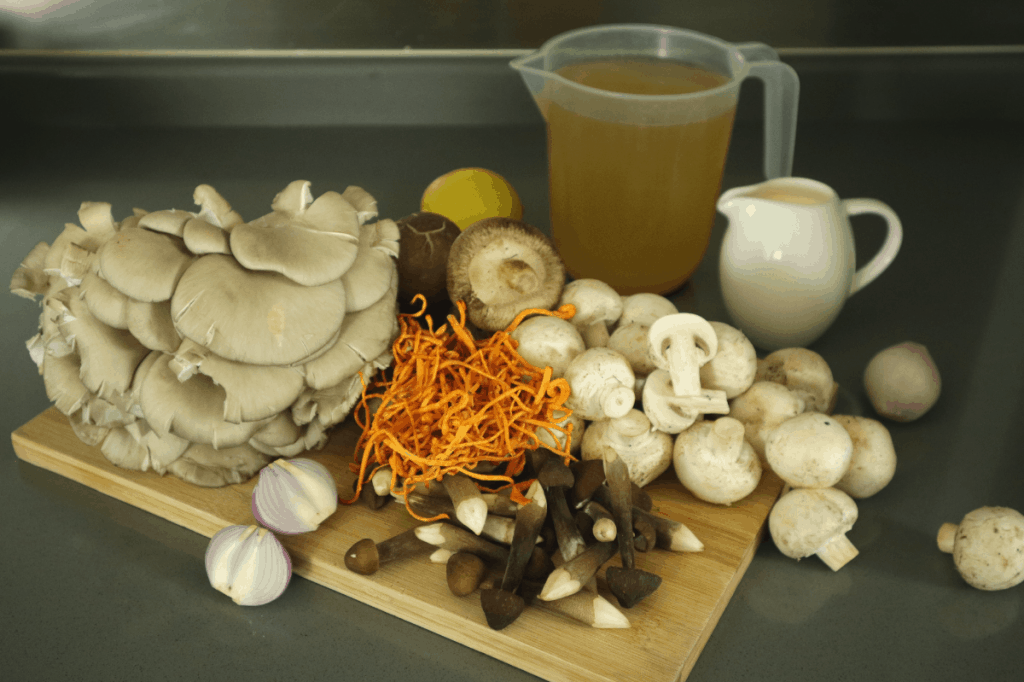 Who doesn't love a bowl of wild mushroom soup? The season where we need to warm our inner bodies has started. Although it's not our favourite time of the year, on the culinary side it is a very enjoyable season with plenty of interesting ingredients to add to the menu. Soup is only one way to shake up the menu and mushroom soup should definitely be part of it.
Mushrooms, especially dried shiitake or porcini, are sources of umami flavour. If you want a full umami-rich broth, you'll have to soak and boil these mushrooms in water to rehydrate and soften them. The dark broth you will get after this process can be added to the chicken broth or vegetable broth.
There are different ways to make mushroom cream soup; some start with a roux and thin it with cream or milk before adding mushrooms and/or mushroom broth. We start with the core ingredients which are the mushrooms and finish with cream. Our delicious, easy recipe is ready in 45 minutes and perfect for any occasion. It is even adjustable for vegans and keto diet followers.
There is a lot of depth and flavour in this soup, and because you can adapt it to your requirements, it is possible to have it several times, differently, throughout the season.
If you want to elevate this easy wild mushroom soup to a real luxury version, drizzle some drops of truffle oil just before serving.
Wild mushroom soup
Mushrooms, especially dried shiitake or porcini, are sources of umami flavour.
EQUIPMENT (click pictures for details)
Instructions
Wash, peel and chop the vegetables in medium sized pieces.

Sauté the shallots for 2 minutes before adding the mushrooms and the white wine.

Cook the mixture for 5-6 minutes with the lid on.

Cover the mushrooms with the chicken broth, add the thyme, season and bring to the boil. Let it simmer for a further 15 minutes with the lid on.

Remove the thyme and blend the mushroom soup with a hand mixer, adjust the seasoning to your taste.

Saute the mushroom "crayon" and gold enoki with a knob of butter and season to taste.

Serve the soup into the plate, arrange the sauteed mushrooms around, sprinkle some parsley and grated parmesan.
Notes
Combine the button mushrooms with any mushrooms of at least 2 or 3 kinds as straw mushrooms, girolle mushrooms, porcini mushrooms to diversify the flavour.
The white wine has the same specificity as lemon juice to prevent the oxidation of the button mushrooms but it shouldn't taste acidic.
The recipe is made without cream but a spoon of sour cream or whipped cream served on the soup is delicious.
Nutrition for 1 portion
Calories:
122
kcal
Carbohydrates:
10
g
Protein:
6
g
Fat:
7
g
Sodium:
1003
mg
Fiber:
3
g
Sugar:
3
g
Vitamin A:
322
IU
Vitamin C:
21
mg
Calcium:
21
mg
Iron:
2
mg
Tried this recipe?
Let us know how it was! #culinaryambition