Whole Wheat Spaghetti Verde – A healthier way to pasta
Don't we all love pasta? Homemade fresh pasta or store bought, there are a multitude of shapes, colours and impressive preparations! Today we are cooking whole wheat spaghetti for a change. This brown variety is a little firmer, slightly lower in calories and carbohydrates, but the taste is similar to refined pasta.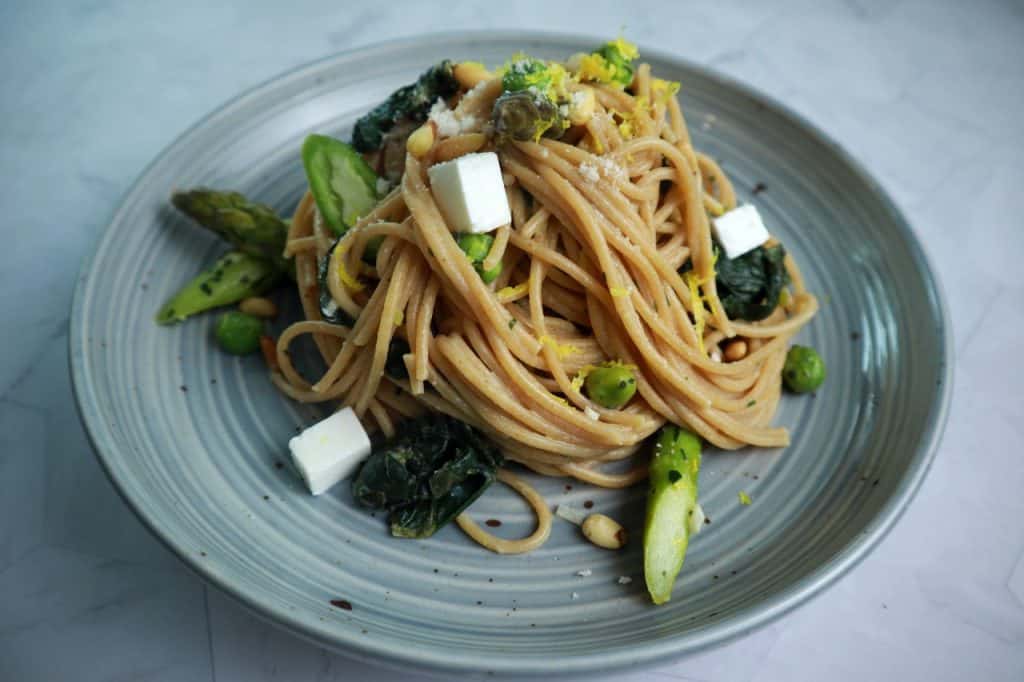 We are always spoiled for choice at our local market in Shanghai and decided to only use green vegetables for a change and make a pasta verde. Anything green is suitable for this recipe, such as courgettes, green beans, snow peas, or broccoli. Make sure you prepare them in the correct way, so they don't become mushy during the cooking process.
The difficulty of the dish is to keep the spaghetti al dente, and consequently we recommend boiling the pasta for one minute less than indicated on the packet. The cooking of the spaghetti will continue during the finishing of the dish.
Whole wheat versus refined wheat pasta
Whole wheat pasta is a healthier choice compared to regular white refined pasta. Whole wheat is packed with complex carbohydrates, fibre, iron, magnesium, and zinc. In contrast to white refined pasta, the whole wheat nutrients release sugars slowly resulting in a long lasting satiety.
People on restricted diets often choose whole wheat pasta to control weight, diabetes, or other health issues. Although this option is healthier, portion sizes will still need to be controlled and ingredient adjustments might be needed.
Related: How to effectively cook pasta
Whole Wheat Spaghetti Verde
Whole wheat spaghetti is a little firmer, slightly lower in calories and carbohydrates, but the taste is similar to refined pasta.
Ingredients
For the garnish
Instructions
Boil the pasta
Bring a large amount of salted water to the boil and cook the whole wheat spaghetti 1 minute less than mentioned on the packet minus to keep the pasta al dente.

Drain the whole wheat spaghetti and keep the cooking water aside.
Cook the garnish
Sauté the garlic and green chilli in olive oil over a medium heat for a minute.

Add the sliced green asparagus with 2 tbsp of pasta cooking water and cover with a lid. The steam will cook the green asparagus faster.

Add the fresh spinach and higher the heat to flash-cook it.

Add the white soft cheese, stir and mash the soft cheese with a ladle of pasta cooking water to combine and make a light sauce.
Finish the pasta dish
Toss the cooked pasta and boiled green peas with the creamy mixed vegetables.

Add another ladle of the pasta cooking water if needed and finish the cooking process over a high heat. Season with Parmesan cheese, parsley, mint, and lemon juice.

Garnish with pine nuts, cream cheese cubes, grated lemon rind, long green chilli slices and Parmesan cheese.
Notes
Before boiling the pasta, cookthe fresh green peas in the water for 3 minutes.
Nutrition for 1 portion
Calories:
288
kcal
Carbohydrates:
46
g
Protein:
16
g
Fat:
6
g
Cholesterol:
20
mg
Sodium:
111
mg
Fiber:
3
g
Sugar:
3
g
Vitamin A:
1196
IU
Vitamin C:
20
mg
Calcium:
173
mg
Iron:
4
mg
Tried this recipe?
Let us know how it was! #culinaryambition