Budget friendly White Asparagus Velouté
There are plenty of recipes to make with white asparagus and a creamy soup is one not to miss!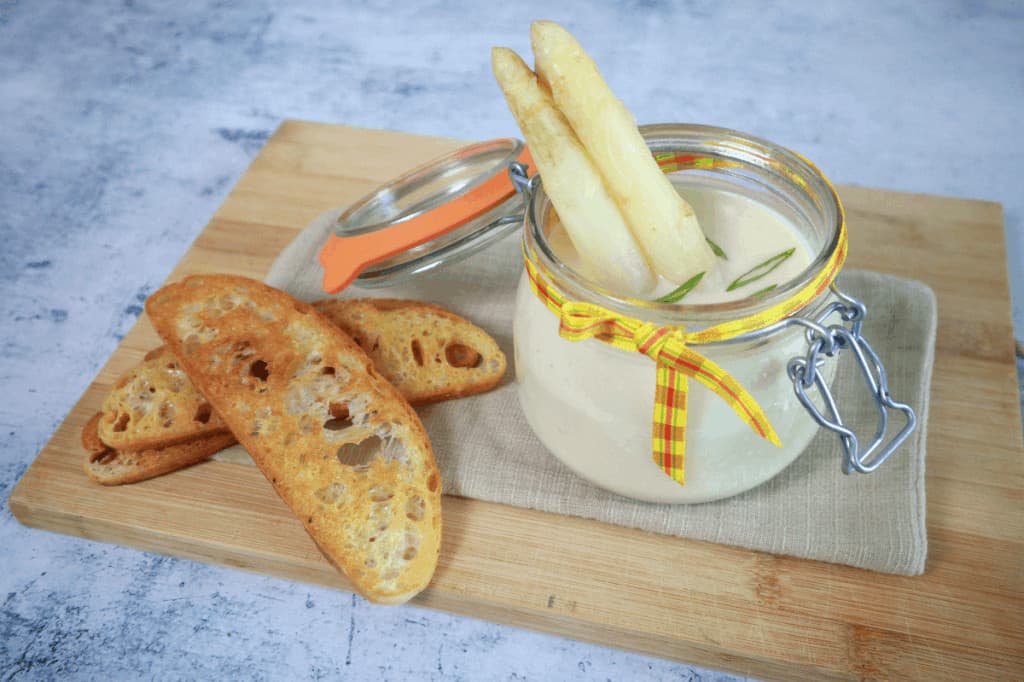 Asparagus velouté
This delicious asparagus velouté screams celebration but you can keep it budget friendly when using cut offs. Just keep some of the soft tips as garnish and serve with croutons to add a crunchy texture.
Compared to the green variety, white asparagus are milder and more tender. It is said that because white asparagus grow underground without any light, it does not produce chlorophyll. 
Also check our other soup recipes.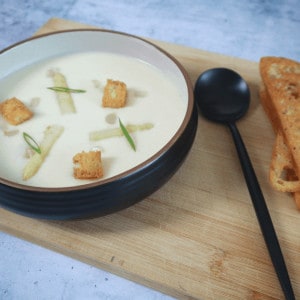 Budget friendly White Asparagus Soup
This delicious soup screams celebration but you can keep it budget friendly when using cut offs.
Instructions
Peel the white asparagus and boil them in salted water until the spears are soft and tender. Keep 1 L of the cooking water for the soup.

Cut the tips off and keep them aside then slice the white asparagus stems.
Start preparing the soup
Melt the butter and sauté the onion and shallots over a medium to low heat until translucent.

Add the flour, stir to combine and cook for 2 minutes in a similar way as if making a roux.

Pour in all liquid ingredients and bring to the boil.

Add the sliced stems and simmer for 10-15 minutes.
Prepare the garnish
Cut large cubes of bread and pan fry them with clarified butter or oil until golden brown. Place the croutons on kitchen towel to dry and sprinkle with a little salt.

Slice the spring onion.
Finish the soup
Blend the white asparagus soup with an immersion blender. Pass the soup through a sieve, adjust the thickness if necessary and season to taste.

Serve with the soft white asparagus tips, croutons and spring onions.
Notes
To balance the pungent flavour of the white asparagus you can add a little white wine or lemon juice.
The white asparagus cream soup can be served hot or cold.
Nutrition for 1 portion
Calories:
268
kcal
Carbohydrates:
25
g
Protein:
9
g
Fat:
16
g
Cholesterol:
21
mg
Sodium:
147
mg
Fiber:
6
g
Sugar:
8
g
Vitamin A:
2586
IU
Vitamin C:
16
mg
Calcium:
127
mg
Iron:
6
mg
Tried this recipe?
Let us know how it was! #culinaryambition
What is Veloute?
From the French to mean velvety, velouté is a lovely rich white sauce made with butter, flour, and cream. Some people do alternate the liquid by using a stock or broth instead, while some chefs add egg yolks to their mix for thickening.
Velouté is quite popular, and because asparagus goes with the sauce, it makes a tasty soup. Many people throw away the ends of the asparagus, but by using them to make asparagus velouté soup, there is no waste.
Highlights of white asparagus velouté
White asparagus velouté soup is a fast and easy recipe to make because you will probably already have all the ingredients in your kitchen.
Preparing asparagus as a side dish for dinner the night before helps as you can keep the pieces you don't use and add them to the soup. They will have plenty of flavour and your soup will be just as fancy as going to a restaurant.