Watercress soup or the French 'soupe de cresson,' is an old-fashioned but traditional recipe. The peppery-tasting watercress is a budget friendly ingredient with many health benefits.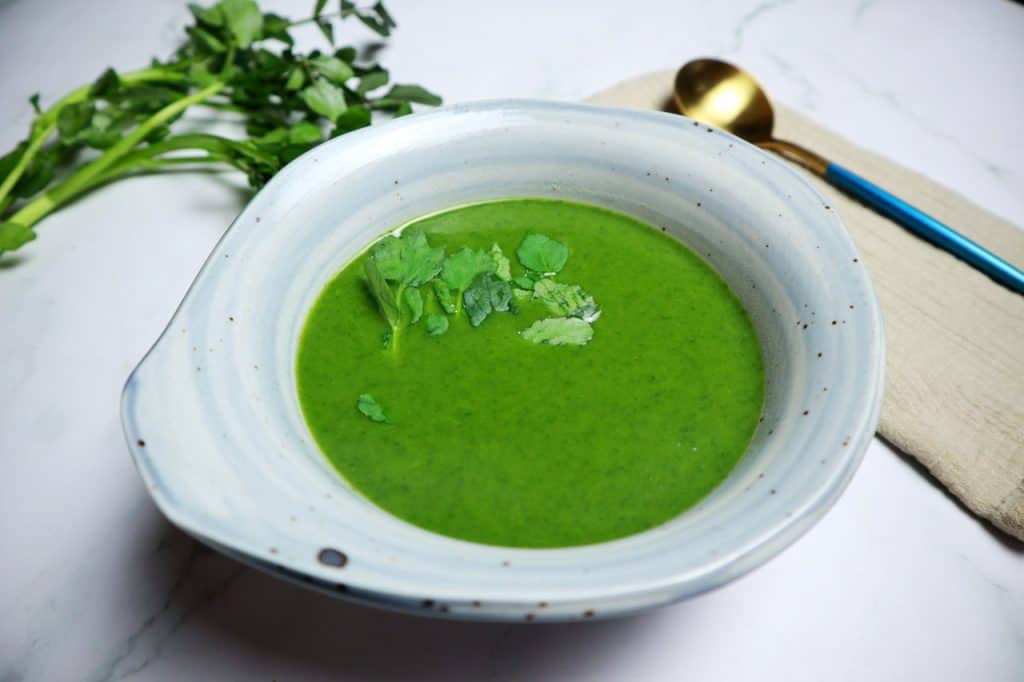 Watercress, an aquatic plant with bright green leaves grown in running water. It was previously considered a weed and was first cultivated in the UK in the early 1800's and is now grown in watery beds throughout the world. The plant is part of the same family of vegetables which include kale, brussels sprouts and cabbage.
The raw leaves have a strong peppery taste, but when cooked, their flavour is mild. Watercress is rich in vitamins C and K, and while it supports your immune system, it might also help with healing from injuries. However, most nutritional benefits are extracted when eaten raw or lightly steamed.
Best way to select watercress?
For today's soup we use bunches of fresh watercress with onions, leeks and chicken stock as main ingredients. The leaves of the watercress should be crisp, dark green and without blemishes. Avoid watercress with flowers as it might taste bitter. 
Stems and leaves can be boiled together, but we prefer to cook them separately and blanch the leaves to retain their bright green colour.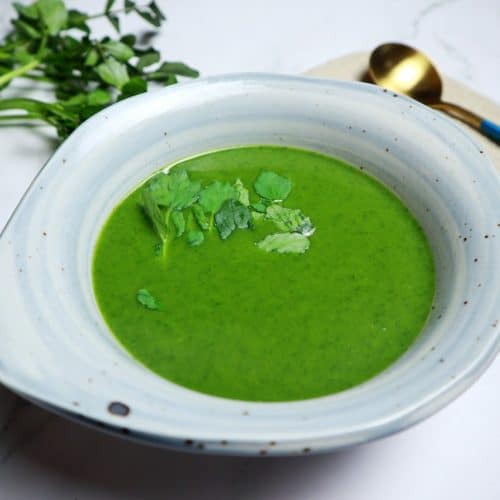 Watercress Soup
The peppery-tasting watercress is a budget friendly ingredient with many health benefits.
Instructions
Use scissors to cut the watercress leaves from the stems and keep separately.
Prepare the soup base
Melt the butter in a large soup pot over a medium low heat and sweat the onions and leeks for 3-4 minutes.

Add the chicken stock and water and bring to the boil.

Add the watercress stems to the pot and boil until soft and tender.

When the watercress stems are cooked, blend the soup in small batches. Pass the soup through a sieve and discard the fibres.

Bring the soup back to the stove and boil to reduce.
Prepare the leaves
Bring a large amount of salted water to the boil.

Blanch the watercress leaves for 3-4 minutes or until soft and tender.

Transfer the boiled watercress leaves into iced water to cut the cooking process and keep them green. Drain the leaves and squeeze out the water.

Food process the watercress leaves to a puree.
Finish the soup
Whisk the watercress puree into the watercress soup base and simmer for 3-4 minutes.

Thicken the soup with a little corn starch and garnish with cream just before serving. Season to taste.
Nutrition for 1 portion
Calories:
174
kcal
Carbohydrates:
17
g
Protein:
13
g
Fat:
8
g
Cholesterol:
20
mg
Sodium:
366
mg
Fiber:
3
g
Sugar:
6
g
Vitamin A:
12658
IU
Vitamin C:
168
mg
Calcium:
497
mg
Iron:
2
mg
Tried this recipe?
Let us know how it was! #culinaryambition