Juicy Grilled Wagyu Rib Eye
Wagyu refers to all Japanese beef cattle, where 'Wa' means Japanese and 'gyu' means cow.
The animals were originally used in agriculture for their physical endurance. The selection favoured animals with more intra-muscular fat cells, also named marbling.
The high marbling in wagyu beef gives a unique taste and tenderness and although it's not an everyday item on the menu it certainly creates a gourmet dinner experience for which you don't always need to go to an expensive steakhouse.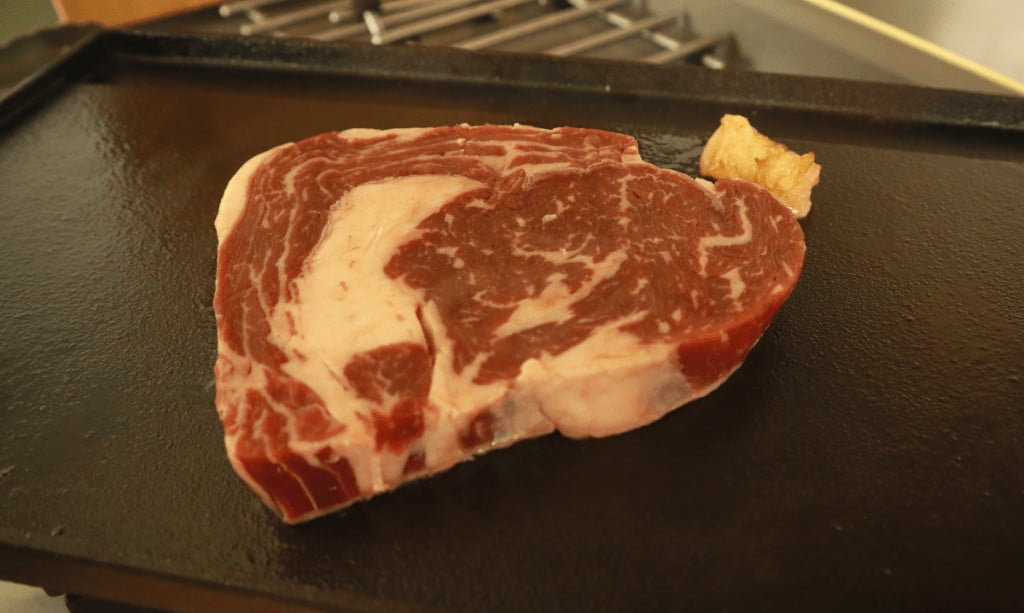 Wagyu has now spread outside Japan with Australia being the largest wagyu breed association and producers. USA, Canada and the UK are other countries where wagyu is produced.
Is Wagyu rib eye healthy?
The mono-unsaturated to saturated fat is higher than in other beef. Due to a high level of stearic acid linoleic acid, it is regarded as having a minimal impact on cholesterol levels and therefore is said to be healthier.
Resting the meat before serving
It is important to allow resting time for cooked meat before cutting. The juices will be reabsorbed into the fibres of the meat and this way you keep all flavourful juices when cutting the meat.
Read also other meat recipes and how to grill correctly.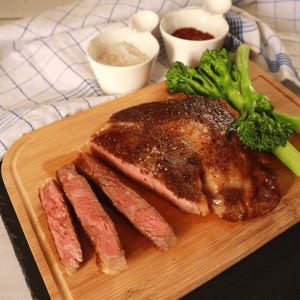 Grilled Wagyu Rib Eye
The high marbling in wagyu beef gives a unique taste and tenderness.
Instructions
Preheat your pan and grease lightly with butter and add the vegetables. Season to taste and keep them warm.

Before searing the ribeye steak, use a piece of the fat from the meat to grease your grill or pan.

Only sear the ribeye steak shortly on each side and check the doneness. Medium rare is the perfect way to serve such a piece of meat.

Rest the meat and add spices just before serving.
Nutrition for 1 portion
Calories:
155
kcal
Carbohydrates:
18
g
Protein:
9
g
Fat:
6
g
Cholesterol:
1
mg
Sodium:
140
mg
Fiber:
3
g
Sugar:
6
g
Vitamin A:
4662
IU
Vitamin C:
229
mg
Calcium:
179
mg
Iron:
2
mg
Tried this recipe?
Let us know how it was! #culinaryambition