Classic Vegetable Macédoine
What is macédoine in cooking?
A vegetable macédoine consists of a variety of diced vegetables and is usually served cold as a salad. In France, they also serve it hot as a vegetable garnish or side dish, although it's less frequent. Macédoine is also a culinary term for cutting fruits or vegetables into small cubes of 5 x 5 x 5mm.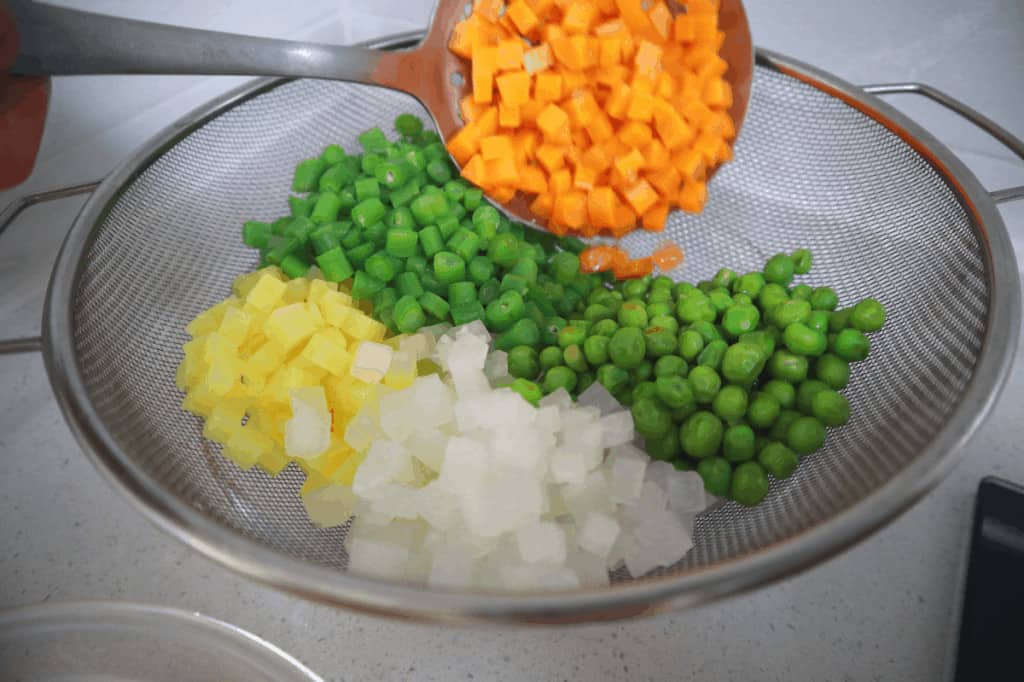 We like to have a minimum of 5 different vegetables which we cook separately in salted water, before refreshing them in ice water, draining and finishing the dish. The recipe we are sharing today is the classic version, but you can vary ingredients depending on what's in season. Sweet potatoes, pumpkin, broad beans, flageolet beans, and celeriac are good additions to this salad.
When prepared as a salad, the vegetables are mixed with a classic mayonnaise before serving. Don't be afraid to add your own twist! Use Greek yogurt or fresh creamy goat's cheese to make a healthier version. Add some crunch with diced granny smith apples or crispy pears.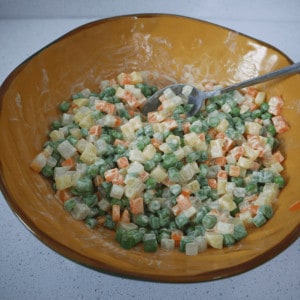 Vegetable Macédoine
A vegetable macédoine consists of a variety of diced vegetables and is usually served cold as a salad.
Instructions
Peel all vegetables and cut into small cubes 'macédoine'.

Cook the vegetables 'à l'anglaise'. Bring a large pot of salted water to the boil and cook all vegetables separately until soft and tender.

Plunge the cooked vegetables into iced water to stop the cooking process and to stabilise the colours. Always cook the carrots at the end.

Drain the vegetables.

In a large bowl, gently combine the vegetables macédoine with the homemade mayonnaise and season to taste.
Nutrition for 1 portion
Calories:
139
kcal
Carbohydrates:
23
g
Protein:
5
g
Fat:
4
g
Cholesterol:
2
mg
Sodium:
93
mg
Fiber:
6
g
Sugar:
8
g
Vitamin A:
7571
IU
Vitamin C:
41
mg
Calcium:
57
mg
Iron:
2
mg
Tried this recipe?
Let us know how it was! #culinaryambition
What is the meaning of macédoine?
The dictionary describes the word Macédoine as a "confused mixture" or medley.
Simply put, it is a group of vegetables or fruit diced up together in the same bowl. Fruit cocktail and fruit salad are common names for several different types of fruits in the same can or served together.
Typically, the vegetables or fruit are diced into small cubes.
Highlights of vegetable macédoine
This recipe for classic vegetable Macédoine is light enough to eat on the hottest of days, and tasty enough to combine with other foods for a large meal.
It is nutritional with the variety of vegetables in the salad, and adds lots of variety for everyone. Plus, it uses common vegetables that most people have in their kitchen on a regular basis. It is quite economical, too.