It cannot be denied that over the past few years, veganism has increased in popularity! With the use of plant based 'meats,' a vegan diet no longer means abstaining from enjoying popular dishes.
V2 is an Australian company who have produced plant-based 'meat' which looks and cooks like minced meat. We decided to buy some to try a few recipes to compare quality, taste and texture.
Are vegan burgers healthy?
We were happily surprised to see that the 'meat' looked like minced meat and making a patty was not a problem as it is moist enough to hold its shape, even during cooking. The only downside for us was the amount of oil it released. The taste was enjoyable and to be honest, our 150 gr burger with the garnish and toppings was very filling. There are discussions about how healthy vegan meat is and it is said to limit these products to only once or twice a week.
We added some homemade toppings such as coleslaw salad as well as our own vegan mayonnaise and really enjoyed our first full vegan burger!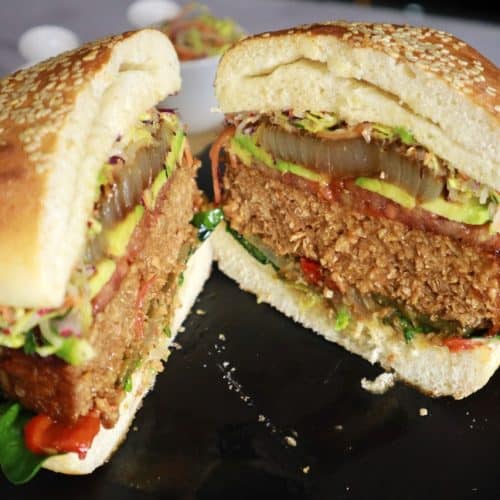 Easy Vegan Burgers
It cannot be denied that over the past few years, veganism has increased in popularity!
Ingredients
For the relish
Instructions
Prepare the relish
Sweat the diced onions with the red and green peppers in a small amount of olive oil.

When the onions are soft, stir in the garlic, chillies and season with paprika, cayenne chilli pepper, salt and pepper.

Add 2-3 tbsp of water to the saucepan, cover with a lid and simmer for 10 minutes.

Keep aside to cool.
Cook the yellow onions
Peel and cut the onions lengthwise and in half.

Place the cut side of the onion down in the skillet over a high heat with a drizzle of olive oil and a pinch of salt for 10-12 minutes until caramelised.

Flip the halved onion over and cook for another 10-15 minutes or until soft.
Prepare the patty
Choose a pastry ring (or round cutter) the same size as the bread bun.

Press down the vegan mince to shape it into a burger patty.

Pan fry or grill the vegan mince patty with some oil, flip the patty over and cook through.
Assemble the burger
Toast the bun in the oven.

Spread some vegan mayonnaise on the toasted patty.

Arrange the fresh spinach leaves and a large spoon of cooked peppers relish on to the bottom bread.

Place the cooked patty on top with the caramelised onions, avocado slices and mixed coleslaw.
Notes
Caramelise the halved onion in the oven at 200°C, it is easier than pan-frying.
Add a pinch of sugar to accelerate the caramelising process.
Nutrition for 1 portion
Calories:
385
kcal
Carbohydrates:
29
g
Protein:
25
g
Fat:
19
g
Cholesterol:
8
mg
Sodium:
939
mg
Fiber:
9
g
Sugar:
5
g
Vitamin A:
1075
IU
Vitamin C:
72
mg
Calcium:
219
mg
Iron:
4
mg
Tried this recipe?
Let us know how it was! #culinaryambition