Veal Blanquette – a classic French recipe
When thinking of stews, most people think of these as winter foods but a traditional veal blanquette is not just a stew. This recipe is part of French culinary heritage and was voted favourite before other classics such as beef bourguignon, coq au vin, and mussels. 
What makes a blanquette different
Larousse Gastronomique defines a blanquette as the French term for a râgout of white meat cooked in a white stock or water with aromatic flavours.
To explain it simply; it is a white stew where the meat is not seared or browned but cooked in a white stock and thickened with a roux. Veal has delicate flavours which don't need an array of extra ingredients.
The seasoning is a personal taste. We add curry to bring a touch of yellow to the cream, the mustard to boost the flavour of the sauce and the lemon juice for the acidity contrast.
Veal blanquette is a creamy but subtle dish which is comforting, but also refined. Other than with the usual stews, this dish is perfect for any season! 
Related: How to make a roux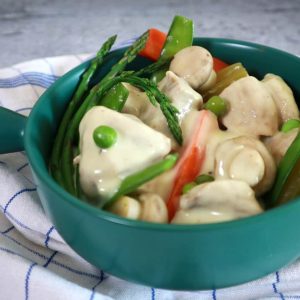 Veal Blanquette
This recipe is part of French culinary heritage and was voted favourite before other classics.
Instructions
Prepare the meat
Place the veal cubes in a large cooking pot, cover with cold water and bring to the boil for 2-3 minutes. Skim possible impurities from the surface of the water and drain the veal cubes. Drain when blanched.

Return the veal cubes to the cooking pot together with all the other aromatic ingredients and a good pinch of salt. Cover with cold water and simmer for 45-50 minutes until the meat is soft and tender.

Boil the champignons in a saucepan in 100 ml of veal stock for 3 minutes, keep aside.
Make the sauce
Measure 600 ml of strained mushroom stock and veal stock and bring to the boil.

Shred the roux with a cheese grater and gently whisk into the veal stock. Stir constantly until the sauce reaches boiling point to ensure a smooth velouté sauce.

Add the cream and continue cooking for 5 minutes.

Season with salt, white ground pepper, Dijon mustard, curry powder and lime juice.
Finish the dish
Add the cooked veal, carrots, celery and mushrooms into the sauce, gently stir to coat all ingredients.

Serve the blanquette with the boiled stock vegetables.
Notes
If you are using crème fraîche or double cream it is not necessary to add lemon juice as these creams are already acidic.
Nutrition for 1 portion
Calories:
575
kcal
Carbohydrates:
8
g
Protein:
45
g
Fat:
37
g
Cholesterol:
250
mg
Sodium:
513
mg
Fiber:
1
g
Sugar:
2
g
Vitamin A:
980
IU
Vitamin C:
3
mg
Calcium:
103
mg
Iron:
3
mg
Tried this recipe?
Let us know how it was! #culinaryambition