Tomato petals confit to garnish any dish
Tomato petals sound fancy, and they look pretty good in a dish, but all it takes is a little bit of patience while the oven takes care of the slow-roasting.
We have been making tomato confit recipes in a variety of ways since we started hotel school. It is a great way to preserve fresh tomatoes, but in this recipe, it is obvious, when you take the time to cut petals, these can be used as a garnish to elevate your dish and make it look prettier.
For those who follow us for a longer while now, you know we like to make our dishes look great because seeing is the first impression someone gets before tasting the food, unless they were in the kitchen during preparation.
The main task in this recipe is cutting the petals, look upon it as extra training for your skills in cutting techniques.
Related: Cherry tomato confit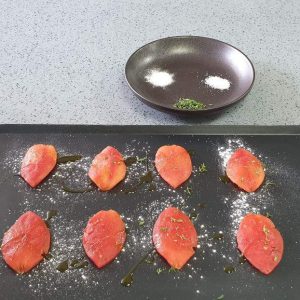 Tomato petals confit
Tomato petals sound fancy, and they look pretty good in a dish.
Instructions
Peel (monder) the tomatoes
Remove the peduncle with the tip of a knife and cross cut the tomato skin.

Bring a large amount of water to the boil and prepare a bowl filled with iced water. Dip the tomatoes in the boiling water for 10 to 20 seconds then transfer them into the iced water.

Easily peel the tomatoes.

Cut the tomatoes into quarters and remove the seeds.

Arrange the tomato 'petals' on a baking tray. Sprinkle with salt, icing sugar, thyme leaves, and drizzle the olive oil over the tomato petals.

Bake the tomato petals at 90°C for 30-40 minutes.
Nutrition for 1 portion
Calories:
37
kcal
Carbohydrates:
8
g
Protein:
1
g
Fat:
1
g
Sodium:
1752
mg
Fiber:
2
g
Sugar:
6
g
Vitamin A:
1333
IU
Vitamin C:
23
mg
Calcium:
23
mg
Iron:
1
mg
Tried this recipe?
Let us know how it was! #culinaryambition