Important Tips to Throw a Perfect Afternoon Tea Party
Tea time is quintessentially thought of as a British traditional activity. We now call it afternoon tea or high tea, but it was first introduced in 1840 by Anna, the seventh Duchess of Bedford who introduced it after as a snack between lunch and dinner since dinner was traditionally served late at night.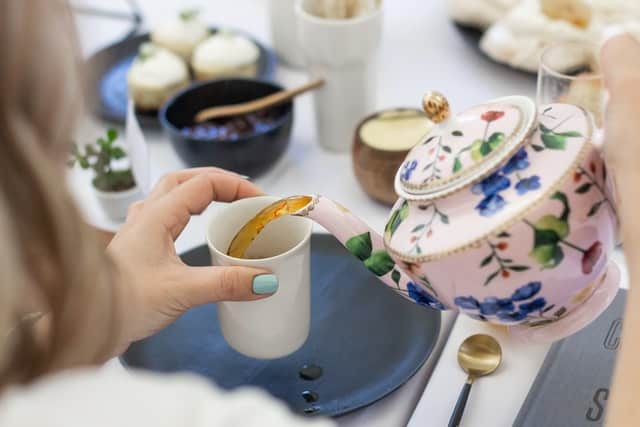 Nowadays, afternoon tea is a popular pastime in hotels where essentially, tea is served as a 'set' with a variety of sweet and savoury bite sized snacks. Often, themes are allocated depending on seasons and special celebrations such as Christmas, Easter or national days.
A fancy hotel afternoon tea is not to everyone's budget, so an option is to organise your own luxurious afternoon tea. Essentially it will be cheaper, and you can choose your favourite snacks and flavours.
Whilst there is a tremendous scope on what to serve, there are a few essentials to consider when catering to different groups and palates.
Service and Presentation
Afternoon tea is all about elegance and all things pretty! Tiered serving platters are often used to display the petite, varied food at different levels. Small sized plates and cake forks are paired with traditional teacups and saucers. The presentation of the food is aesthetically pleasing to highlight the different varieties, shapes and colours of the food.
Themes can be adopted, depending upon the occasion or celebration. A fourth of July afternoon tea could be colour themed in red, blue and white – red and blue cupcakes, white pastries, beetroot sandwiches, and raspberry tarts. Summer afternoon tea menus could include cooling foods such as cucumber sandwiches, mini jelly cups, and fruit tarts while winter snacks should bring in the warmth with a range of apple and cinnamon spiced options to meaty savouries and mini pies!
Beverages
Every afternoon tea starts with a cup of tea, traditionally this is black tea. Pre-mixes are a thumbs down and the tea must be freshly brewed in a warmed teapot and served with milk in a jug with sugar in a bowl. However, to offer the best possible service to guests, other types of tea such as green tea, herbal or fruit tea may be served, and coffee is perfectly acceptable. If children are involved, hot chocolate or a cooling iced tea can be offered. Luxurious high tea parties also offer mimosa cocktails and even a variety of Champagne and sparkling wines.
Savoury snacks
There are no rules when it comes to the food, but a tier of sandwiches and a tier of scones are standard when serving afternoon tea. Cakes and biscuits are usually added but are not essential.
Sandwiches
The concept of afternoon tea has long been associated with crustless mini sandwiches commonly filled with cucumber, ham, egg and cress, or cheese. However, the scope of sandwich fillings and spreads is vast, and many varieties can be prepared. Sandwiches can stretch from the humble salad sandwich to more luxurious varieties such as salmon and cream cheese.
Traditionally sandwiches are cut into small squares, triangles, or fingers so they can be eaten elegantly. It is advisable to freshly prepare sandwiches and not to make them too long in advance. If making them in advance choose your fillings wisely to avoid sogginess, and store in an airtight container in the fridge to prevent them from drying out.
Scones
What is tea time without scones? Scones are a staple across British households and the perfect accompaniment to a hot cup of tea. Scones are best when served warm with clotted cream and jam. Besides plain scones there are many variations of sweet, fruit, or nut scones. Any homemade jam will work if you don't choose to serve the traditionally strawberry jam.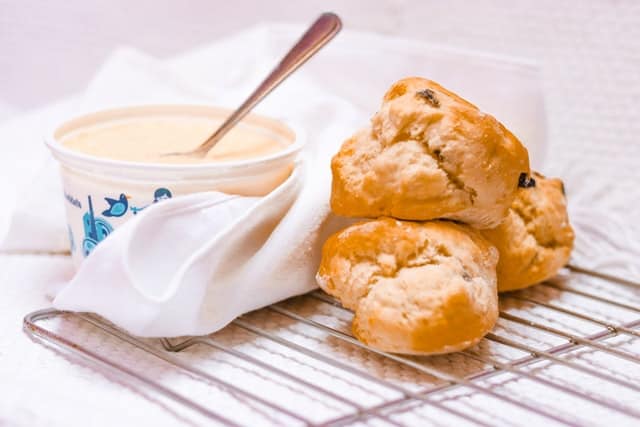 Less common snacks
Depending on the region where you enjoy afternoon tea, local savoury items can be served. Chicken patties, vegetable puffs, mini quiches, cucumber cups are all options to consider with the rule being they should all be small and elegant in size.
Sweet snacks
It is not necessary to have a tier of sweet items although one tier is commonly reserved for cakes and fine patisserie. Sweets are always welcome and are solace for the soul!
The options abound mini pastries, tiny seasonal fruit tarts, madeleines, mini cupcakes, petit éclairs or choux pastry filled with decadent cream or custard. When preparing many items, it is good to select those that can be prepared in advance.
Palate cleansers
It is completely optional but palate cleansers help to remove any aftertaste from a particular food before tasting the next item. Whilst the tea served may function as a palate cleanser, other options are a light green tea, mint tea or water. Neutral snacks such as unsalted crackers or pretzels, or unsalted almonds and pumpkin seeds have a similar function.
Whatever is on the menu, an afternoon tea session is a welcoming and enjoyable affair. What is more comforting than a variety of delicious food with treats and a cup of tea!