Thai Massaman Curry with Veal
With this dish we are travelling back to beautiful friendships and exceptional culinary experiences while living in Thailand. We love all Thai food, but this dish brings back memories of our best friends and colleagues. Our friend's mum used to make us the best massaman curry available on this planet!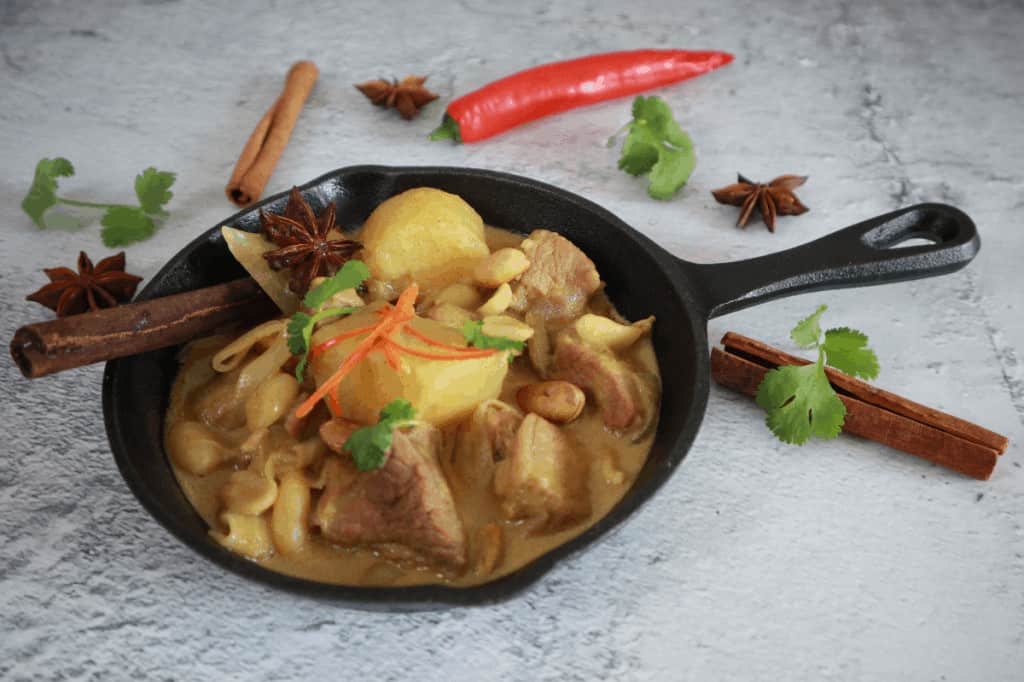 What is Massaman curry?
Massaman curry is a very mild, slightly sweet curry with Indian and Malaysian influences.
The specific Massaman curry paste is key but dry spices, peanuts and the addition of potatoes add richness, texture and authenticity to this curry. Although the most popular Massaman curry is prepared with chicken drumsticks it can be made with chunks of beef, lamb or pork.
Most Thai food can be prepared quickly but this dish is special and needs a little more attention and time to make to ensure the big chunks of meat are tender and to create an explosion of subtle flavours.
This curry can be served with side dishes, but we find the traditional way with jasmine rice the best!
Also read our other Thai food recipes.
Thai Massaman curry with veal
Massaman curry is a very mild, slightly sweet curry with Indian and Malaysian influences.
Instructions
Prepare the meat
Place the veal and the raw peanuts together with 1 tbsp of massaman curry paste in a cooking pot, cover with cold water and bring to the boil. Skim the surface, lower the heat and cook uncovered until the veal is tender.

At the same time peel and cut the potatoes into large wedges. Add it to the beef and cook until just undercooked.
Prepare the curry
Fry the massaman curry paste with the coconut oil until fragrant.

Add 200ml of the coconut milk, cinnamon sticks, star anise, cardamom, sugar, fish sauce, tamarind paste and cook until the cream starts to separate.

Add the remaining coconut milk and onion quarters together with the already cooked veal cubes, peanuts, potatoes and simmer for 10-15 minutes.

Adjust the seasoning to taste, add some red julienned chili, roasted peanuts and fresh coriander on top.
Notes
Massaman curry should be slightly sweet with subtle sour touches from the tamarind.
If you are unsure about cooking the potatoes correctly with the veal, cook them separately. The pieces of meat should be large.
Nutrition for 1 portion
Calories:
675
kcal
Carbohydrates:
18
g
Protein:
32
g
Fat:
56
g
Cholesterol:
103
mg
Sodium:
846
mg
Fiber:
2
g
Sugar:
7
g
Vitamin A:
10
IU
Vitamin C:
3
mg
Calcium:
94
mg
Iron:
9
mg
Tried this recipe?
Let us know how it was! #culinaryambition