Pad Kaprao Nuea – Thai Beef Holy Basil
Minced beef with holy basil or Pad kaprao is another popular Thai dish. This delicious, spicy stir-fried recipe is made with holy basil and commonly served with jasmine rice and a Thai style fried egg!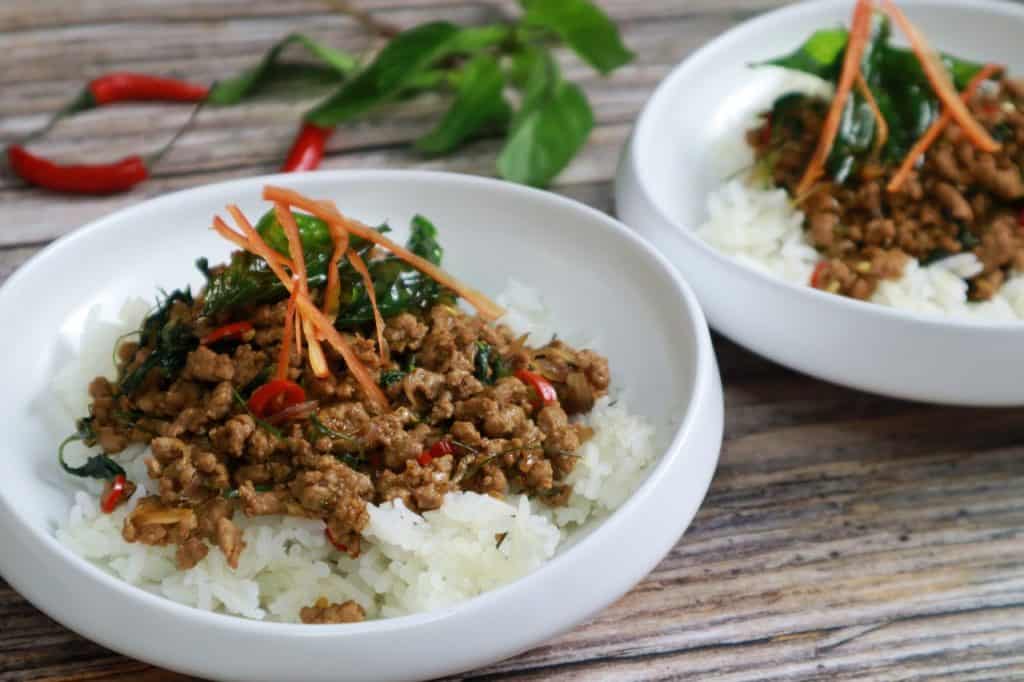 It is almost a sin to call Thai dishes fast food, but this dish is so easy and quick to make, it is served in street food restaurants, food courts or places where quick lunches and dinners are served. In Thailand, this dish replaces the sandwich, burger, or equivalent from the West.
Holy basil vs sweet basil
Holy basil, called 'kaprao' or 'kaprow,' and Thai sweet basil, named 'horapa' are different in a few ways.
They come from different basil plants and the flavour is not at all the same. Holy basil is rather spicy and slightly peppery. Thai sweet basil has a sweet flavour with light tones of anise. Although we swear by holy basil for this recipe, both are suitable. Italian basil is completely different and not a good choice for this recipe.
Kaffir lime leaves
These are used to make soups, curries, and stir-fried dishes. To release the maximum of aromatic flavour, we recommend bruising or chopping the leaves.
Does pad kaprao need a fried egg?
If you have been to Thailand, you will most likely have seen this dish being served with a Thai-style fried egg or 'kai dao.' The egg is cracked in the centre of a wok fried in a good amount of oil. A spatula is used to baste it with the hot oil and the egg fluffs instantly with the edge becoming crispy and golden-brown. It is then flipped over and cooked for another minute or served 'sunny side up.' The egg should be slightly runny to complement the spiciness of the dish.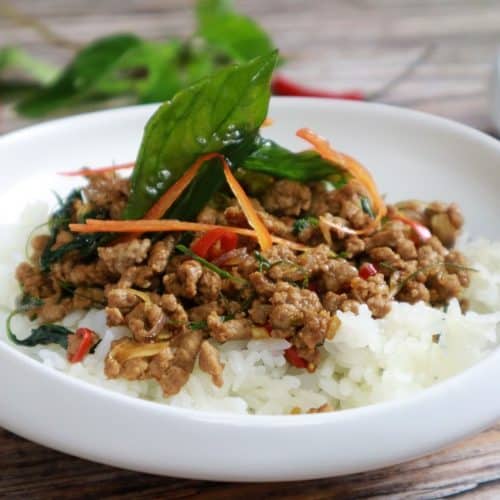 Pad Krapao Nuea – Thai Style Beef with Holy Basil
This delicious, spicy stir-fried recipe is made with holy basil and commonly served with jasmine rice and a Thai style fried egg!
Instructions
Mix to combine all seasoning ingredients and keep aside.
Prepare the garnish
Fry the eggs Thai style.

Use the oil from the fried eggs, lower the temperature to medium low heat. Fry a small batch of the Thai sweet basil leaves at the time. Avoid splashing oil by making sure the leaves are dry enough but not bruised.

Cook for 2 minutes or until the leaves are translucent and crisp. Remove the deep-fried leaves with a spider and place on a kitchen towel.

Chop the garlic, slice the shallots, chop the chillies, and remove the centre vein from the lime leaves before cutting them very thinly.
Finish the dish
Heat 2 tbsp of oil over a medium high heat and fry the garlic shortly before adding the shallots.

Add the beef and cook through.

Add the chillies and the seasoning mix. .

Finish with the sweet basil leaves at the end
Notes
If you find the taste too salty or too spicy add a pinch of sugar.
Nutrition for 1 portion
Calories:
405
kcal
Carbohydrates:
4
g
Protein:
28
g
Fat:
30
g
Cholesterol:
110
mg
Sodium:
1558
mg
Fiber:
1
g
Sugar:
1
g
Vitamin A:
9
IU
Vitamin C:
1
mg
Calcium:
41
mg
Iron:
3
mg
Tried this recipe?
Let us know how it was! #culinaryambition